We have to be precise about the length of every 20ft container we supply. That's because they have to fit on top of each other and squeeze easily into tight spaces. There were freight containers in the UK in the 1830's for transferring coal from railways to horse-drawn carts.
However they only really took off in the 1950's after the U.S. Army developed rigid steel containers with lifting rings. Hence container lengths measure in feet not meters.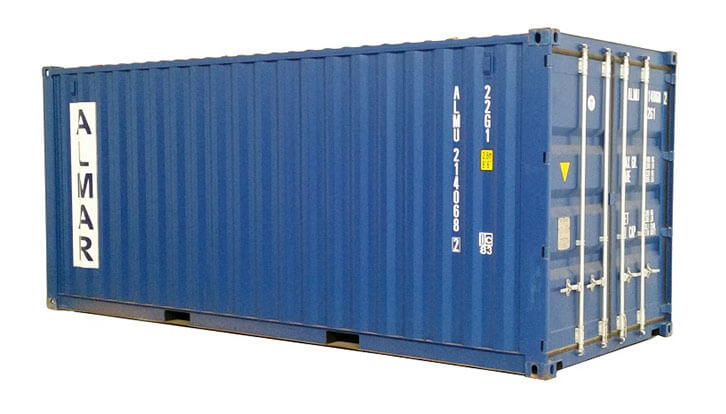 The Advantages of the Intermodal 20ft Container
The 20ft container is the smallest in the standard range. Thus this container design is popular for transporting goods to locations with less sophisticated lifting and carrying equipment. We call them intermodal containers because they can travel in different modes of transport.
There are other names for these amazing devices that can travel by ship and rail and truck. These include cargo / freight container, iso container, shipping / sea / ocean container, container van, sea can, or just container.
How a 20ft Container Adds Value to a Warming World
Every ounce of energy we use contributes to greenhouse gas, and humans are currently causing too much of it. Moreover, the same applies to building construction. Our lightweight 20ft containers are in aluminium because this considerably reduces lifting and transportation costs. Moreover when their intermodal days are over they find other uses as transportable buildings.
The Secret Life of a 20ft Intermodal Container
A 20ft container becomes a habitable building when we add a door and window and fit it out. Moreover being lightweight aluminium makes this a fairly easy task. The attachment points on all eight corners simplify transport by ship and rail and truck, and even cargo airplanes. As a consequence, our engineers are able to assist with these cost / time saving projects:
Workshop containers – just add the electricity!
Accommodation containers perfect for construction projects
School classrooms – everything is possible when we are inventive
Container offices as temporary or semi-permanent accommodation
Portable clinics that travel to where the need is greatest
Ablution containers – let's go grab a shower!
Are These the Most Amazing Second-Life Containers Ever?
Qatar is building a modular, demountable soccer stadium for the 2022 FIFA World Cup. This 40,000-seater is rising from the desert immediately southeast of Doha on the Persian Gulf. The modified shipping containers sit within a steel framework creating the perimeter wall and tiered seating.
A variety of reinforced 20ft container versions and larger types will have pre-installed stairs, concessions, and bathrooms. This uses fewer materials, creates less waste, and leaves a lighter carbon footprint. They can move the Ras Abu Aboud Stadium to its first legacy location when the games are over. A renewable soccer stadium, who would have thought of that…