Shipping containers are ideal for ablution units in remote locations, for construction sites, or even as bathroom facilities at camping and other outdoor venues, both permanent and temporary.
Ablution containers may be customized, assembled in the factory, and then delivered to site in a lot less time than it takes for a container that is to be converted for accommodation or for office space.
They are self-contained and the size is perfect. If you need more toilets, urinals, basins, or showers than you can fit into one container, you can utilise two or more, separating them for use by either men or women. They may even be designed to fit alongside each other with access between the container units.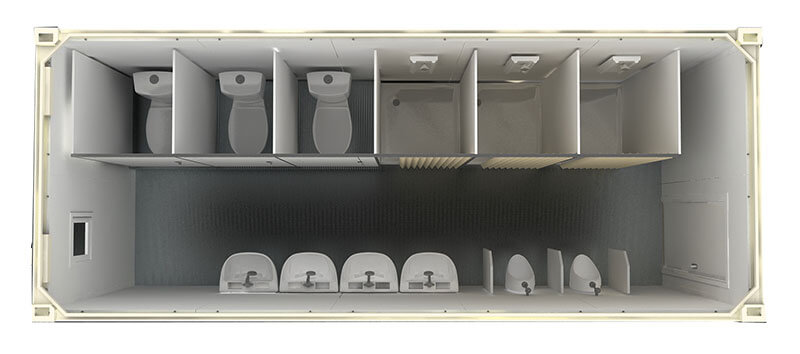 What Size Are Ablution Containers?
Ablution containers are usually converted from general purpose shipping containers that are used for dry freight or storage. These come in three standard sizes:
20-foot containers that measure 6.058 m x 2.438 m and are 2.59 1 m high
40-foot containers that measure 12.192 m x 2.438 m and are 2.59 1 m high
10-foot containers that measure 2.991 m x 2.438 m and are 2.59 1 m high
The 20-foot and 40-foot containers are also available as high cubes which are 2.896 m high.
All these sizes are suitable for conversion to toilet ablution facilities.
The Conversion Process for Ablution Containers
Like any container conversion, ablution containers are designed with doors and windows to create light and bright spaces that may be cleaned easily. The steel is cut to accommodate the openings that are then fitted and welded in place. These commonly have aluminium frames which are lighter than mild steel.
Internal cladding is fitted and then either painted with a good quality product that can be scrubbed or tiled. Hygienic, easy-to-clean flooring is fitted over the existing container floor. When mirrors are included, this adds visual space to the ablution container.
Unless the containers are new, the outside of converted ablution containers should be given a good quality rust-proof coating prior to painting the exterior.

Of course, the most essential elements for ablution containers are electrics and plumbing. For this reason, plumbing is integrated into the design as is the electrical fuse board. Power sockets and lights are fitted in the factory environment, prior to shipping. So, when the unit is delivered, the electric wiring is easily connected to the electrical connection and the plumbing pipes and fittings are connected to the sewer and mains water. In some remote location where mains water is not available, tanks are used. Chemical toilets may be used if it is not possible to connect to a sewer.
The size of the shipping container used will determine how many toilets and/or urinals may be included in the design. Of course, if separate toilet cubicles with doors are to be incorporated this will affect the design dimensions. Urinals and basins are not commonly seen in cubicles.
When customers opt for unisex ablution containers, the container is divided by an internal wall and separate doors are installed, one for men and one for women.
Almar Containers for Ablutions
Almar's shipping containers are strong and secure, and they may be converted into just about anything from homes with en-suite bathrooms to stand-along ablution facilities. They are ideal for remote locations where the best solution is a plug-and-play design.
If you need ablution containers in the Middle East, South Africa or East Africa contact us to see how we can help you.