We have a regular supply of steel containers for sale that attract interest from start-ups and hobbyists alike. While some containers may be advanced in years, they are still structurally sound and ready for painting and fitting out.
We sell them as empty shipping containers. We also offer a full-blown service for adding fixtures inside. Welcome to our virtual shop. Allow us to show you what is possible with imagination.
Steel Containers for Sale Smart Alternatives to Construction Costs
Building costs are rising astronomically on the back of upward pressure on wages, the soft economy, and the weak rand. Compared to this, our steel containers for sale represent exceptional value in terms of square meter cost.
Moreover, they are never fixtures and hence easier to sell on when no longer needed. Why should small start-ups have to pay stiff rents or risk capital on new construction in the current uncertain property market?


How Small Businesses are Scoring with Used Containers
Emerging open-air farmers' markets are a great way for small-scale growers to enter the retail end of business, compared to having hard-to-find goods in large fresh produce markets. A shared steel shipping container makes a great payment point they share.
Consumers are increasingly renting power tools like drills and saws because they can't afford to buy them outright. One of our steel containers for sale could soon become a money spinner in the backyard. What a way to start a business!
A deep-fry fish-and-chips or other takeaway outlet needs a reliable supply of raw ingredients at all times. The more successful ones often run out of freezer and chiller room space. Place a refrigerated steel container out the back and power it up. Problem solved.
Steel Containers for Every Imaginable Money-Making Hobby
Did you ever fancy renovating a vintage motorbike and selling it on to make an easy profit? Your only problem may be the garage is already jam-packed full. A 20-foot storage container makes a perfect workplace for all kinds of hobbies.
Perhaps you have a secret longing to write a best seller book or take up painting again. Maybe you need a quiet place to study for a UNISA degree you really need. Set one of our steel containers for sale in the garden and qualify for a promotion at work.
The sky's the limit when it comes to making money with Almar steel containers for sale.
We have to be precise about the length of every 20ft container we supply. That's because they have to fit on top of each other and squeeze easily into tight spaces. There were freight containers in the UK in the 1830's for transferring coal from railways to horse-drawn carts.
However they only really took off in the 1950's after the U.S. Army developed rigid steel containers with lifting rings. Hence container lengths measure in feet not meters.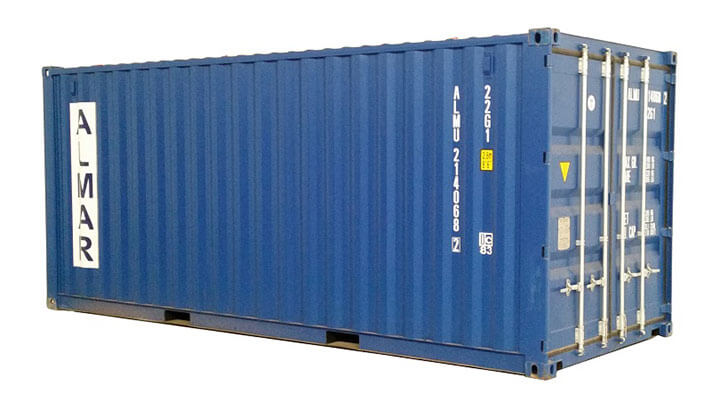 The Advantages of the Intermodal 20ft Container
The 20ft container is the smallest in the standard range. Thus this container design is popular for transporting goods to locations with less sophisticated lifting and carrying equipment. We call them intermodal containers because they can travel in different modes of transport.
There are other names for these amazing devices that can travel by ship and rail and truck. These include cargo / freight container, iso container, shipping / sea / ocean container, container van, sea can, or just container.
How a 20ft Container Adds Value to a Warming World
Every ounce of energy we use contributes to greenhouse gas, and humans are currently causing too much of it. Moreover, the same applies to building construction. Our lightweight 20ft containers are in aluminium because this considerably reduces lifting and transportation costs. Moreover when their intermodal days are over they find other uses as transportable buildings.






The Secret Life of a 20ft Intermodal Container
A 20ft container becomes a habitable building when we add a door and window and fit it out. Moreover being lightweight aluminium makes this a fairly easy task. The attachment points on all eight corners simplify transport by ship and rail and truck, and even cargo airplanes. As a consequence, our engineers are able to assist with these cost / time saving projects:
Workshop containers – just add the electricity!
Accommodation containers perfect for construction projects
School classrooms – everything is possible when we are inventive
Container offices as temporary or semi-permanent accommodation
Portable clinics that travel to where the need is greatest
Ablution containers – let's go grab a shower!
Are These the Most Amazing Second-Life Containers Ever?
Qatar is building a modular, demountable soccer stadium for the 2022 FIFA World Cup. This 40,000-seater is rising from the desert immediately southeast of Doha on the Persian Gulf. The modified shipping containers sit within a steel framework creating the perimeter wall and tiered seating.
A variety of reinforced 20ft container versions and larger types will have pre-installed stairs, concessions, and bathrooms. This uses fewer materials, creates less waste, and leaves a lighter carbon footprint. They can move the Ras Abu Aboud Stadium to its first legacy location when the games are over. A renewable soccer stadium, who would have thought of that…
There was a time when steel storage containers were simply used to move cargo across vast tracts of land or between continents, and then sometimes, once they reached their destination, for continued storage of the transported goods.
Today, storage containers, which are also commonly known as dry freight shipping containers, have a multitude of uses from retail outlets, workshops, and offices, to clinics, and even stylish upmarket homes.
While steel storage containers are essentially just boxes, if you're considering a shipping container conversion, then you're going to have to think out of the box!
Standard Sizes of Storage Containers
The standard sizes of general purpose (GP) storage containers are defined by international standards that are set by the International Organization for Standardization (ISO). This includes the internal dimensions used for the design of steel shipping containers as well as external dimensions. The standards also specify minimal internal measurements for door openings.
In general terms, GP storage containers are referred to internationally as being either 10 foot, 20 foot, or 40 foot in size. The metric conversions for these dimensions are 2.991 m, 6.058 m, and 12.192 m.
The width of all these containers is the same, 8 feet or 2.438 m. The standard height is 8.5 feet or 2.591 m, with 9.5 feet/2.896 m "high cube" units adding an extra foot in height to the container.
So, there are just five sizes and they don't provide many choices. Or do they?
The limited standard sizes of storage containers belie their versatility. This is because they are modular in character and one, two, or multiple containers may be used together for conversion projects.



Benefits of Storage Containers for Conversions
Shipping containers that are designed for the storage of goods during transportation are strong, durable, and highly mobile, meaning they can be moved with ease.
When it comes to using them for conversions, storage containers manufactured for shipping have numerous advantages. Even though not originally designed for any form of conversion, they can be repurposed with ease. Furthermore, the conversion process is incredibly quick when compared to most other forms of construction.
All you need to do is consider the container as a building shell. You don't need major foundations to support it, and so it will enable you to cut costs right from the beginning. No extensive earthworks are required either.
The fact that storage containers are modular is one of the major benefits when it comes to conversions because they can be used alongside one another or on top of other units. They are also incredibly easy to customise. They may even be used to create multiple storey buildings. You will need professional input, and the conversion will need to meet local building regulations, but site work and basic structural work are simplified.
Storage Containers From Almar
The beauty of steel shipping storage containers is that they can be used as-is for storage, or they can be repurposed to meet any specifications.
We have new and used containers that can be used for just about anything, from accommodation to ablutions. We also offer converted shipping containers that are ideal for on-site use, particularly in remote locations.
Call us today to see how we can help with the storage containers we have in stock.
Whether you need a temporary office on a building site or a well-equipped office in a remote location, shipping containers provide an ideal solution. Made of strong, sturdy steel, they are available in several different sizes offering limited options for mobile offices.
The concept of mobile offices is one that appeals to any business that requires on-site facilities for a limited period of time.

Advantages of Creating Mobile Offices from Containers
The biggest advantage of using shipping containers for mobile offices is that they may be used to provide instant office space anywhere. Conversions are quick and easy, and the full range of finishes will produce anything from a budget office set-up to bespoke designs that incorporate ablutions, conference rooms, and first aid facilities.
Other advantages include:
Turnkey solutions that start from the inception of the idea and carry through to delivery in a very short period of time.
The opportunity to create plug-and-play solutions that are assembled in factory conditions and then transported to site. All that is required before the office space is up and running is to connect electricity and, if relevant, plumbing so that running water and ablutions are available.
The opportunity to reuse mobile offices when they are moved to second and subsequent sites because they are so easy to modify after initial conversion.
A global reach not affected by the remoteness of any area. Almar has offices and various production facilities in Saudi, Dubai, South Africa and East Africa.
Cost-effectiveness and the chance to erect office space quickly and easily without having to cover the normally predictable costs that are associated with buying or constructing office premises.
Minimal groundwork is required for mobile offices created from containers. Most importantly, you don't need to dig and construct substantial concrete foundations that require both labour and materials … and a larger budget.
Opportunities for Mobile Offices
Shipping containers provide a shell for mobile offices. What you do with that shell depends on your needs and budget.
Generally, a single container – usually either a 20-foot or 40-foot unit – is the unit of choice. Both of these are only 2.438 m wide, which determines how the office is laid out. But with imagination and creativity, multiple desks and workstations can be accommodated.


Since mobile offices are created in a factory environment often thousands of kilometres away from the final (albeit temporary) destination, it is just as simple to double up on space by using two containers side-by-side to give added width. Alternatively, they may be stacked to create a double storey arrangement.
Mobile Office Solutions from Almar
Almar has more than 30 years' experience in the container industry and we pride ourselves on the practical, cost-effective solutions we are able to provide in Africa and the Middle East.
Our in-house engineers and experienced designers are ready to make your ideas a reality that will meet your own very specific needs. We will customise your mobile offices with shelving, carpeting, electrical points and lighting fixtures, and security features. You decide whether you need insulation and air conditioning and/or heating.
Shipping containers are ideal for ablution units in remote locations, for construction sites, or even as bathroom facilities at camping and other outdoor venues, both permanent and temporary.
Ablution containers may be customized, assembled in the factory, and then delivered to site in a lot less time than it takes for a container that is to be converted for accommodation or for office space.
They are self-contained and the size is perfect. If you need more toilets, urinals, basins, or showers than you can fit into one container, you can utilise two or more, separating them for use by either men or women. They may even be designed to fit alongside each other with access between the container units.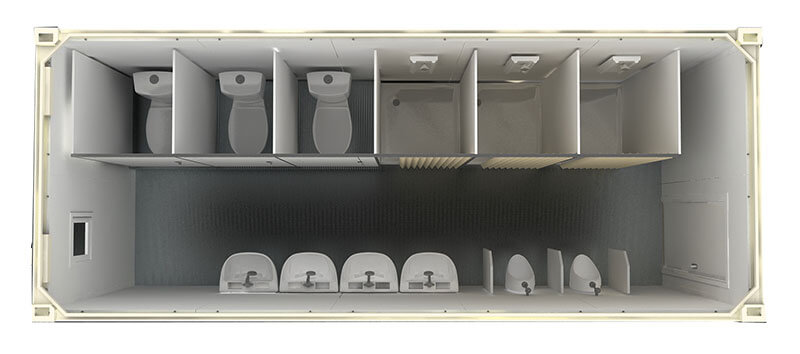 What Size Are Ablution Containers?
Ablution containers are usually converted from general purpose shipping containers that are used for dry freight or storage. These come in three standard sizes:
20-foot containers that measure 6.058 m x 2.438 m and are 2.59 1 m high
40-foot containers that measure 12.192 m x 2.438 m and are 2.59 1 m high
10-foot containers that measure 2.991 m x 2.438 m and are 2.59 1 m high
The 20-foot and 40-foot containers are also available as high cubes which are 2.896 m high.
All these sizes are suitable for conversion to toilet ablution facilities.
The Conversion Process for Ablution Containers
Like any container conversion, ablution containers are designed with doors and windows to create light and bright spaces that may be cleaned easily. The steel is cut to accommodate the openings that are then fitted and welded in place. These commonly have aluminium frames which are lighter than mild steel.
Internal cladding is fitted and then either painted with a good quality product that can be scrubbed or tiled. Hygienic, easy-to-clean flooring is fitted over the existing container floor. When mirrors are included, this adds visual space to the ablution container.
Unless the containers are new, the outside of converted ablution containers should be given a good quality rust-proof coating prior to painting the exterior.

Of course, the most essential elements for ablution containers are electrics and plumbing. For this reason, plumbing is integrated into the design as is the electrical fuse board. Power sockets and lights are fitted in the factory environment, prior to shipping. So, when the unit is delivered, the electric wiring is easily connected to the electrical connection and the plumbing pipes and fittings are connected to the sewer and mains water. In some remote location where mains water is not available, tanks are used. Chemical toilets may be used if it is not possible to connect to a sewer.
The size of the shipping container used will determine how many toilets and/or urinals may be included in the design. Of course, if separate toilet cubicles with doors are to be incorporated this will affect the design dimensions. Urinals and basins are not commonly seen in cubicles.
When customers opt for unisex ablution containers, the container is divided by an internal wall and separate doors are installed, one for men and one for women.
Almar Containers for Ablutions
Almar's shipping containers are strong and secure, and they may be converted into just about anything from homes with en-suite bathrooms to stand-along ablution facilities. They are ideal for remote locations where the best solution is a plug-and-play design.
If you need ablution containers in the Middle East, South Africa or East Africa contact us to see how we can help you.
Robust and modular, steel shipping containers are strong and secure and ideal for a range of uses from transportation and storage to workshops and clinics. Because they are easy to move, container offices are also great for remote locations whether they are planned as permanent or temporary structures.

Benefits of Container Offices
The most obvious benefit of container offices is that they are generally cheaper to construct than either bricks-and-mortar or even steel or timber frame structures. Experience shows that it is possible to save as much as 60 percent by using shipping containers for offices and office complexes. That said, like every other type of structure, the final cost will depend largely on fixtures and fittings, as well as the cladding and insulation (if any) used. Obviously, doors, windows, plumbing, electric wiring, paint, and other features will all add to the cost. But a basic structure will always come in a lot less than any other type of office building.
Customised design is an advantage that goes hand-in-hand with finishes. You can decide exactly what meets your needs and customise the interior and exterior (with cladding if you wish) to create a unique office environment however luxurious or utilitarian you want it to be.
Container offices can also be put together much, much faster than traditional offices. While stacking containers to achieve two- or multi-storey buildings will take longer than just creating a single office unit with one container, so too will a multi-storey office built out of traditional materials. It's all relative. Similarly, while finishes can add to cost, they can also add on time. For instance, if containers have to be cut and welded to form larger spaces, or multiple doors and windows need to be fitted, this will add construction time to the project. But, and this is a biggie, if the work is done prior to delivery on site then construction will still be considerably quicker, and disruption on site will be minimised. Having this kind of work done prior to delivery on site also minimises labour costs.
Another great benefit of container offices is their mobility. They can be transported to any remote site, and then moved again if the office is needed for another project. This makes them particularly popular in the building industry and in related fields.
Container offices are also eco-friendly since they are recycled and have a very limited footprint.



The Almar Advantage
Almar has offices in the Middle East, South Africa, Tanzania, Uganda, and Kenya. We specialise in plug-and-play solutions for remote locations including office accommodation and container buildings that are suitable for medical and other facilities.
If this persuades you to literally think out of the box, contact the friendly team at Almar to find out how we can help you with your container offices. We will help you save time and money, especially if you need an office for a remote location.
If you are considering office container hire as an option for office accommodation, leasing a converted container could be the best choice for you.
Of course, you could have a look at available storage containers for rent and then do your own conversion. Or you could simply find an ordinary office to rent! But there is absolutely no doubt that if you like the idea of using a converted container this could be the best decision you have ever made, particularly if it is for a limited time only.
Shipping Container Rental of Converted Units
Like everything else in life, when it comes to shipping container rental options, you need to consider your needs. For example, container hire of standard-sized units is the route most businesses wanting to transport goods will use, although refrigerated containers will be needed for perishable cargo. Storage containers for rent are ideal for any area where space is tight. They can also be used to create instant warehousing. Refrigerated containers, in the form of 6 or 12 m-long domestic reefers, are available from some suppliers with additional features that cater for static storage. These include emergency exit doors, internal lighting, and man-trap alarms.
But if you need something that will enable you to either create or add to existing office accommodation, then a converted unit or more will best meet your needs. Unless you need permanent facilities, a major advantage is that you can return the converted container at any time, which can be a great help to overall cash flow. They are particularly well-suited for remote areas where they provide turnkey solutions to solve what might otherwise be huge challenges.
Advantages of Converted Containers
All shipping containers are strong and secure; they are also modular, which means they can be stored in any space. It is also possible to modify and convert them to a multitude of uses, including office space and for convenient accommodation.
Office container hire is also incredibly versatile as container rental may be for just one individual unit, or it might be for multiple units that provide offices for a large staff contingent, possibly with workshops and communal areas, and probably with bathroom, toilet, and kitchen facilities. These options are generally available from reputable, well-established companies that provide shipping containers for sale and to lease.



The invention of the world's first shipping container by an American businessman more than 60 years ago revolutionized trade and transportation. Today, they are not only used internationally for transport and logistics, but also for cold-storage, and offshore oil and gas, and you'll see shipping containers on the move in most of the world's busy harbours.
But steel shipping containers aren't only used for shipping goods. Container conversions are showing up all over the world in a myriad of forms from houses, schools, and clinics to offices, workshops, and even compact retail space.
When it comes to converted containers, there are more options than most people imagine, and so it's important to think out of the box. After all, shipping containers are just that – large, steel storage boxes. But as soon as you start visualizing these big boxes with doors and windows, roofs and gutters, that are fitted or furnished for purpose, you'll see how they can be converted into an incredible assortment of container homes, container offices, and other container buildings.



Ten Advantages of Using Converted Shipping Containers
Variable sizes: Containers are manufactured in different sizes from quite small 3m-long units to large 12m-long units that offer loads of space.
Modular: You can use one container on its own or combine several for a more versatile solution. In really creative container conversations you might find multiple units used to create double-storey buildings.
Customisable: When you think of a shipping container as a versatile building shell, you will realize that it can be modified in just about anyway. Container homes and container offices incorporate plumbing, electrics, storage, appliances, fixtures, fittings, and whatever furniture is appropriate.
Cost: Like all forms of building, the design and size of converted shipping containers will have a direct impact on cost. However, generally, container conversions are considerably cheaper than building from scratch.
Durability: A tough steel box is one of the most durable shells for any building – and this is what converted shipping containers are. But that's just the shell. Shipping containers are also incredibly versatile.
Versatility: Shipping containers can be converted into storage for just about anything. With practical consideration and creativity, they can be transformed into luxurious little homes – some of which aren't that small. They can also be easily converted into low-cost houses, remote site accommodation, warehouses, and offices. With cladding inside and sometimes outside too, creative container conversions don't even resemble containers!
Speed of conversion: While you will need approved plans if you're going to live in a converted container or use it as an office, the construction/conversion phase is considerably shorter than most other forms of building. Basic conversion of a single container is normally done off-site and delivered to site ready for installation.
Minimal: substructure work Container conversions don't require extensive earthworks and foundation work. You do need professional design input, but sitework is simplified.
Mobility: Because there are usually no foundations, container offices and container homes made from single containers can be moved relatively easily.
Ease of repurposing: Unlike a conventional house, remodelling is considerably easier with converted shipping containers. If multiple containers have been used they can be reconfigured, and their internal spaces can be changed by adding or removing dry-walling.
Almar offers a range of converted shipping containers that are suitable for use as offices, workshops, clinics, as well as for accommodation and ablutions. Contact us to see how we can help you.