Shipping container home builders are an increasingly familiar sight where city regulations do not apply. Hence, they make perfect farmsteads and superior accommodation in rural areas and informal settlements. Elsewhere, municipal authorities are still catching up with the new technology so special permission is required.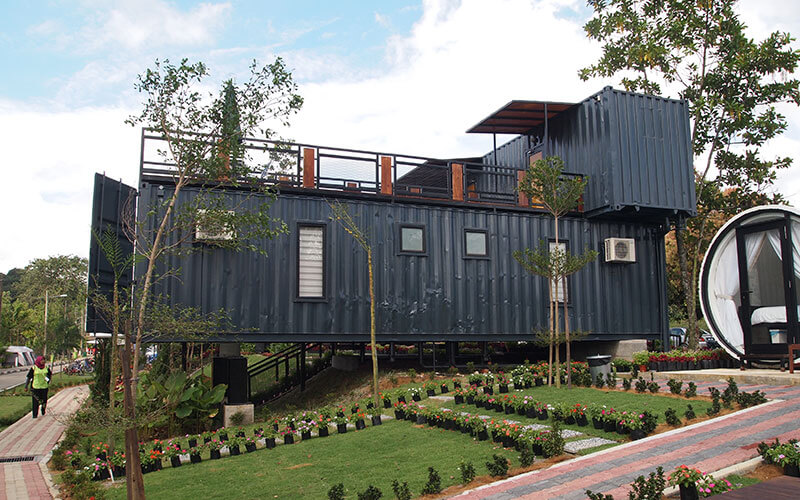 The 5 Things Shipping Container Home Builders Need to Know
Inspect Your Future Home Before You Buy: Intermodal shipping containers have a tough time as they travel the seven seas, and ride on railways and roads to the four corners of the earth. Some are in surprisingly good shape except for light surface rust. Others are badly dented with weakened welds. Insist the seller lifts your container up with a crane so you can check the underside.
Understand How Structural Integrity Works: A shipping container is a box with rigid doors adding extra strength. There is no internal cross-bracing. Hence it follows cutting openings without careful thought could weaken the design. Ask your container supplier for advice. It's their business, they should know.
Begin Your Upgrade with Thermal Insulation: Experienced shipping container home builders know intermodal container insulation is limited. They begin their work by spraying foam on the inside walls that double as a flame retardant. Then they fit a false ceiling inside those vents through the roof and feeds power to the overhead lights. Finally, they fit a slightly raised floor to their new home.
Use a Single Contractor for the Entire Project: Project-managing the conversion using multiple contractors works well if you understand the various trades. If not, they could run rings around you by blaming each other for defects. If you are unsure, find a decent shipping container supplier who can manage the whole job. Even better, have them do the conversion for you, and deliver a complete home to your site.
Then Let Your Imagination Run Riot: Experienced shipping container home builders provide the basics. Then it's up to you to add the furniture and the drapes. Use some of your savings, compared to brick and mortar to spoil your family just a little. How about buying that home entertainment centre you always wanted?
An entry-level shipping container home builder new to the game can make a difference in their family's lives with this brilliant technology, and things can happen fast with the right provider. Explore more ideas through these selected posts from our popular blog.
Selected Posts:
There is no doubt that the popularity of steel shipping containers for offices and accommodation is growing rapidly. But are container conversions prices really a lot less than the costs involved in traditional construction methods?
Factors That Lower Container Conversions Prices
Generally, shipping container conversions are cost-effective and they are a lot quicker to complete than traditional structures, particularly buildings made with bricks or blocks and mortar. They don't require extensive foundations and are particularly useful on sloping land where traditional housing becomes expensive. So yes, shipping container conversions prices are lower than regular buildings – unless the finishes and fittings used are very expensive.
They also have their own unique advantages.
For instance, steel shipping containers are exceptionally strong and durable and will last a very long time. They are generally resistant to fire, mould, and bugs like termites which is favourable when assessing container conversions prices.
Units can be converted in a factory and delivered to site for completion. This might include cladding and roofing as well as connection to water supply and electricity. It can take as little as three weeks to fabricate in a factory environment. Completion time will depend on the complexity of the design and whether steel reinforcement and/or welding is required.



The first of London's famous container cities was erected in the Docklands in 2001, and it took only five months for the developers to complete 12 work studios in the three-storey structure. Soon after, a fourth floor comprising apartments and studios was added.
Another of the advantages of using shipping containers for housing is that, because they are modular, they allow for flexibility and avant-garde creativity. They can be placed alongside one another or stacked, and sides can be removed to increase the dimensions of spaces. Also, it is very easy to combine containers with traditional building materials. Obviously, the more containers that are incorporated in the design, the higher the total shipping container cost will be. But then incorporating traditional building materials will also increase cost, not just of the materials but of on-site labour too.
It is possible to cut costs even more by using old steel shipping containers, although many companies that specialize in container conversions prefer to use new units. That will, of course, also increase the shipping container cost. It is worth noting that London's Container City was constructed from recycled containers, and recycled materials made up 80 percent of the total building materials used. This reduced the container conversions prices dramatically.
Disadvantages of Using Shipping Containers for Habitable Buildings
Old shipping containers are often dented and there may be some rust. They might affect their structural integrity. If they have been coated with lead-based paint to protect them from saltwater these surfaces will have to be covered for safety. It is, though, usual for designers to incorporate a new floor, ceiling, and both internal and external wall cladding in converted containers.
It can be difficult to fit extensive heating and cooling systems in shipping container buildings. But if insulation is included at the outset, this needn't be a problem.
For more information phone +966 13 814 7200 or email sales.me@almar.co.za.

There is no doubt that shipping container buildings are trending worldwide right now. People are using them for offices, shops, and homes, sometimes retaining the look and industrial feel of the insulated shipping container, sometimes stripping so much away most people would have no idea that the basic structure of the house was, in fact, a series of mobile storage units. But how do you go about building a container home, and how do you go about generating shipping container home plans?
Local Building Regulations for Converted Shipping Containers
Whether you are planning to use a dozen or more converted shipping containers or just one single unit, before you even start thinking about plans you need to familiarize yourself with local building regulations. In South Africa, for instance, the National Building Regulations require anyone building a house that does not follow standard construction principles to have an agrément certificate that confirms "fitness-for-purpose" of materials and components.
The building regulations also require a "competent person" who is essentially a person who is qualified and has the necessary experience to prepare the design (or plans). That person, usually an architect or engineer, will also have to ensure that the design meets the requirements of SANS 10400, a series of detailed documents that specify the requirements of the regulations, from structural design and foundations to glazing and fire protection, allowing for deviations specified in the agrément certificate.
If you want to buy shipping containers that can be converted, you really will need to use the services of a designer or architect who has the specialised knowledge relating to insulating and ventilating metal containers. Alternatively, you could find companies that offer shipping container homes for sale. Just check that their shipping container home plans have been drawn in accordance with the local authority bylaws and the country's building regulations.



Shipping Container Home Plans
Whether you are planning to buy ready-converted shipping containers or simply an ISO container that was previously used for mobile storage, it's a good idea to look at photographs of shipping container buildings as well as shipping container home plans that are available on the Internet. Even if you can't use these as is (in most cases you will have to have existing plans redrawn, at very least to show the converted shipping containers on the required site plan), they will give you some idea of just how container homes can be configured. Existing shipping container home plans will also show you how fixtures, fittings, and furniture can be laid out.
Shipping container home plans can be drawn in so many different ways, accommodating as many containers needed, either on one or multiple levels. The plans can have containers:
placed alongside one another, with openings that provide access to the adjacent space
placed end-to-end
positioned in a U-shape with the resulting courtyard covered or enclosed to increase floor space
stacked on top of one another
The options really are endless.
Converted Shipping Containers From Almar
Almar Container Group offers converted shipping containers that are suitable for offices, clinics, workshops, training and boardrooms, as well as accommodation facilities. We specialise in plug and play solutions for remote locations in East Africa and the Middle East.
Steel shipping containers have been used for mobile storage and to transport goods since the 1950s, initially by road and then via railways and by sea. Today there are millions of shipping containers worldwide, mostly used for transportation of cargo between major cities. There are also millions of ISO container units that are no longer in use, largely because they are frequently used to ship goods one way only. In the past few decades, many of these are now converted shipping containers that are used for modular offices and homes.
The Idea of Using Converted Shipping Containers for Accommodation
Even though Phillip C Clark is generally considered to have been the first person to consider shipping container buildings feasible, there is evidence of earlier interest. For instance, Betjemann Christopher of the Insbrandtsen Company (originally founded in Denmark as the Isbrandtsen Steamship Company) invented a mobile showcase for trade fairs made from a rectangular cargo shipping container. The container was divided into two sections and featured two side doors that could be raised to form a canopy. These portable "showcases" were intended for use at international trade fairs and could be used to transport whatever was to be exhibited between continents. He applied for a US patent in 1962 and it was granted in May 1965.
Clark only filed for a US patent in 1987 and it was granted in 1989. He detailed a method that could be used to convert "one or more steel shipping containers into a habitable building at a building site" as well as the resulting "product", a building that could be used as a home. He specified that multiple containers could be spaced or abutted side-by-side or mounted on top of one another. Inner side walls could be removed to increase open areas of space, a dropped ceiling installed under the top walls, and at least one window and one door provided for access and ventilation.
In 1996, James G Wiley, Jr, and Steve Forney applied for a US patent for a modular building that would have a steel shipping container core. Both inner and outer walls would be secured to the corrugated container walls and a laminate ceiling secured inside the "roof." The container floor would become sub-flooring. Their motivation was that Clark's invention had major disadvantages including the fact that his shipping container buildings were not prefabricated and had to be constructed on site, making them more expensive. The patent was granted to Forney in 1998.
In 1998, CMH Manufacturing applied for a US patent for a "container for prefabricated transportable buildings". Rather than buy shipping container units, this invention proposed a self-contained, rectangular steel shipping container built to "substantially conform to standard shipping container sizes." Built from components of the prefabricated building, it was designed to contain all the elements required to build either a two-storey duplex or double-storey detached family home. While water and sewer connections would have to be installed on site, conduits for electricity could be installed in the walls before shipping. Several suitable foundation types were specified in the patent which was eventually granted in 2002. Founded in 1987, CMH Manufacturing specialises in building modular and manufactured homes and commercial buildings, and it supplies homes according to its patent.



The First Shipping Container Buildings
There are many shipping container buildings that have been widely publicised, some old, some new. They range from converted shipping containers made into tiny houses to huge mansions that utilise dozens of containers that are cleverly connected and clad with materials that cover the corrugated steel both inside and out.
Some of the first shipping container buildings were used for the 1985 low-budget movie Space Rage: Breakout on Prison Planet. A typical "wild west" cowboy movie it was set in a futuristic town that featured the regular general store, saloon, various houses, and of course the prison. What was different was that just about every building, including the sheriff's house, was built from 20 and 40 ft shipping containers.
Probably the first ISO container converted for use as an office belonged to American inventor and designer, Stewart Brand, author of the acclaimed 1994 book, How Buildings Learn: What Happens After They're Built, which was basically a study of buildings in time. Three years later, in 1997, Brand presented a six-part series for BBC TV, based on the book. He also co-wrote the series.
Another early project incorporating shipping container design was the original Container City in east London, UK, that featured 40 ft converted shipping containers used for low-cost office and accommodation in 2001. Designed by UK architect Nicholas Lacey, the concept involves the use of Container City units that are bolted together but can be easily unbolted and relocated or stored until needed somewhere else. They have subsequently been used for classrooms, youth centres, workspace, retail space, offices, and for artists' studios.
Today there are many companies that specialise in shipping container design for both homes and offices. Almar has a range of container conversion products that are suitable for offices, workshops, clinics, and accommodation of various kinds. If you are in the market for converted shipping containers call us for more information.