Second-hand shipping containers for sale are a popular and cost-effective storage option. They are also a sustainable option as they are repurposed and reused rather than being sent to landfill. When containers are repurposed, they can be used for many years and this helps to reduce waste and decrease the demand for new materials.
Almar Saudi Arabia specialise in second-hand shipping containers for sale. They can be purchased at a lower price than new containers, making them a cost-effective option for a variety of uses.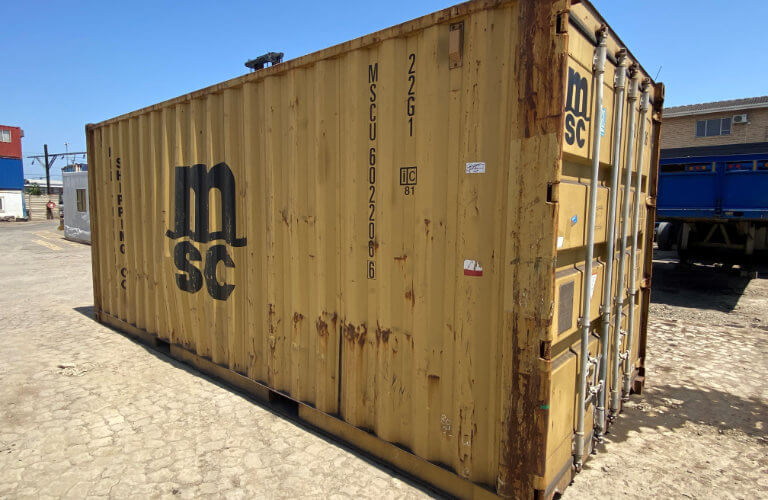 They are designed to be stackable and can be easily transported by truck, train, or ship. This allows them to be transported to where they are needed, rather than having to construct new buildings on site.
Second-hand shipping containers are typically available in two standard sizes, 20ft and 40ft. Both the 20ft and 40ft second-hand shipping containers are designed to be weathertight and waterproof and built to withstand the rigours of shipping.
Features of second-hand shipping containers for sale include:
Corrugated steel walls, roof and floor.
Four corner castings with lashing points for secure stacking.
Two sets of double doors that open up to the full width of the container for easy loading and unloading.
A steel locking bar to secure the doors.
There are several benefits to buying a second-hand shipping container for storage:
Cost-effective: Second-hand shipping containers are often less expensive than new ones, making them a cost-effective option for storage.
Durable and long-lasting: Shipping containers are made of steel, which is a durable and long-lasting material. They can withstand exposure to the elements, making them suitable for outdoor storage.
Weathertight and waterproof: Shipping containers are designed to be weathertight and waterproof, which makes them an ideal option for storing items that need to be protected from the elements.
Secure: Shipping containers are equipped with locking bars, which can be used to secure the doors and protect the contents of the container from theft.
Versatile: Shipping containers can be used for a wide variety of storage needs, including household items, equipment, and tools. They can also be used to create a workshop or office space.
Easy to transport: Shipping containers are designed to be stackable and can be easily transported by truck, train, or ship. This allows them to be transported to where they are needed, rather than having to construct new buildings on site.
Environmentally friendly: Using second-hand containers for storage reduces waste and decrease the demand for new materials, helping to reduce the environmental impact.
In conclusion, second-hand shipping containers for sale are a cost-effective, durable, and versatile option for storage. They can be used for a wide variety of storage needs, can withstand the elements, are secure, and can be easily transported, in addition to the environmental benefits.
For more information or to get a quote on a second-hand shipping container for sale please contact Almar on +966 13 814 7200.
Established in 1988, Almar Saudi Arabia offers storage containers for sale to suit your business and personal needs.
The benefits of buying storage containers for sale from Almar include:
Durability: Shipping containers are made of steel and are designed to withstand harsh weather conditions and heavy loads.
Mobility: Containers can be easily transported to different locations as they are built to be shipped by truck, train, or ship.
Cost-effective: Storage containers are a cost-effective solution for storing goods, as they are less expensive than building a traditional storage facility.
When buying storage containers for sale in Saudi Arabia, it's important to consider:
The storage container size and type needed:
Containers come in a variety of sizes and types, such as standard, high-cube, and refrigerated containers. Almar storage containers are available in 10ft, 20ft and 40ft sizes. Check out the various container specs to establish which container size is suitable for your storage needs:
The condition of the container:
Containers can be purchased new or used. Used containers will have varying degrees of wear and tear. Ask Almar about their B & C Grade second-hand containers for sale as there is a difference in price between the two. Grade B second-hand containers are slightly more expensive than a Grade C storage container.
New and refurbished containers are the most expensive so consider your storage needs carefully. Is the container public facing and a representation of your brand or is it 'back of house' and its purpose is more important than aesthetics.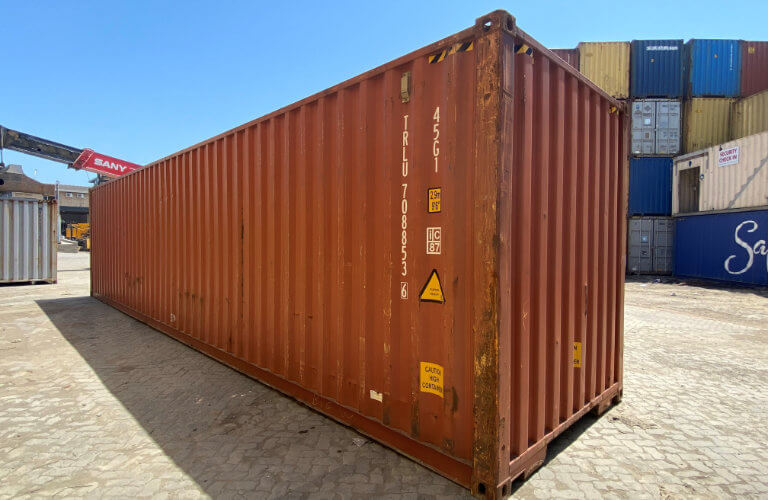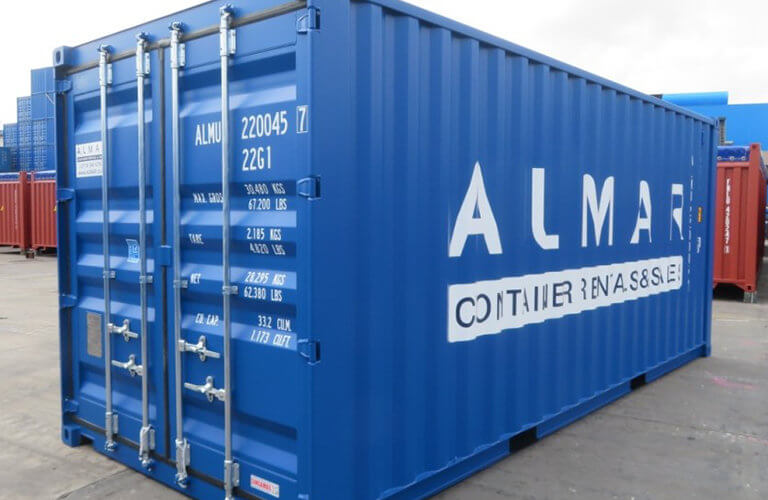 The location of the container:
Consider the location of the container and where it needs to be transported. Almar Container Rentals & Sales can organise transportation for you. The cost depends on how far and how accessible your location is. The region that the container depot is in also affects the price depending on the availability and demand of storage containers for sale in your region.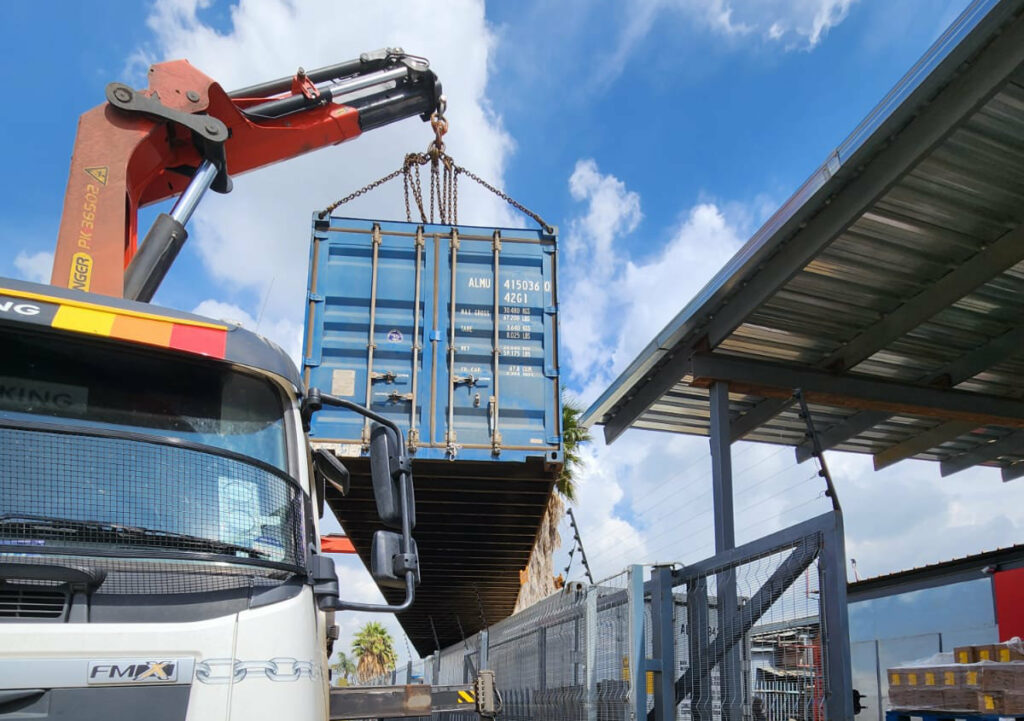 The intended use of the container:
Almar storage containers for sale are wind and watertight and fireproof. Consider if you need them to be equipped with electrical or plumbing connections.
Additional factors to consider:
Storage containers can be a great solution for storing goods in Saudi Arabia, but it's important to carefully consider your needs and budget before making a purchase. By thinking through the factors mentioned above, you can ensure that you buy the right container for your specific storage needs.
It is recommended to buy from a reputable supplier as container fraud is rife in Saudi Arabia. Read our article on container fraud to equipment yourself to prevent being scammed.
In summary, Almar Saudi Arabia is a reputable supplier of storage containers for sale in Saudi Arabia. We offer a variety of container sizes and types, including new and used options. It's important to consider the size and type of container needed, the condition of the container, the location of the container, and the intended use of the container when making a purchase. Additionally, it's important to buy from a reputable supplier to avoid container fraud.
For a quote, contact us on +966 13 814 7200. Almar containers are available nationwide.
There's not a shred of doubt in our minds shipping containers for sale are good value. Many other pieces of company equipment like computers and furniture end up in the junk yard.
This makes them cost centres not assets. They end up being worth little more than scrap despite all the money we spend maintaining them.
Now buying a container, that's another matter. They last longer. You can make or save more money than they cost, and still have an asset you can sell. We dedicated this article to our favourite topic, containers. We wanted to explain how they are great money-spinning opportunities that could add real value to your business. Stay with us while we reveal the amazing things our customers are doing with the containers we sell.
Did we get your attention? Then let's dive in with a summary so you can decide if this is something you really need to know about.
Essential Things to Know Before You Buy or Rent a Container
"Price is what you pay. Value is what you get."
- Warren Buffet
Let's Mine Those Nine Issues and Discover What We Can Learn
1. Problems and pain points to buying a used container that are easy to avoid
Shipping containers come in different lengths, although the width is the same, so they can stack them on ships and in depots. They measure in feet because the U.S. Army invented them in their current form.
Most containers are 20 feet (6 meters) and forty feet (12 meters) give a few centimetres. You can't bend them or fold them, and they're not super easy to manoeuvre. We sometimes run into challenges when delivering containers as the site is either not easy to access for the truck, doesn't have enough space for the actual container, or there may be obstacles overhead.
1
!! Avoid not thinking things through and measuring up
There are a number of factors to consider with regards to measurements. You don't only need footprint space for the actual container, but you also need space for doors and windows to open, electrical connections, and whatever other bells and whistles you may want added to your container. Then, you also need to measure up and make sure that there's enough space for the truck to access the drop off site, and that any overhead objects are far or high enough out of the way for when the container is offloaded from the truck.
2
!! Avoid purchasing a race horse if you need a donkey
Pricing for containers depends on a number of things, one being the quality of the container. The better the quality or condition, the higher the price. If your requirement is customer facing you may want to consider buying a more expensive unit, but if your requirement is out of site, like storage in the back yard, then aesthetics is less important if at all.
3
!! Avoid not thinking through transport
Other than the obvious costs related to transporting containers, there are other practicalities to consider. For example, the days and times that the pick up point or drop off location can be accessed by the transport, do they allow after hour access. Also, what type of truck do you require? A simple flat bed with no handling equipment, or do you require a crane truck to help with offloading on site?
4
!! Avoid not thinking about the little things
Containers are often used in a greater ecosystem, and the compatibility of this relationship needs to be well thought through. For example, if you using a refrigerated container then you need to check that you have the correct power supply, and if you using a normal dry container for additional storage during peak season then you may need approval from the landlord or park manager to store containers on site for an extended period. It's worth really thinking through how the container fits into the broader reality and making sure all the boxes are ticked.
2. Where to buy a container and why some sellers are best left alone.
It makes sense to purchase a shipping container nearby where you are, transport will cost less and just in case, for some reason, you need to send it back.
If you're not close to a depot, then the transport cost becomes an even bigger factor and can make or break the business case. So remember to include that cost in your breakeven / profit forecast before buying a container.
Think twice before sinking your money into a container. There are a number of fly-by-nights, scammers and other weird and wonderful operators out there. Spend some time making sure that the supplier is reputable. You also want a supplier who can help you if you land in a pickle, not someone who simply sells you the container and then leaves you to resolve any issues on your own.
The applications of used shipping containers for sale are endless and there are no doubt more applications yet to be discovered. As opportunities are explored, it's worthwhile visiting this site to find more container specifics and make sure nothing is missed.
"Online shopping makes everything so much easier - it's a bad habit of mine."
- Hungarian Model Barbara Palvin
3. Possible reasons why you are interested in shipping containers for sale
Shipping containers have become the mainstay of the international transport industry because of their go-anywhere standardised nature. However, they can't last forever out there on ocean waves where they stack ten and more times high on the decks of ships.
That said, they are still solid and strong. And they are also still suitable for 'landlubber' use if you don't mind a few dents and scratches. Here's a grab sample of the innovative uses our customers put them to after buying a container from us.
Low cost affordable housing in which each one serves as a room or student dorm
Spaza shops at busy taxi stops where their stout construction makes them almost thief proof
Temporary ablution facilities at construction sites and outdoor sports arenas
Realistic scenarios for firefighters learning to combat indoor fires
Many construction companies buy a container for a site office
Refrigerated containers make great cool rooms at outdoor expos
"Without change there is no innovation, creativity, or incentive for improvement."
- Physicist, Priest William Pollard
4. How buying a used container can be a profitable smart investment
If you were to acquire a new shipping container and get it into the international shipping system on a lease you might achieve a gross return of 10% to 12% a year before expenses, if you had no downtime. However, this is unlikely because the market is over traded and international commerce is not exactly humming.
That said, here's the gap. There could be a great opportunity to rent a container or two in your home town or the domestic market. Why's that? Often there is a degree of uncertainty associated with any new project or venture and so the driver of these new ventures is looking for ways to mitigate risk, and so they would be keen to look at renting containers from you until the concept has been proven, at which stage they would then invest the capital they require.
Sometimes it may just be a cash flow issue. The concept has been proven, but there's no capex available. For example, the government will rent containers from you for temporary school toilets, classrooms and clinics because it cannot afford the capex cost for permanent buildings.
If you are in any project-related industry then it may suit you to buy a container for your own use. That's because you will always need site storage or a temporary office nearby. The beauty is you can set it down anywhere there is a serviced site. This reduces sundry costs associated with projects down the line.
Plus, when you don't need it, and you're prepared to get creative, there are always guys looking for short term storage locations and so you could rent your container out to them until another use crops up.
"Rule No.1: Never lose money. Rule No.2: Never forget rule No.1."
- Warren Buffet
5. Four things you need at the front of your brain before making a decision
So you've got your finger on a button to buy a container, but you know it costs a truck hire to send it back if you made a mistake. Our years of experience chatting with customers tell us these are the four most important key touchpoints.
1st Touchpoint: Understand the different grades of container that are available. Check the grading template or photos out carefully if you are unable to select your specific container. You may have a vision in your mind, and this will probably differ from reality. You need to manage your expectations.
2nd Touch Point: When the container is handed over to the customer or customer's transporter, this is your last chance to inspect. Scratches and small dents are no big deal. However, obvious corrosion could signal deeper problems. Open the container doors. Do they work correctly, are the gaskets and seals in order? Ask the attendant to shut you in the container. Things should be pitch black. If you see points of light ask why.
3rd Touchpoint: Consider the transport factor. Generally speaking, companies that sell containers offer pretty competitive transport prices, but you may want to check these with any local contacts you may have.
4th Touchpoint: Shipping containers for sale are priced out of the depot in advertisements, to make them seem as cheap as possible. Remember to factor in the cost of any improvement you may wish to make such as paint, and any on-site requirements like installing plinths to set the container down on.
"We have to distrust each other. It is our only defence against betrayal."
- Tennessee Williams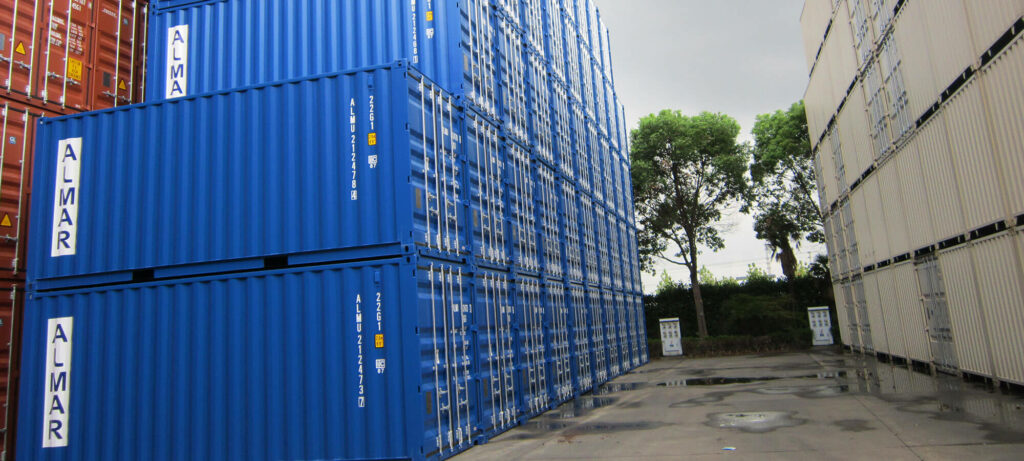 6. The payback on containers you've bought
This is the big question uppermost in many peoples' minds when thinking about buying a container. Shipping containers for sale in fair condition could last up to ten years if you maintain them properly. Remember, they spent their formative years on ships battling gales and salty, corrosive waves.
We can't run the exact numbers here because circumstances vary, containers differ, applications may be intensive or light, etc. but with that said, and just to give you an indication, you can work on an average payback of three to four years to get your creative juices flowing.
As an entrepreneur, your sixth sense will give you a sense of what the payback will be. Art is a science and science an art. Take the best of both.
"Concentrate all your thoughts upon the work at hand. The Sun's rays do not burn until brought to a focus."
- Alexander Graham Bell
7. What you can do with different types of shipping containers for sale
There are a wide range of shipping containers in use to meet every need of the lucrative transportation business on the ocean, on the railway line, and on the road.
These containers provide a high level of protection to their contents while in transit. This makes them ideal for many other purposes after they 'retire from active duty' far out to sea.
Standard Dry Storage Containers are the general purpose ones we see most arriving and departing our harbours. Standard lengths are 10ft, 20ft and 40ft. They have a double door opening at one end.
When you buy a container of this type you'll find it modifies easily into a small building by cutting out openings in the sides and fitting standard doors and windows. Their uses are almost endless. Think offices, stores, meeting rooms, and ablutions on construction sites, for example. People increasingly turn them into houses.
Flat Rack Containers enable easy loading as they don't have sides or roofs: Even the ends drop away to become ramps. They make great platforms for transporting large vehicles safely. However, there are also inventive uses for them on land.
That's because they are ideal for transporting bulk goods without having to tranship between vehicles. Pallets of bricks and lintels both spring to mind. Once they reach their destination these are already tidily stacked making buying a container of this type a smart move.
Open Top Containers have roofs that remove easily to allow transport of large items too tall to fit into standard ones. They are a near-perfect application for shipping livestock without the ventilation problems associated with standard ones.
We find farmers buying a container like this and using it as an instant storage dam or dipping station for livestock. We've even heard of them being used as swimming pools, and recharging tanks at fire stations. The opportunities are endless when you buy a container.
Tunnel Containers have double doors at each end to facilitate loading and offloading in the same order. They are also popular as shared containers for people emigrating because their service providers can change the delivery sequence.
These shipping containers for sale also serve as entry and exit points at rural sports stadiums. We have seen them used as overpasses for pedestrians across roads, as subways under railway lines and other hazardous situations.
Open Side Storage Containers enable easy loading and unloading of palletised goods such as bricks, blocks, cement, fertilizers and animal feeds. Once the doors are closed they remain weather dry and are almost impossible to rob on the move.
When their shipping days are done they make perfect portable stages for rock groups and settings for community events such as weddings, baptisms and funerals. In fact any occasion you want to make as inclusive as possible.
Refrigerated ISO Containers are almost always used for shipping perishable vegetables, fruit and meat over long distances. In fact, all you need do is connect the electricity after buying a container of this kind.
Therefore, when you buy a container in this category, you have a function caterers' dream in your hands. We have supplied a number of them to fast moving consumer goods retailers and popular fast food outlets to tide over holiday seasons when demand tends to peak.
"Concentrate all your thoughts upon the work at hand. The Sun's rays do not burn until brought to a focus."
- Alexander Graham Bell
8. Containers are heavy things. What if you have to move them around?
There are a number of ways to move containers, from putting rollers under them to connecting wheels and a tow hitch to the more traditional methods like using trucks. It all depends on the local legislation (what is permitted), road surface, distance, and a few other things.
The safest is to use the tried and tested, therefore, we'd rather recommend using industry standard counterbalance lifting trucks and transporting equipment. If we were loading an empty container on a flatbed for a client we would use a heavy duty forklift.
The situation is somewhat different at a container yard where operators use straddle carriers, reach stackers, and top loaders. Gantry cranes can stack higher which is why you see them at container ports.
If you are delivering a container or planning to receive one after buying a container the trickiest bit can be offloading it at the other end. The agent will need clear space to set it down, and you need to plan this carefully so you have utilities nearby.
The driver basically has two choices unless you just happen to have a heavy duty forklift or can borrow one.
Deliver on a flatbed with a container lifting crane behind the driver's cab
Use a tilt bed transporter, lower the back end to the ground so it slides off
"Hindsight is always twenty-twenty"
- Film Producer Billy Wilder
9. Does it matter if a used container has a few dings? What to watch out for.
When you buy a container that was used for shipping please don't expect something as perfect as a brand new car from a famous brand. Those booms and clangs coming out of container yards at night witness to the robustness of the shipping industry.
They also evidence the incredible structural strength of the containers themselves. However, the metal for the sides and top is relatively thin to save weight. This, in turn, is possible because the girder corners bear the weight.
Therefore, it follows that you may find two types of damage when inspecting shipping containers for sale in a commercial yard. Look carefully for signs of a corner buckling or distortion of a horizontal member.
Buckled containers are no longer suitable for secure stacking and therefore should not be used for shipping goods. However, if appearances don't put you off they could still do an honest day's work in several of the roles we mentioned.
Dented side panels and roofs, on the other hand, should not affect structural strength unless extreme. With a little redecorating they should turn up looking good. Be extremely wary of severe corrosion though. Our recommendation is don't touch it if you looking for something that is wind and watertight.
"Don't Judge a Book by Its Cover "
- George Elliot's Mill of the Floss
Do You Still Doubt Shipping Containers are Wise Investments?
We surely hope not, because we went to a pile of trouble to demonstrate they are the answer if you want a less-expensive portable building you can adapt and move around.
A versatile structure that adapts to you - as opposed to a building that's a fixture despite your needs changing at the cutting end of your business.
We do hope you found this article worth reading, and that you gained fresh valuable insights into our world of containers: An exciting world where you could achieve so much more now that you know how the business works.
Steel shipping containers are used for mobile storage of freight and other bulky items including vehicles and furniture all over the world. They may also be used for static storage either temporarily or on a permanent basis instead of traditional warehousing. Of course, mobile containers may also be converted for other uses and shipped off to become container offices, clinics, workshops, and even homes or temporary accommodation.
The beauty of shipping containers is that they are modular and relatively easy to move and transport. Also, they are incredibly versatile and available in just about every country in the world. A large percentage of companies offer one-way lease options, which means you can hire a container, have it transported, and then leave it where it is once you are done. Another client will then have the option of hiring where you left off.
Almar Container Group offers mobile containers for sale and lease in the Middle East and East Africa, which is convenient for companies operating in one or both of these primary regions.
Where to Find Mobile Containers for Sale
When looking for mobile containers for sale the best option is to find units that are available locally, where you live or operate. Then you simply need to price them and make sure that delivery to your destination will be both possible and affordable. If you are planning to lease a unit, it's best to find a company that will allow you to terminate the lease in the country and/or at the destination you are heading for.



Mobile Containers for Sale From Almar
Almar Container Group has new and used shipping mobile containers for sale throughout the Middle East and East Africa. Previously used containers are in good condition and most are eight to 12 years old.
The company has a wide range of mobile containers for sale and for lease, all of which have been manufactured to ISO standards. Call us to see how we can help you meet your needs.
Shipping containers for sale are available in different international standard sizes. Prices are variable, largely depending on availability and condition, and there's no definitive guideline relating to used containers for sale prices. So, if you are looking for cheaper units and basing your choice on price, it's important to establish condition before you buy.
So how do you know the condition of shipping containers for sale? If you can get to see the container before you buy it, you'll be able to assess the condition yourself. But this is not always possible for logistical reasons.
How to Assess the Condition of Shipping Containers for Sale
Standard container sizes and specifications for manufacture are set by the International Organization for Standardization (ISO). The US-based Institute of International Container Lessors (IICL), established in 1971, was instrumental in developing the International Convention for Safe Containers (CSC), an international agreement that aims to ensure all containers are maintained in a safe condition. It also prescribes test procedures as well as strength requirements to ensure that the international transportation of shipping containers complies with international safety regulations.
Broadly, the shipping container industry categorises shipping containers for sale by age. They are either:
New
Less than five years old, also referred to as IICL grade
Older than five years and generally sold "as is"
Regardless of age, all shipping containers for sale should be Cargo Worthy (CW) and should have a valid CSC certification. Cargo worthiness must be assessed in a physical inspection by an authorised approval authority. They should also be Wind & Water Tight (WWT) so that neither wind nor water will enter the container. So, if you go into the container and close it up, no light will show through the roof or side panels. To be CW and therefore suitable for the safe transportation of cargo, a WWT container must meet the CSC specifications.
While there is no international container grading system in place, some companies have their own internal classification systems and container grading protocol. When you are looking for used containers for sale prices ask if there is any internal grading system that indicates the condition and appearance of the shipping containers for sale.
Some containers may be a little rusty and there may be dents in the metal, but this is not necessarily an indication of the container's structural quality. Instead, it may only be a cosmetic consideration. For this reason, before you assess the acceptability of used containers for sale prices, be sure of your needs. Generally, cheaper shipping containers for sale are better suited for storage rather than transporting cargo. But if you are going to use the container as an office or even a storage unit that is visible to customers, aesthetics will probably be a strong consideration. At the same time, you might opt to paint the container or even disguise it with cladding; it really depends entirely on your own unique needs.
Almar Container Group Shipping Containers for Sale
Grade A
Grade B
Grade C
Almar offers quality new and used shipping containers for sale in Africa and the Middle East, and all containers are WWT and CW.
The company has an internal grading system that helps customers decide what is suitable for their needs:
Grade A - New containers of various standard sizes.
Grade B - Used containers that are in good condition, with minimal dents and minimal rust.
Grade C - Used containers that are in a fair condition, with moderate dents and moderate rust.
You'll know what to expect when you buy your used shipping container from Almar, even if you don't see it prior to delivery. Call us today to find out more about our used containers for sale prices and availability.
Used shipping containers have become incredibly popular for storage, office and site accommodation, for smaller commercial enterprises, and even for homes. But if you're in the market for these versatile steel boxes, where will you find the cheapest shipping containers for sale?
Who Owns Containers Used for Shipping?
If you are searching for containers for sale, it makes sense to ascertain who owns the containers that are used for shipping. Drive past any shipping port in the world and you'll see thousands of steel shipping containers sitting on the docks.
Thousands of ships constantly carry shipping containers around the world, and it is estimated that more than 35 million twenty-foot equivalent units (TEUs) are in circulation at any one time. The term TEU refers to the industry standard relating to the length of shipping containers. Most are either 20-foot or 40 foot-long, the equivalent of 6m or 12m, although some are smaller, measuring 10 foot (3m). Container ships are designed to carry a certain number of TEUs, with one TEU equal to 20 foot.



But who actually owns the containers the ships carry?
The quick answer is, it all depends! It might be:
The carrier that owns or charters the ship used for transportation. Carriers might also operate trucks, railways, airlines, or other forms of transportation.
A company that rents containers used for transportation.
A non-vessel operating common carrier or NVOCC that organizes shipments, forwarding freight. Usually, an NOVOCC will get goods from producers or manufacturers to customers or to a final point of sale or distribution.
A shipper that regularly transports goods using containers owned by others.
Ironically, though, this isn't really going to help you find out who offers the cheapest shipping containers for sale!
How to Find the Best Shipping Containers for Sale
You will find there are advertisements for the cheapest shipping containers for sale all over the Internet. You will find them on Gumtree, OLX, and on various private trading sites. Before you buy, the trick is to ascertain that cheapest is actually best!
So what guidelines do you follow?
Make sure the container offered for sale has been manufactured according to a standard ISO size.
Ascertain the age of the container as well as its condition.
Check costs or, if you plan to rent, then check the minimum rental periods available.
Ensure that all containers have been cleared by local customs and tax authorities.
Also, check transport costs to get the container where you need it.
Almar Has New and Used Containers for Sale
Almar Container Group offers new and used shipping containers for sale in Africa and the Middle East. The secondhand containers are in excellent condition and range in age from about eight to 12 years.
The company has a wide range of containers, all of which have been manufactured to ISO standards – which includes standard sizes. Availability meets the demand for 6m- and 12m-long containers (20 and 40 foot) that are 2.4m wide.
So, if you're looking for the cheapest shipping containers for sale in our region, call the container specialists at Almar to see how we can help you today.
In this day and age, it's becoming more and more critical to think sustainably about everything we do. From climate change to plastic pollution islands in the sea, our historical, short-term thinking is having drastic effects on the way we and our children will be living in the years to come.
One way in which we can become more sustainable is to recycle. We're not talking plastic bags and food cartons here though, we are thinking a bit bigger than that. We're talking homes, office parks, hotels and more! This is where second hand containers for sale, really shine!
Shipping containers have been used for 50 years as the main conduit for global trade. Containers created a revolutionary way of moving cargo by road, rail and sea in the 1970's and this simple steel box literally kicked off globalisation. However, they haven't finished yet! Due to their modular and robust design, second hand containers are now being repurposed into all kinds of large and small-scale structures.



Five reasons for going green with second hand containers for sale
Reduce material use: With second hand containers, you don't need to buy new materials to build a structure, you have most of it already and all you need to do is install the finishes.
Build quickly: Second hand containers are modular which means they can be converted, painted and finished off-site and then delivered to your site of choice as a finished product, ready to be installed.
Mobile Address: Containers are not fixed to the ground with solid foundations, so if you want to change your address, no problem, just pick up your container home or office and move it.
Spacious: Although the shape of second-hand containers may look small, their design enables the side panels to easily be cut away, creating joined open plan living areas of any size.
Trendy look: With the focus on sustainable living, second hand containers aren't only a smart choice, they look good too!
Almar containers have second hand containers for sale across all main cities in the Middle East, South Africa, and East Africa. Contact us now to see how we can help you make the sustainable choice.