There are a number of things to consider before using this new, exciting form of construction. We wrote this step-by-step guide to help you decide whether any of the used shipping containers for sale we have in stock are the right solution for your new home.
They can certainly work out cheaper than conventional construction. Perhaps that's why we increasingly see shipping containers as home and office solutions. However, that's only part of the explanation. Shipping containers assemble into buildings quickly and easily. Moreover, they are strong, modular, and mobile.
Perfect Mobility with Our Used Shipping Containers for Sale
Container ships with cargoes stacked six or more high are a common sight in our ports and sailing around our coast. Watching giant cranes loading and offloading them is a fascinating pastime because containers dock together perfectly and are extremely stable when in position, unless the vessel lists badly in a violent storm.
Cargo containers also have to be immensely strong to take the weight of a half dozen or more fully laden ones resting on them. The secret is in their incredibly strong structure.
We take many into stock that are still structurally sound. That's because the marine authorities cancel their licenses after a set number of years. This is a paper exercise because there are millions more than they could possibly inspect.
We thus have used shipping containers for sale that are ideal for starter homes, not to mention site and holiday accommodation to mention but a few. Our customers use them for many other uses, however in this article the subject is building a new house with them.
We'll explain in a moment how to go about this step by step. However, let's first discuss whether you are going to need plans approval before you begin.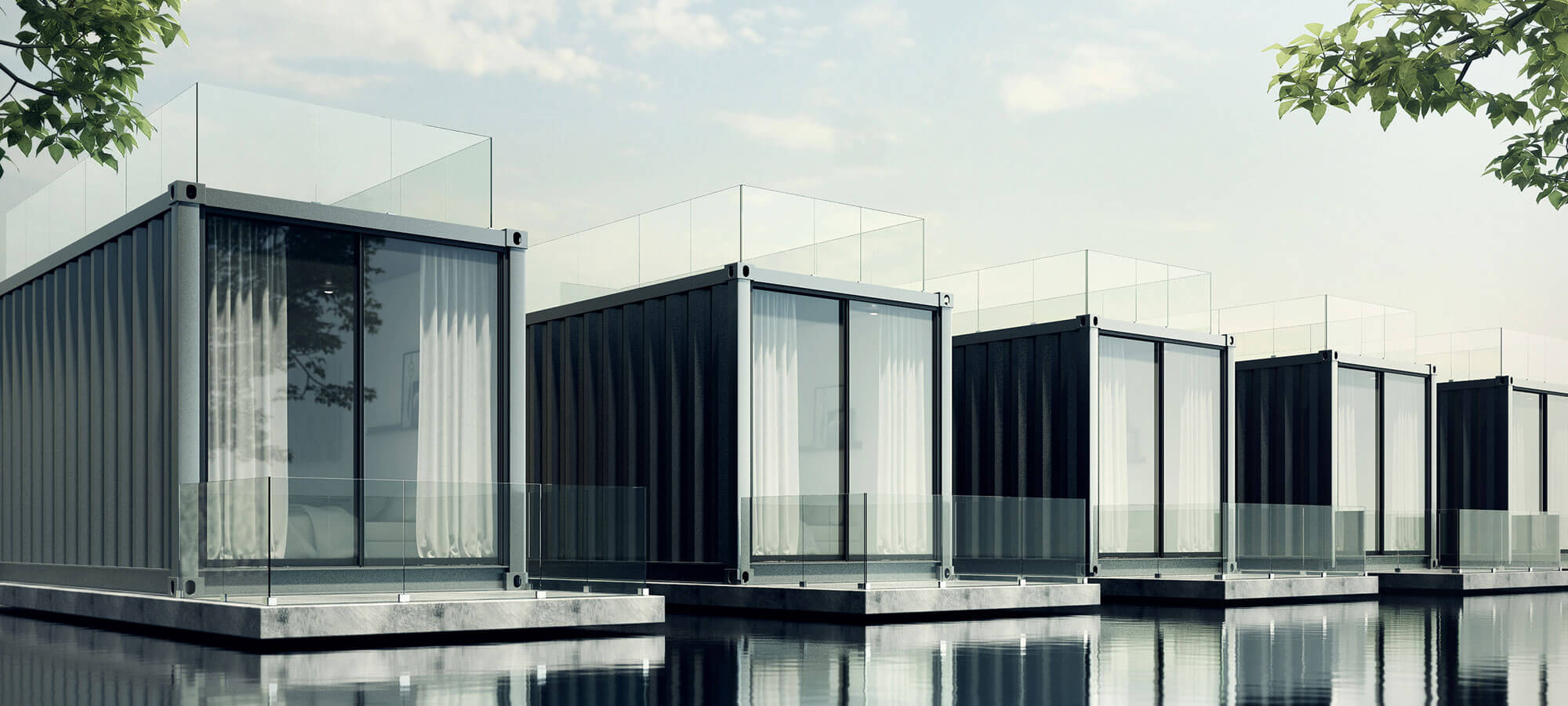 Do You Need Permission to Build a Container Home?
This largely depends on where you plan to live, with particular reference to building bylaws. The South African Building Regulations and Building Standards Act lay down minimum rules in terms of safety and hygiene. Local authorities incorporate these in their bylaws. However, the standards vary from town to town.
It's a totally different matter in rural areas, where local chiefs allocate land, and farmers are generally free to do what they want. However, if you live in a town or city we recommend you obtain official approval before purchasing a container.
How to Go About Getting Approval from the Building Inspector
Well first, you need to meet the general building standards applying where you plan to build your container house. These regulations cover connecting to council services, keeping the pavement tidy during construction, not making noise after hours, and so on.
You also need to meet construction standards, and here's where you need to do your homework thoroughly. That's because national building standards speak about brick-and-mortar and concrete buildings. In other words they still need to catch up with buildings assembled from shipping containers.
Therefore, you need special consent over and above regular building plan approval. The special consent system originated from the need to approve new building materials but it works equally well for container homes. Part A of the Building Regulations explains the philosophy behind this.
Your local building inspector may be unfamiliar with used container construction. Hence we provide fourteen handy facts about the used shipping containers for sale in our yards. The following tips should stand you in good stead and help you present a winning case.
At the end of the day most building inspectors are genuinely interested in improving the character of the neighbourhood on their watch. It's not difficult to get them on your side if you do your homework first, and then explain everything thoroughly.
Fourteen Reasons Why You Should Quality for Special Consent
New and used shipping containers are immensely strong. They can't crack like brick walls when there's earth movement underground. Moreover, they are arguably stronger than steel-reinforced concrete because they are 100% made from steel.
There is almost no possibility of damage while transporting them and settling them in position. That's because our used shipping containers for sale have been loaded on and off container vessels many times when they were heavier owing to consignments inside them.
Moreover, unlike brick and concrete structures, shipping container floors, walls and roofs have no structural value whatsoever. In fact, if we removed these elements the robust girder structure would still remain intact. This frees owners to cut holes through the panels for windows, doors and staircases.
Furthermore, they can install floors, insulated dry walls and ceilings so their used shipping container is as comfortable, hygienic and warm as a brick or concrete building. After they add outside cladding the neighbours will forget their surprise when next door arrived on a truck and went up so quickly.
Your building inspector will be warming to the idea now they understand about container buildings. However, wait until you tell them you can stack them to create a multi-storey building, leaving more open space to green the neighbourhood with a garden.
Delivering the container(s) to your building site can happen in a single day unlike conventional construction that drags on for months. A truck arrives with a crane powerful to lift the containers and position them. This happens during normal business hours so less disturbance to the community.
Concrete contributes 5% of global warming because of the large amount of energy required to make cement. Explain to your building inspector you will only need pier foundations at each corner, and midway down each side. Recycling a container can represent a huge saving in building materials overall.
There will also be less finishing work once the core construction completes. There's no need to wait for unsightly raw plaster to dry. The containers for your home could arrive complete with a fresh coat of paint or even cladding, if that's what you decide.
You may even go as far as installing the fittings and fixtures before final delivery. While your new house may be a little narrow for a grand piano, there's no reason why the lounge furniture, appliances and cartons of clothes and hi-fi equipment couldn't hitch a ride.
It's also possible to install electricity and plumbing services beforehand in one of our used shipping containers for sale to speed things up. With a little forethought, the site connections could also be ready when you arrive. Now if the plumber and electrician were punctual life could be perfect!
One of the biggest advantages of a container home is it docks together, while the modules remain separate elements structurally. A few more containers may be all you need to convert your starter home into the best house in the neighbourhood.
If your situation changes and you need to relocate, you can separate the containers, load them on trucks, and reassemble them somewhere else more suitable for your needs. Brick and mortar can't possibly compete with this freedom.
You don't even have to own the land if you have the owner's permission. Should you decide to leave the country you can sell the containers to the next owner to create their new dream home near or far away.
And finally, and this is very important, we need to recycle as much as we can for the sake of our planet. Your building inspector will be delighted to learn how little building rubble you will add to the tip, and how light your new home's carbon footprint will be.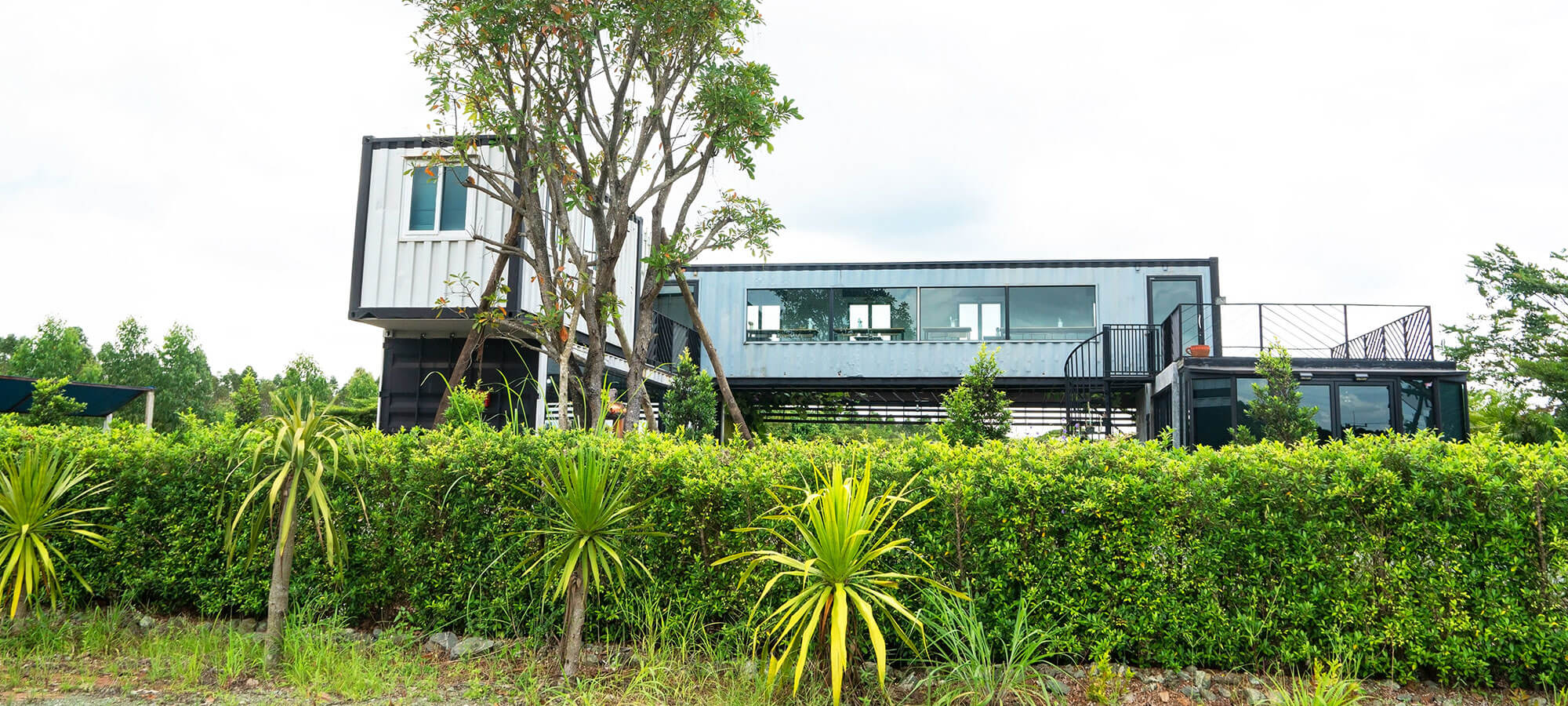 I'm Good to Go With Your Suggestion – Where to From Here?
Let's recap quickly as we have covered a fair amount of ground. Please read on and follow our step-by-step directions after you tick these boxes:
You want to save money on the cost of your new house without sacrificing comfort and convenience
You have a creative mind. You can see past the old, traditional way of doing things through the window of new technology
You want to do your part to push back global warming. You agree we must recycle as much as possible to reduce greenhouse gas emissions
You understand how recycling our used shipping containers for sale into houses provides the opportunity you always wanted to be different
Our Step-By-Step 12 Tips to Building Your Home with Containers
1. Plan the Basic Design of Your Container House
Average brick and mortar costs can be higher in cities than rural areas. However, the prices of used shipping containers for sale at coastal depots are similar. Remember to add the cost of delivery and VAT to quotes. Few dealers volunteer this information unless you ask.
Use a sheet of graph paper to plan your container home. A handy scale is one square per meter. Make paper templates for several 6.0 meter x 2.5 meter (20 foot) containers to the same scale. Use two of these for a 12 meter one. Shuffle them around until you find the right design. Overlay them if you want a split level.
2. Develop a Theoretical Site Plan for Your Container Home
Consider your current lifestyle, especially how you use the open space, if any, surrounding your current home. Do you want your house close to the street, or would you like to set it back. Where are you planning to park the cars? Do you need to make provision for a future carport and swimming pool?
Having a well-planned garden adds to the value and attractiveness of any home. Which are your favourite trees and plants? Does climate or compass direction make a difference? Detailed planning increases the possibility of turning a few used shipping containers for sale into a happy home to raise the family.
3. Shop Around for Suitable Vacant Sites for Your New House
Location is becoming increasingly important in a changing world. Find a few vacant sites with residential rights near schools, shopping centres and anything else that suits your life style. Ask the seller for an option to purchase if you find an elevated site with a view you can afford.
Choosing the right location can make or break any construction project. Research what's happening with any vacant land in the area. Don't necessarily believe the estate agent. Make enquiries at the municipality too.
4. Work Out How Much Your Container Home Could Cost You
Make a drawing of fixtures inside the containers, especially internal walls, panelling, cupboards, bathrooms and kitchen
Mark the location of doors, windows, taps, drains, electric lights and power points. Decide where the municipal services will connect
Obtain a quote from a suitable service provider for the work, including floors and ceilings. Get delivery estimates from container suppliers
Ask a local builder to estimate the cost of pier foundations to support the weight of the container configuration on your plan
Find a certificated engineer and ask them how much they will charge to oversee the foundations and the placement of the container(s)
Get a local earthmoving company to quote to level the site and create an access road for delivery vehicles
5. Choose a Used Container Supplier Who's Easy to Work With
Finding a reliable used shipping container supplier relatively near to your construction site could reduce your construction costs by a surprising amount. That said, it's equally important to factor in the condition of their stock.
That's because not all used shipping containers for sale on the open market are still in usable condition. Light surface rust and the odd dent are usually recoverable. However, if one of the structural girders is distorted the container may be only suitable for scrap.
6. Run the Numbers to Estimate Total Construction Cost
To summarise briefly you now know the following:
The ideal layout of your container house
Several quotes for the containers including delivery
How you plan to position it on the plot
The cost of the stands(s) on your short list
The cost of modifying / fitting out the container(s)
Your preferred used container supplier
Calculate the estimated total cost of your project and the anticipated time scales. How do they shape up against your plans and budget? How long would it take and what would it cost for a comparable brick home.
7. Meet Your Local Building Inspector on Site to Discuss Plans
You should now be in an excellent position to illustrate your plans and describe the benefits of container homes compared to brick and mortar construction. If your building inspector thinks an application for special consent could succeed you are making good progress!
Take your time when applying for special consent and plans approval. The municipal committee will decide on the basis of the information you provide. Run your submission past several friends before you lodge at the plans approval counter.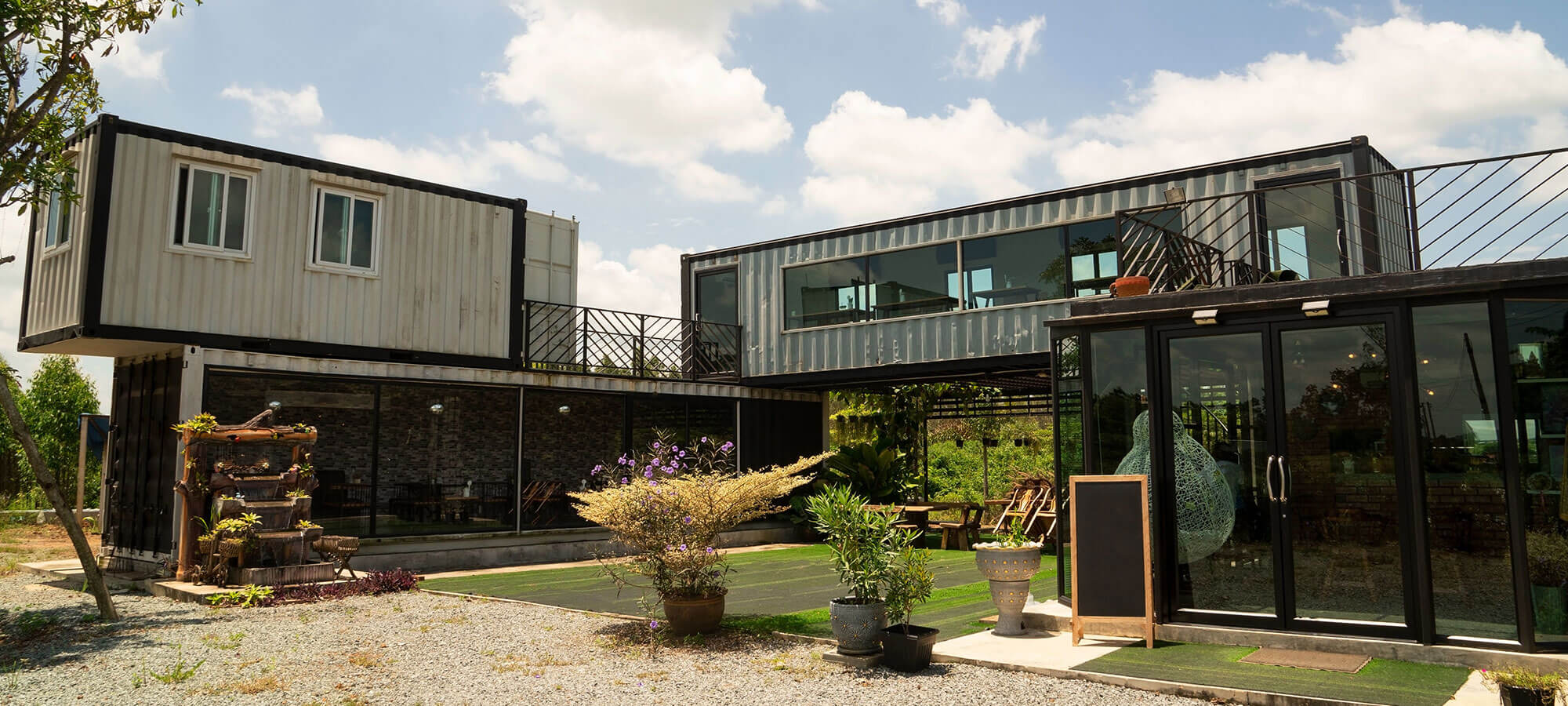 8. Your Plans are Approved: Now for the Finance
Apply to your regular bank for a loan to cover any shortcomings. Put in as much of your own money as you can, as this reduces the lending risk from the bank's perspective. The loan clerk may not have heard of special consents yet so take your time explaining the system.
Complete every block on the loan form as you did with the building plan application. Bind your application professionally with all the relevant documents. Your bank should advance the loan if you are a regular customer, and they can see you thought things through.
9. Prepare the Groundwork and Pier Foundations on Site
Construction work begins with the earthmoving company arriving on site to prepare access for the container delivery. Once done, ask an assistant to help you mark out the final positions of the container(s).
The builder then follows through with the pier foundations. We ask you to be patient for several weeks until an engineer confirms they are sufficiently cured to withstand the weight of your container home.
10. Fit Out the Interior of Your Container Home
This step is optional at this stage, although you have time to burn while the foundations harden. You may also prefer to have the work done per points 4 a. and 4 b. above after your container(s) arrive on site for positioning.
However, in our experience many clients elect to do this beforehand, especially if their new container home will be in an area remote from service providers. The final choice is yours. This is one of the most important stages in your project, so do allow sufficient time.
11. Ask your Container Supplier to Arrange Delivery to Site
Make sure you have adequate property and liability insurance in place before you authorise this step. We recommend you step aside and allow the delivery team to do their work after pointing out the pier foundations on your site plan.
We also recommend you clear the site of family, friends, bystanders and especially children, for safety's sake. Do not allow anybody to enter the containers until the delivery team and your engineer have confirmed that it is safe to do so. Obtain a sign-off certificate from the engineer before they leave site.
12. Complete the Final Details of Your New Container Home
Ask the electrician and plumber to connect the municipal services to the systems inside the containers, There will always a few details to attend to, perhaps installing stairs to upper level.
Finally, when the work teams have been and gone the removal company can arrive with your possessions. It's been quite a stressful day or two although at least the most is over, and you can start coasting down to your first night in your new home.
How Living in a Container Home Becomes a Rewarding Experience
Living in a container home soon becomes a rewarding experience, especially when you realize there's far less external maintenance to do. Container technology is taking on fast throughout South Africa, as authorities steadily recognise the low cost advantages of this exciting new construction method.
There's also an almost unlimited supply of used shipping containers for sale at South African ports. Recycling them as homes after their marine licences expire makes this the only housing solution that adds almost no greenhouse gases to the environment.
You can take pride when your friends visit by showing them around, and explaining how container homes work. You may have been the local pioneer in container home construction. However, you may rest assured others will follow in your footsteps when they see what you achieved.