Clip-on reefer gensets are specifically designed diesel generators used to power refrigerated containers known as reefers.
Reefer containers are big, mobile fridges that are used to transport and store products that need to be temperature controlled such as fruits, meat, fish, seafood, vegetables, dairy, beverages, medication and anatomical waste, for example.
These 20ft (6m) and 40ft (12m) containers are 2.4m wide and run on three phase (380 – 460v) power and can keep their contents at a consistent temperature ranging between -25°C and +25°C. Temperature can be adjusted and controlled to within 0.3°C of required set point.
Gensets are used when reefers get transported from one location to another and contain stock which needs to remain at a certain temperature. ALMAR Kenya offer gensets on a rental basis for running reefers in remote locations, or alternatively for reefers on trucks for the transportation of perishable cargo.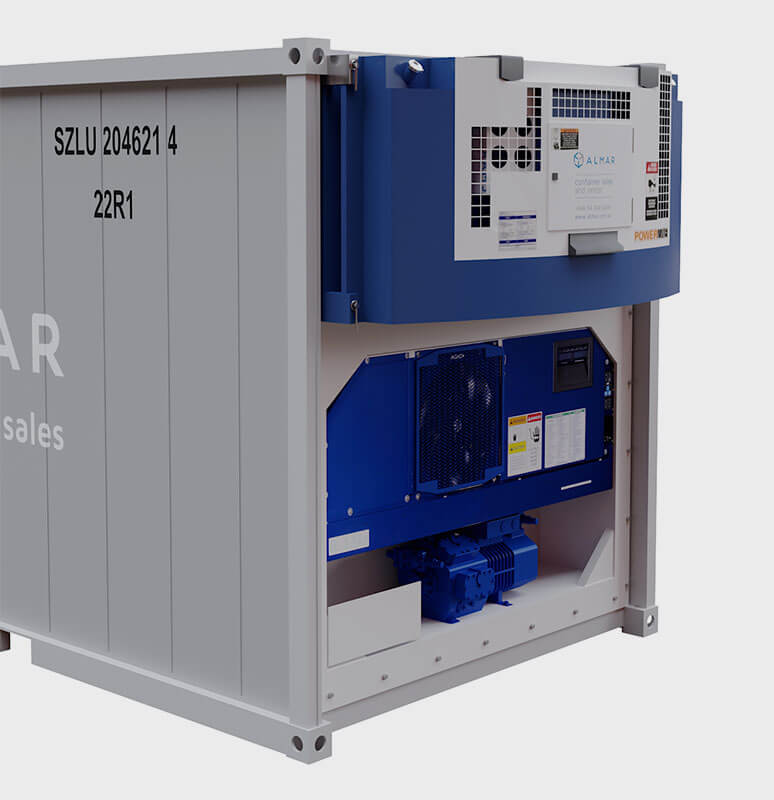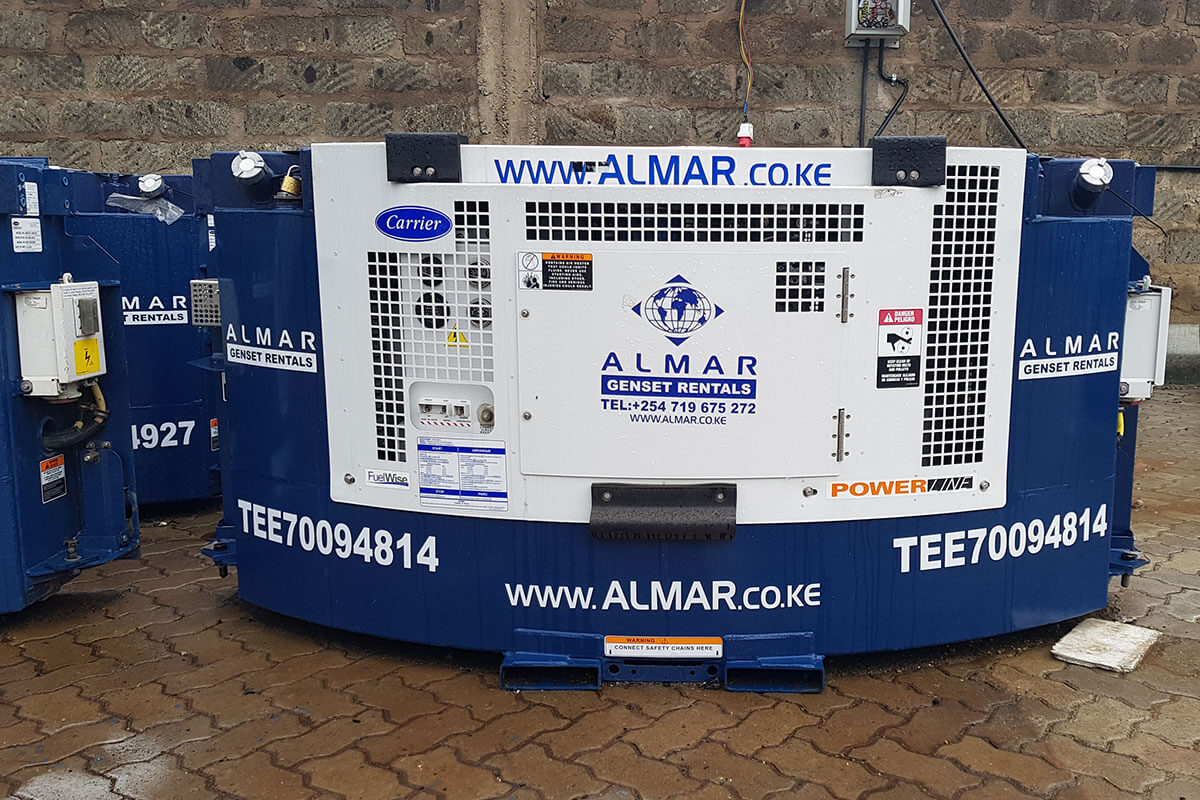 Reefer genset frequently asked questions (FAQ)
Fuel consumption.

Although an exact figure cannot be provided, you can expect fuel consumption to be between 2.5L and 3L per hour depending on the reefer load. The age of the reefer also has an impact as the older reefers work the gensets slightly harder than the newer reefers. Our gensets are, however, fitted with a dual mode option of "eco" or "power" which controls the running speed after start-up. Eco mode provides approximately 25% efficiency in fuel consumption depending on ambient temperatures and reefer set point.

Breakdown assistance.

ALMAR Kenya ensures that all our gensets are serviced regularly to avoid breakdowns. We also train the driver and/or turn-man on the workings of the genset prior to loading. This training includes how to switch it on, noises to listen out for and possible minor breakdown solutions like airlocks, for example.

Clipping and unclipping.

ALMAR undertakes this ourselves as we have access to trained operators.
Reefer Gensets Benefits
Flexibility:

Reefer gensets enable you to run reefers without an electrical connection, ensuring that you are not tied down to a specific location.

Cold Chain Security:

Gensets allow the security of keeping the cold chain complete throughout the stages of perishable product delivery, providing 460v of continuous power for uninterrupted protection.

Reliability:

Our genset fleet is exceptionally young and maintained to the highest levels. They are also built to last with the direct injection engine designed to handle the most rugged of operating environments.
For more information contact Tobias Okumu on +254 713 780 294 or +254 719 675 272 or email toby@almar.co.ke.