For many growing businesses, safe and secure storage for documents, inventory, materials and just about everything that you need close at hand is a real challenge as the initial space you move into just becomes too small too quickly! Onsite storage container rental is the perfect solution, as they are not only super quick to have on site, they are also cheap to rent and no long-term commitments are required.
10+1 Reasons why Onsite Storage Container Rental Is The Way To Go
Whether you need to stock up on inventory for the Christmas rush, or you are just growing out of your current space and need a secure storage solution, onsite storage containers are the perfect option for you.
Quick: Containers can be delivered and placed on just about any surface to create an instant onsite storage warehouse. Delivery will generally occur within 24 hours from confirmation and no other onsite storage solution can match the speed of installation.
Simple: The process is simple, we deliver and place the container in your desired location. A daily rental is charged and once you are done with it, we arrive to collect it. Not much can be simpler than onsite storage container rental.
Cost Effective: Because storage containers can be rented on a short-term basis, you only pay for what you use and nothing more!
Safety for your Goods: Storage containers are built to withstand the rugged conditions of international marine transport, including thick corrugated steel panels and multiple lock access, they give you peace of mind for the storage of your goods.
No Long-Term Contracts: Storage containers can be hired on a daily basis, so there is no long-term commitment needed. This is ideal for temporary requirements such as events or for use during premises upgrades or relocation.
No building regulations: When building warehousing there are always regulations and requirements for building plans as well as limitations on boundary locations and restrictions on servitudes. As containers are completely mobile, none of these challenges exists and you can instantly create an onsite storage space wherever you need to.
Moveable: Storage containers are very easy to move, so you have the flexibility of just relocating the container should you move to a new location.
Versatile: Onsite storage containers are offered in both a plain steel shipping container, as well as a refrigerated container for perishable goods. So, if you need to store anything from documents to building supplies and fresh tuna to ice cream, onsite storage containers are container rental is the perfect solution.
Hassle Free: With the containers being located on your site, you have no need to worry about access to your goods from a storage facility with limited hours. They are your goods and you should be able to have 24/7 access, onsite storage containers offer exactly that!
Modular: As your business grows, you can just add more containers to extend your storage space. They are essentially like big pieces of lego!
Various Sizes: There are various sizes of storage containers allowing for smaller scale needs such as documentation or household goods, to larger scale needs such as inventory storage and bulk materials.
Latest Arrivals
We have recently completed the manufacture of our new storage containers. This picture shows the last few available which are waiting to be deployed: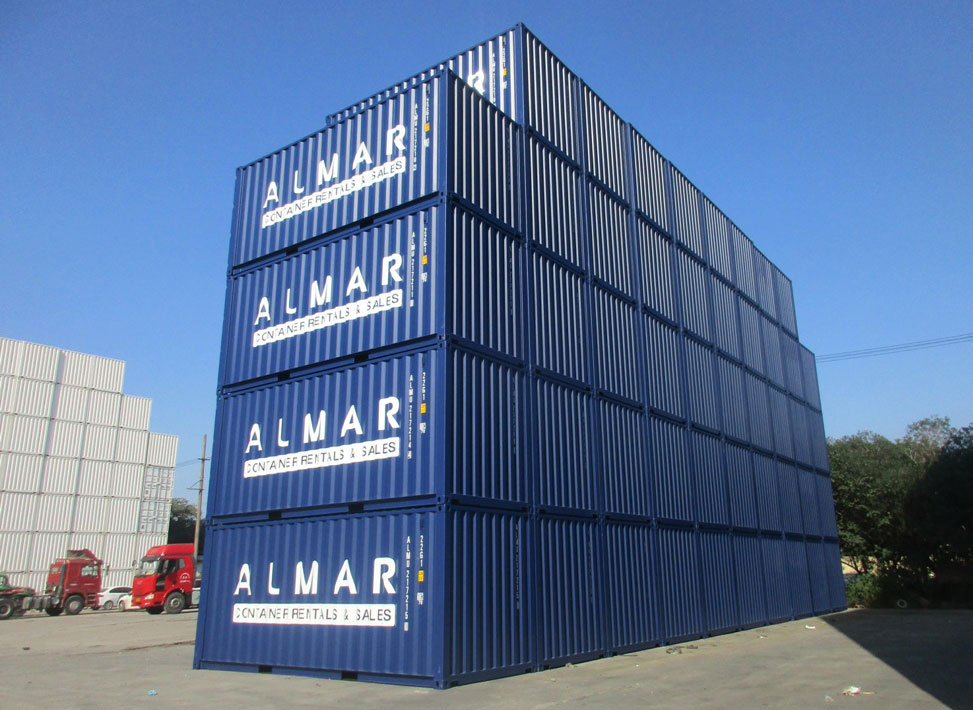 What Size are Storage Containers
Storage containers come in three main sizes, 3m containers (10ft), 6m containers (20ft) and 12m containers (40ft). The cubic capacities of the 10ft, 20ft and 40ft containers are 15mᶟ, 30mᶟ and 70mᶟ respectively. All containers have an external width of 2.4m.
Where to go for Onsite Storage Container Rental
Almar Containers have storage containers in various parts of the world including Cape Town, Durban, Johannesburg, Port Elizabeth, Mombasa, Nairobi, Dar es Salaam, Walvis Bay, Dammam and Dubai… ready and available for immediate hire!