The Magical Kenya Open, presented by Johnnie Walker, started on Friday 19th March 2021 and Almar was delighted to be part of it. Almar Kenya was approached by Karen Country Club to assist with fabricated containers for last year's Kenya Open golf tournament. Due to COVID, the tournament was sadly cancelled but the event organisers for this year's event approached Almar for the same service.
Almar leased a number of converted containers to aid in the running of the event over a duration of 17 days from the 11th to the 26th March 2021. The containers supplied included nine offices for the event staff and two medical clinics used as COVID testing centres ensuring all COVID protocols were covered.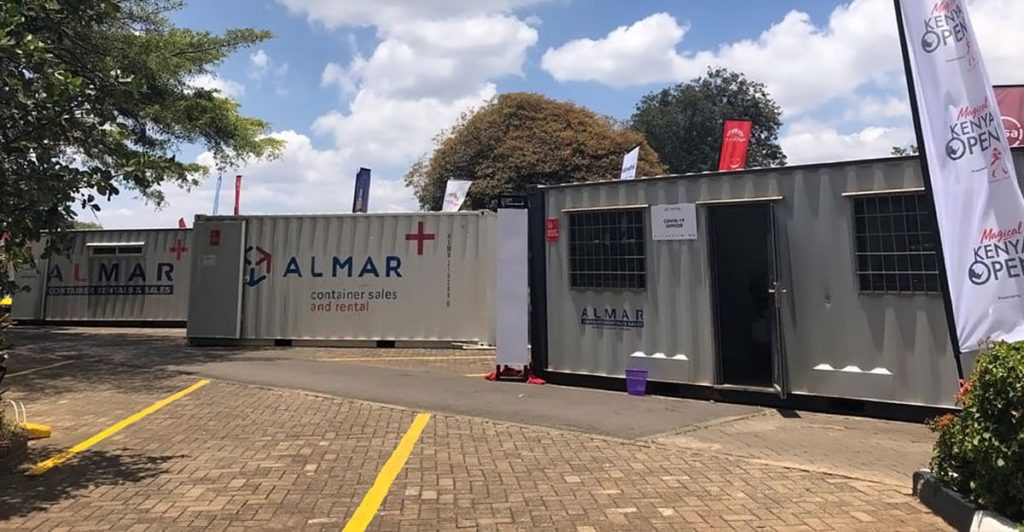 According to Lorna Onudi from Almar the lead time to deliver the units was very short. "The initial contact with the client was in February but the requirements and order were only finalised two days prior to delivery date.''
"We mobilised the units in one day and had them all on site on 11th March. We undertook all the logistics for this short-team lease and our support staff ensured that the containers were thoroughly cleaned and in 'tip-top' condition for this prestigious event. As a result the customer was very happy,'' concludes Lorna.
Background
The benefits of container conversions / fabrications
Shipping containers are strong, secure and modular, making them the perfect solution for just about any instant space requirement. They can be modified and converted into virtually any space and their durability allows for these spaces to be moved and positioned to form individual or multiple container structures.
Not only are they suited to rapid delivery due to their modular nature, they are perfect for remote camps for everything from office and accommodation requirements to medical facilities and training rooms.