Second-hand shipping containers for sale are a popular and cost-effective storage option. They are also a sustainable option as they are repurposed and reused rather than being sent to landfill. When containers are repurposed, they can be used for many years and this helps to reduce waste and decrease the demand for new materials.
Almar Kenya specialise in second-hand shipping containers for sale. These containers are in good condition and can be purchased at a lower price than new containers, making them a cost-effective option for a variety of uses.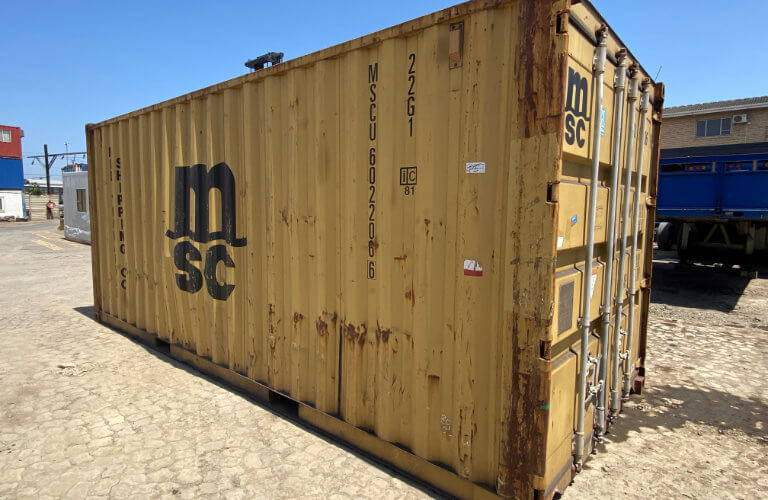 They are designed to be stackable and can be easily transported by truck, train, or ship. This allows them to be transported to where they are needed, rather than having to construct new buildings on site.
Second-hand shipping containers are typically available in two standard sizes, 20ft and 40ft. Both the 20ft and 40ft second-hand shipping containers are designed to be weathertight and waterproof and built to withstand the rigours of shipping.
Features of second-hand shipping containers for sale include:
Corrugated steel walls, roof and floor.
Four corner castings with lashing points for secure stacking.
Two sets of double doors that open up to the full width of the container for easy loading and unloading.
A steel locking bar to secure the doors.
There are several benefits to buying a second-hand shipping container for storage:
Cost-effective: Second-hand shipping containers are often less expensive than new ones, making them a cost-effective option for storage.
Durable and long-lasting: Shipping containers are made of steel, which is a durable and long-lasting material. They can withstand exposure to the elements, making them suitable for outdoor storage.
Weathertight and waterproof: Shipping containers are designed to be weathertight and waterproof, which makes them an ideal option for storing items that need to be protected from the elements.
Secure: Shipping containers are equipped with locking bars, which can be used to secure the doors and protect the contents of the container from theft.
Versatile: Shipping containers can be used for a wide variety of storage needs, including household items, equipment, and tools. They can also be used to create a workshop or office space.
Easy to transport: Shipping containers are designed to be stackable and can be easily transported by truck, train, or ship. This allows them to be transported to where they are needed, rather than having to construct new buildings on site.
Environmentally friendly: Using second-hand containers for storage reduces waste and decrease the demand for new materials, helping to reduce the environmental impact.
In conclusion, second-hand shipping containers for sale are a cost-effective, durable, and versatile option for storage. They can be used for a wide variety of storage needs, can withstand the elements, are secure, and can be easily transported, in addition to the environmental benefits.
For more information or to get a quote on a second-hand shipping container for sale please contact Almar on +254 71 967 5272.
Established in 1988, Almar Kenya offers storage containers for sale to suit your business and personal needs.
The benefits of buying storage containers for sale from Almar include:
Durability: Shipping containers are made of steel and are designed to withstand harsh weather conditions and heavy loads.
Mobility: Containers can be easily transported to different locations as they are built to be shipped by truck, train, or ship.
Cost-effective: Storage containers are a cost-effective solution for storing goods, as they are less expensive than building a traditional storage facility.
When buying storage containers for sale in Kenya, it's important to consider:
The storage container size and type needed:
Containers come in a variety of sizes and types, such as standard, high-cube, and refrigerated containers. Almar storage containers are available in 10ft, 20ft and 40ft sizes. Check out the various container specs to establish which container size is suitable for your storage needs:
The condition of the container:
Containers can be purchased new or used. Used containers will have varying degrees of wear and tear. Ask Almar about their B & C Grade second-hand containers for sale as there is a difference in price between the two. Grade B second-hand containers are slightly more expensive than a Grade C storage container.
New and refurbished containers are the most expensive so consider your storage needs carefully. Is the container public facing and a representation of your brand or is it 'back of house' and its purpose is more important than aesthetics.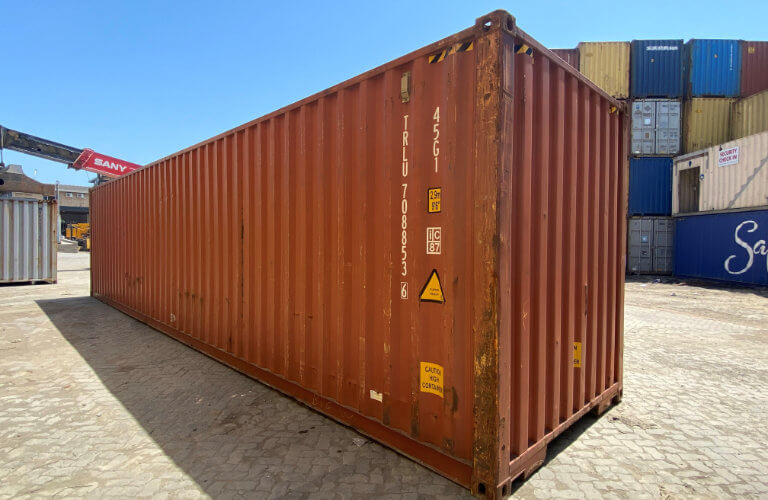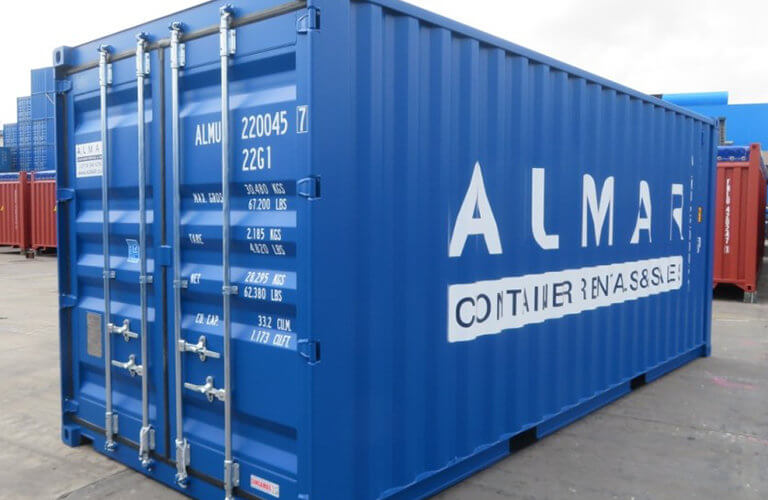 The location of the container:
Consider the location of the container and where it needs to be transported. Almar Container Rentals & Sales can organise transportation for you. The cost depends on how far and how accessible your location is. The region that the container depot is in also affects the price depending on the availability and demand of storage containers for sale in your region.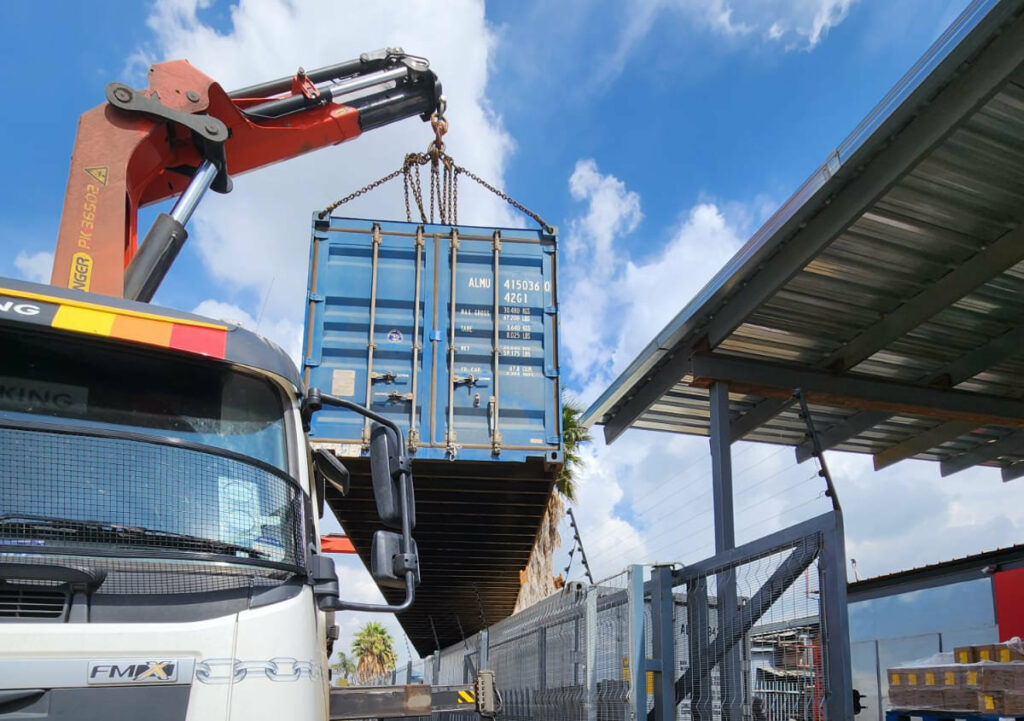 The intended use of the container:
Almar storage containers for sale are wind and watertight and fireproof. Consider if you need them to be equipped with electrical or plumbing connections.
Additional factors to consider:
Storage containers can be a great solution for storing goods in Kenya, but it's important to carefully consider your needs and budget before making a purchase. By thinking through the factors mentioned above, you can ensure that you buy the right container for your specific storage needs.
It is recommended to buy from a reputable supplier as container fraud is rife in Kenya. Read our article on container fraud to equipment yourself to prevent being scammed.
In summary, Almar Kenya is a reputable supplier of storage containers for sale in Kenya. We offer a variety of container sizes and types, including new and used options. It's important to consider the size and type of container needed, the condition of the container, the location of the container, and the intended use of the container when making a purchase. Additionally, it's important to buy from a reputable supplier to avoid container fraud.
For a quote, contact us on +254 71 967 5272. Almar containers are available nationwide.
Unfortunately, container fraud is rampant in East Africa and if you're not careful you could get scammed. Here are some steps to avoid this:
Investigate what companies are charging for containers in general. A significantly cheaper price should raise concerns.
Don't be bullied into a sale with limited-time offers or claims that "this is the last container at this price".
Only deal with container companies that are established and have a historical track record you can verify.
Don't rely on website reviews which can easily be fabricated. Rather check out third-party reviews like Google.
No landline number on their website means that the "container supplier" has no physical presence.
If they have an address on their website, don't take it for granted that it's genuine. Google Maps is your best friend to verify.
You should call the seller. If they have a foreign accent this should raise the alarm. Some fraudsters operate from overseas without any East African presence.
Check the container company's website domain registration date at whois.com. If registered in recent months, treat them with suspicion.
If you're asked to confirm the bank account you'll be using for payment, only mention the financial institution. They could be buying time to open up an account to receive your payment.
All legitimate local companies ask for full payment upfront. Usually, scammers ask for 50% payment upfront with the balance due on delivery of the container but they don't deliver.
For over 30 years, Almar Container Group has been providing container solutions to both international and domestic partners and continues to focus on building strong relationships based on trust, reliability, and quality as a key to our success.

Almar Kenya opened its doors in Mombasa in 2011 and in 2013, Almar broadened its Kenyan operation, opening up the East African head office in Nairobi. The operations in Nairobi extended to offer a full spectrum of services including gensets and reefer rentals as well as container conversions. For more information contact Kenya, Nairobi at sales.ke@almar.co.ke or phone at +254 719 675 272 or Kenya, Mombasa on sales.ke@almar.co.ke or phone +254 719 675 272
Almar East Africa implements regular maintenance on their refrigerated container and reefer genset fleets to ensure that they are in optimum condition for our customers.
Refrigerated Containers, also known as reefers, come in 6m and 12m sizes and are a mobile and secure cold storage solution. Services are done bi-annually and include pre-trip inspection, the calibrating of configurations and settings, fault finding, and rectification. Physical cleaning of the containers takes place along with the replacement of parts that may be faulty and the updating of electrical software.
Almar's reefers keep your contents at a consistent temperature ranging between -25°C and +25°C. The temperature can be adjusted and controlled to within 0.3°C of the required set point and require a three-phase 380v power supply. A reefer is the quickest means of obtaining bulk cold storage. The container can be placed close to where the end product needs to be, in turn saving you transportation costs. All Almar refrigerated containers are Carrier, a world-leading brand in container refrigeration.
Clip-on reefer Gensets are diesel generators used to power refrigerated containers. They are offered on a rental basis for running reefers in remote locations, or alternatively for reefers on trucks for the transportation of perishable cargo.
They are easy and fast to start. The powerline start/stop switch is easily accessible, and the in-air intake manifold heater allows for fast starting and trouble-free operation, even at low ambient temperatures. Attaching and disconnecting the generator takes just minutes as the pin mounting bracket design saves time. The self-aligning ratcheted clamp locks allow safe, secure attachment to corner castings.
The servicing and maintenance of Gensets, which is implemented every 2000 to 3000 hours, includes preventative and routine checks, setting adjustments for voltage, current, and frequency for standard reefer loading capacity. Physical cleaning of the body and engine and engine test for load, compression, and continuous performance was also conducted.
For more information on reefers, Gensets, or any of Almar's container products please phone Almar East Africa at +254 719 675 272.
The Magical Kenya Open, presented by Johnnie Walker, started on Friday 19th March 2021 and Almar was delighted to be part of it. Almar Kenya was approached by Karen Country Club to assist with fabricated containers for last year's Kenya Open golf tournament. Due to COVID, the tournament was sadly cancelled but the event organisers for this year's event approached Almar for the same service.
Almar leased a number of converted containers to aid in the running of the event over a duration of 17 days from the 11th to the 26th March 2021. The containers supplied included nine offices for the event staff and two medical clinics used as COVID testing centres ensuring all COVID protocols were covered.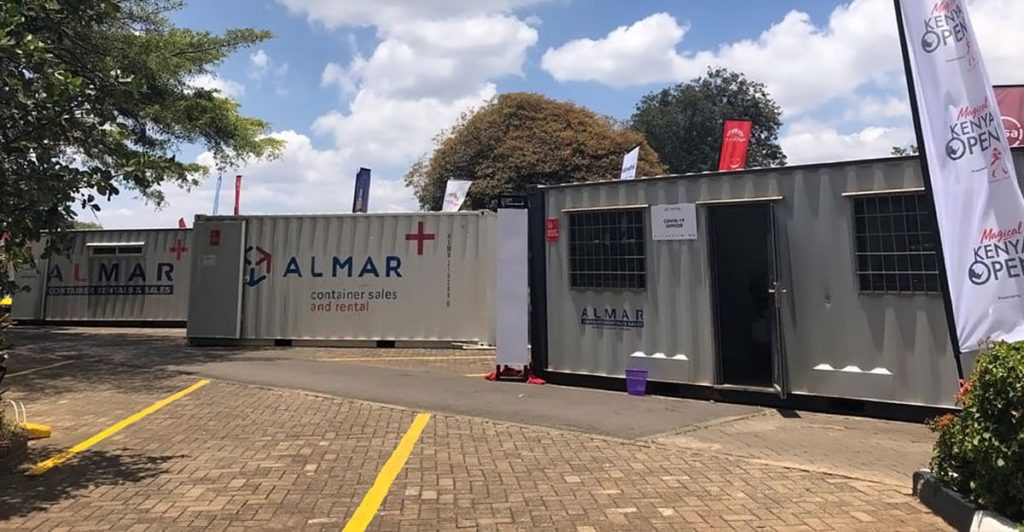 According to Lorna Onudi from Almar the lead time to deliver the units was very short. "The initial contact with the client was in February but the requirements and order were only finalised two days prior to delivery date.''
"We mobilised the units in one day and had them all on site on 11th March. We undertook all the logistics for this short-team lease and our support staff ensured that the containers were thoroughly cleaned and in 'tip-top' condition for this prestigious event. As a result the customer was very happy,'' concludes Lorna.
Background
The benefits of container conversions / fabrications
Shipping containers are strong, secure and modular, making them the perfect solution for just about any instant space requirement. They can be modified and converted into virtually any space and their durability allows for these spaces to be moved and positioned to form individual or multiple container structures.
Not only are they suited to rapid delivery due to their modular nature, they are perfect for remote camps for everything from office and accommodation requirements to medical facilities and training rooms.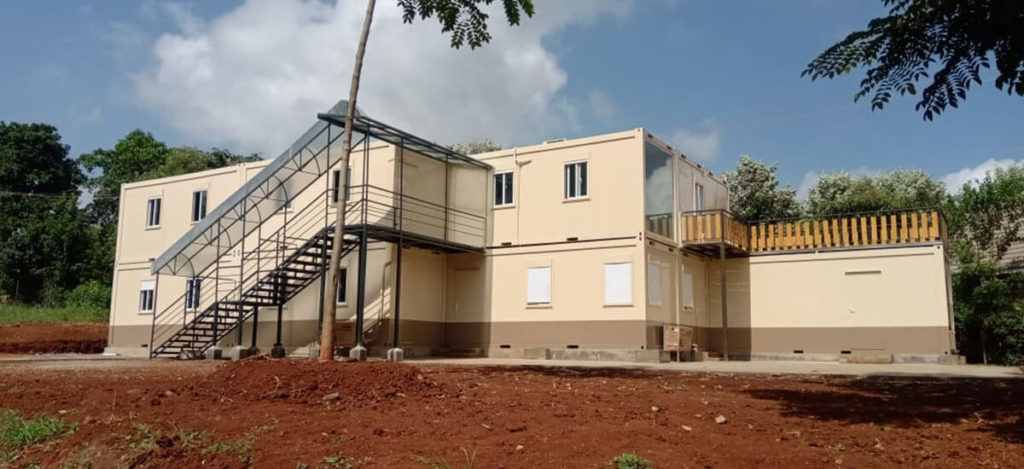 Almar Kenya built an office block for Internet Solutions (now under the Dimension Data umbrella) using flat pack containers, to cater to their corporate client who needed business recovery work stations available 24/7, 365 days of the year, in case of a major disruption to the business environment.
The container office build involved 23 flat packs stacked in two layers and included an open plan office space, reception area, meeting room, private office space, ablutions and a small kitchenette.
The Almar team in Kenya started placing containers on site to create these flat pack offices in late December 2019 and completed the build by mid-February 2020.
Great feedback from the customer was received…
"Thanks for your cooperation and we also look forward to working with you again in the future. We are speaking highly of your services in the market, and if you need to use us as a reference please don't hesitate."
– Richard Hechle, IS.
What are reefer containers?
Reefer containers are big, mobile fridges that are used to transport and store products that need to be temperature controlled such as fruits, meat, fish, seafood, vegetables, dairy, medication and beverages, for example.
Refrigerated containers, known as reefers, keep fresh produce, perishable items, medicines, anatomical waste and beverages cold or frozen. These 20ft (6m) and 40ft (12m) containers are 2.4m wide and run on three phase (380 - 460v) power and can keep the contents at a consistent temperature ranging between -25°C and +25°C. Temperature can be adjusted and controlled to within 0.3°C of required set point.
How do reefer containers work?
Reefer containers are bottom air delivery units designed to distribute chilled air from the floor, via specific T-shaped decking, with the advantage of producing a consistent and uniform flow of air across the entire container, powerful enough to ensure a perfect air exchange with the goods.
Although not necessary, storing produce on pallets in reefers assists with stacking, loading and offloading. Nine pallets fit into a 20ft container while 20 pallets fit into a 40ft container.
How are reefer containers powered?
Each container is supplied with a length of power cable between 10 and 15m long (4 core, 4mm2 cable) and a standard marine grade IP65 rated CEE 17 plug with a 3'Clock earth pin. The electrical point required is a CEE 17 coupler with 3'Clock earth with a 32A D curve circuit breaker to protect the cable / electrical components. Alternatively, remove the C17 plug completely and wire directly into a 32A 'D' curve circuit breaker. NB – it requires a 'D' curve circuit breaker or motor start breaker. An industrial light start breaker will breakdown and cause single phasing and power supply problems. Reefers require a 3 Phase plus Earth connection – no Neutral is required.
It is important to note that a reefer cannot freeze unfrozen products. Reefers are holding freezers and will maintain the products temperature. The produce needs to be at the required temperature when packed into the reefers.
How easily available are reefer containers?
Reefers are available from Almar Container Group for short and long term rental. Dependent on the location, Almar reefers are rented on a fully supported basis with 24/7 technical support. Almar can assist with technical on-site installation of the reefers should this be required and technical support contact details are placed on all our refrigerated containers should you need to get hold of a technician.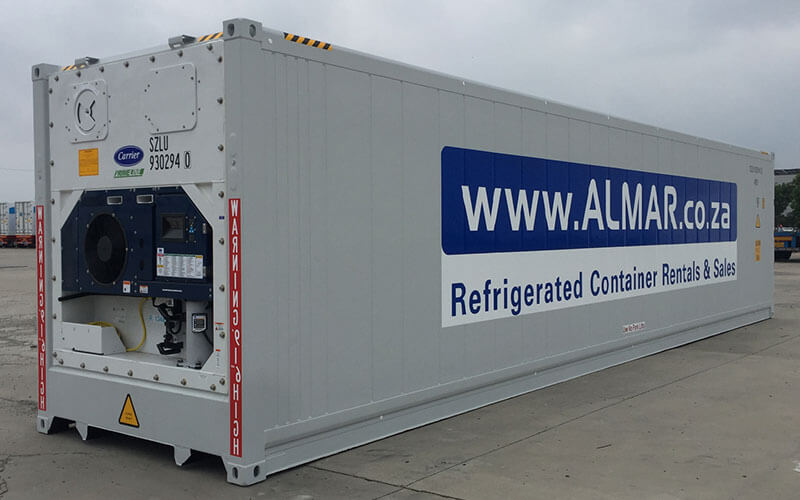 Are reefers cost effective?
With permanent cold storage facilities you can face high costs and issues with accessibility. Chances are that your cold storage facility won't be near the place your products need to be transported to. Hence, you're going to end up having to organise regular transportation, which will lead to spending even more.
A reefer is also much faster to obtain than constructing bulk cold storage. With a reefer, you can have the cold storage you need immediately.
Renting a reefer container from Almar means no additional expenses such as service costs, or expensive repair costs in the event of a mechanical breakdown. Almar takes the risk and covers all these costs.
Are reefers energy efficient?
Reefers are energy efficient. All Almar containers for rent are Carrier - a world-leading brand in container refrigeration. Their optimised assembly reduces power consumption but not airflow.
For minimal environmental impact, R-134a freon of the Carrier has a significantly lower atmospheric life and GWP (Global Warming Potential) than R-404A.
What is the cooling capacity of a reefer?
| Temperature | Watts | Btu/hr |
| --- | --- | --- |
| 2°C (35°F) | 12,000 | 40,900 |
| -18°C (0°F) | 6,600 | 22,500 |
| -29°C (-20°F) | 4,400 | 15,000 |
What are the installation requirements of a reefer?
The site needs to be level and built from a suitable material that will prevent the container sinking into the ground. Make sure that the front and back of the unit is level and the doors are square. A slight fall towards the door end will facilitate the cleaning of the interior. This fall should be around 3 to 4 degrees.
How can I maintain a reefer?
The following basic steps can be taken to keep your refrigerated container in good working order:
Daily:
Keep a twice daily record of the temperature on the control panel to ensure any variations are noted. Ensure the container is switched to a manual defrost cycle before entering the container.
Monthly:
Ensure that no ice build-up is allowed to develop within the container, especially on the floor area and within the T-Bar flooring, as this may disrupt the airflow within the container and cause temperature fluctuations. A complete clean out and removal of ice may be called for.
Almar offers fully supported rental agreements, so we take care of the regular servicing, allowing you to focus on your core business.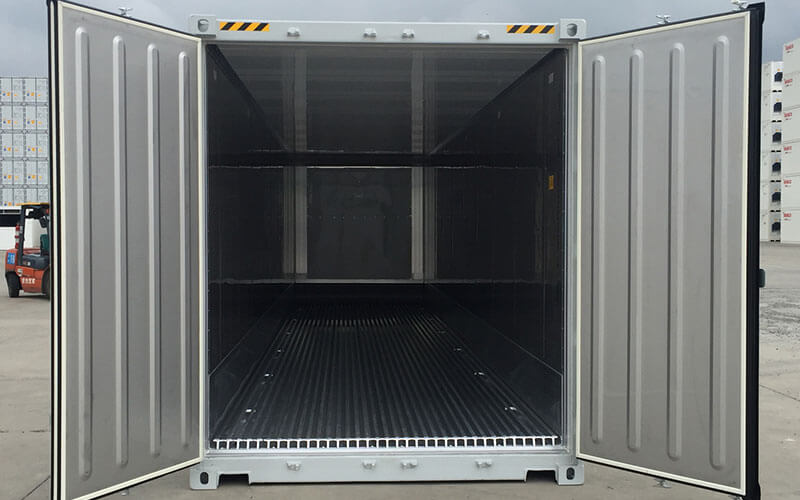 Client uses of reefer containers:
According to Dave Williams of Almar Container Group, October, November and December is referred to in the industry as 'reefer season'. This is because retailers need to stock up on additional fresh and frozen produce and renting temporary storage on their premises is the ideal solution. Outdoor events and festivals which require temporary dry and refrigerated storage also spike over these three months.
During 'reefer season' in South Africa, Almar Container Group supplied reefer containers to Rocking the Daisies, The BMW M Festival, The 9 hour endurance race at Kyalami, The Nedbank Golf Challenge and Corona Sunset Festivals to name a few. This saw a 48% percentage increase in reefer rentals for this three month period.
The Nedbank Golf Challenge, one of the highlights on the South African sporting calendar, make use of reefers for the tournament which forms part of the European Tour. They rent up to 30 Almar reefers for the four day event held in November at Sun City, which attracts over 60 000 spectators. The reefers keep their stock cold, secure and at their fingertips for the duration of the tournament.
The Saudi Government organises one of the biggest entertainment events in the region called Dairiyah Seasons which runs for a month from the end of November to the end of December. The event attracts renowned global artists and entertainers with the venue extending over 130 000 square meters and attracting over one million visitors. Almar Saudi supplied a combination of 59 dry and reefer containers on a rental basis for this epic event.
Almar's wide range of refrigerated containers provide a versatile and cost effective alternative to typical cold storage solutions. Not only do refrigerated containers offer an instant secure cold room facility, for either chilled or frozen products, but they are also offered on a rental or outright purchase basis.
Almar Reefer Containers keep your perishable goods at the perfect temperature, in any environment.
What are the benefits of reefer containers?
Refrigerated containers are an easy way to increase your storage volume and offer many advantages which include the following:
Single installation – containers are modular and can be placed just about anywhere level, with a true 'plug and play' installation.
Modular – containers are standard sizes and their modular ability allows for rooms to be added and removed during seasonal capacity requirements.
Hygienic food grade interiors – all containers have high-grade stainless steel interiors, which are easy to clean.
Robust machinery – Almar use the latest Carrier Reefer Containers which is the industry standard. Carrier supply the world's shipping lines with almost 80% of all Reefers. They are reliable and robust with machinery built to withstand the harshest conditions.
Mobile – the containers are designed for intermodal transport and therefore can be uplifted and moved very easily.
Chilled and deep frozen product – containers allow for temperature ranges between -25°C and +25°C.
Dehumidification Control – allows certain reefer models to maintain between 60% and 90% relative humidity in the unit. This is an added advantage for clients with very specific humidity / temperature requirements for perishable cargoes.
Accurate temperature maintenance – containers can monitor and track temperatures ranging within 0.3°C.
T-Bar flooring – ensures efficient airflow when containers are fully loaded.
Digital temperature display – allows for easy temperature monitoring and adjustment.
Simple operation – Reefer containers are a 'plug and play' cold storage solution, provided with operational guides and basic training if required.
Service – a 24/7 helpline in the event of technical problems or breakdowns.

Location:

Eldoret Kenya

Solution:

Rental of Accommodation Container Camp for Project Staff

Customer:

Grupotec

Grupotec was awarded the tender to build the largest solar plant in Africa. The 100MW project is situated in a remote location in Western Kenya, requiring all construction, engineering and management staff to be accommodated on site.

With deadlines for the project being very tight it was critical for Groupotec to have their team safely and quickly accommodated on site to allow them to start construction as soon as possible.

The camp, including a mixture of accommodation units, ablutions, kitchens, dinning rooms and boardroom facilities were deployed and installed in under 4 weeks. One of the critical components for us being able to deliver so swiftly was that we were able to deploy a mixture of ex stock accommodation container and ablution container units, as well as flatpack container modules which are able to be rapidly assembled on site.

We are also very proud that our site mobilisation team assembled and installed the camp safely, with ZERO loss of hours during the project.

For more information on the Grupotec project, you can view the project details here:
Biggest Solar Plant In Africa

The recent devastation that was seen when Cyclone Idai hit the coast of Mozambique and took that momentum all the way into Malawi and Zimbabwe leaving a trail of destruction was well covered by the media. As so often happens, the hysteria and panic attract large scale interest, but when it's not close to home, the interest dies off very rapidly from both a media and practical support perspective.

The real challenge, however, is that the actual implications on the ground seem to often work the other way around. There is no doubt that the devastation caused by the event was widespread and extremely destructive, however, the consequences on the ground now continue to get worse for those left behind.

Many of the worst-hit regions are rural areas, densely populated with subsistence farmers who have lost their livelihoods. With much of the infrastructure wiped away, it has become impossible for them to get access to food and fresh water and the situation becomes more desperate with each passing day.

As a company without a footprint in Mozambique, it is difficult for us to assist practically. However, we are doing what we can and are trying to support those who are making a difference with practical support on the ground. We have donated 3 containers to date for the distribution of food and basic supplies and have donated $2,000 for clean up operations being carried out by the below two companies.

The company names have links to their support operations and we would like to implore you to have a look at what they are doing on the ground and support them in their efforts. Thank you to J&J Transport and LBH Mozambique for your efforts in improving the lives of those affected by Cyclone Idai.