The Magical Kenya Open, presented by Johnnie Walker, started on Friday 19th March 2021 and Almar was delighted to be part of it. Almar Kenya was approached by Karen Country Club to assist with fabricated containers for last year's Kenya Open golf tournament. Due to COVID, the tournament was sadly cancelled but the event organisers for this year's event approached Almar for the same service.
Almar leased a number of converted containers to aid in the running of the event over a duration of 17 days from the 11th to the 26th March 2021. The containers supplied included nine offices for the event staff and two medical clinics used as COVID testing centres ensuring all COVID protocols were covered.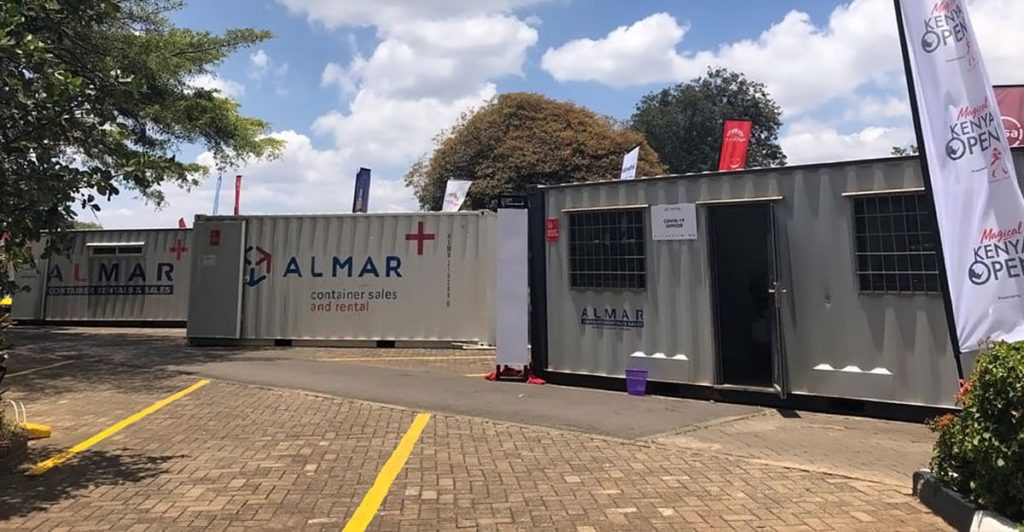 According to Lorna Onudi from Almar the lead time to deliver the units was very short. "The initial contact with the client was in February but the requirements and order were only finalised two days prior to delivery date.''
"We mobilised the units in one day and had them all on site on 11th March. We undertook all the logistics for this short-team lease and our support staff ensured that the containers were thoroughly cleaned and in 'tip-top' condition for this prestigious event. As a result the customer was very happy,'' concludes Lorna.
Background
The benefits of container conversions / fabrications
Shipping containers are strong, secure and modular, making them the perfect solution for just about any instant space requirement. They can be modified and converted into virtually any space and their durability allows for these spaces to be moved and positioned to form individual or multiple container structures.
Not only are they suited to rapid delivery due to their modular nature, they are perfect for remote camps for everything from office and accommodation requirements to medical facilities and training rooms.
ALMAR East Africa has a self-storage facility located just outside of Nairobi, a few 100 metres from the SGR Nairobi Passenger Terminal.
The facility has 126 secure, water-tight, storage containers comprising 20 and 40 foot units and, with the increase in demand, we are expecting to expand the offering.
"The impact of COVID has unfortunately led to the downsizing of offices, restaurants and retail outlets. Our storage facility, which allows for flexible storage options, has enabled these businesses to store their assets until they are ready to expand again," explains Tobias Okumu of Almar East Africa.
"With the Inland Container Depot only a few kilometres away, we often get enquiries to temporarily store cargo until it is ready to be distributed,'' continues Tobias
The facility has 24/7 security and all containers are locked with both an Almar lock as well as a customer lock, ensuring all goods are only accessible when the customer is present.
Operating hours are Monday to Friday 8.30am to 5.00pm and for any after-hours work (5.00pm to 7.00pm) or weekend arrangements, we simply require 24 hours notice in order to make the necessary arrangements.
For more information contact Tobias on +254 713 780 294 or on toby@almar.co.ke.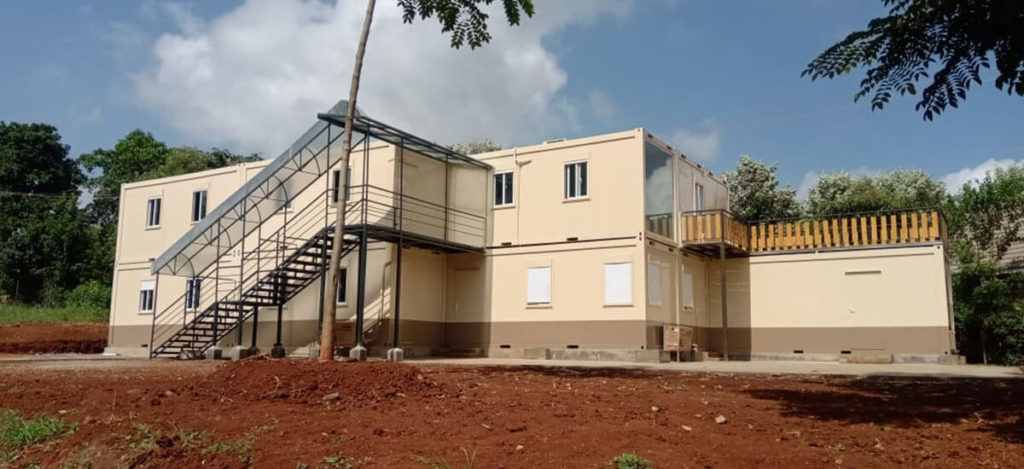 Almar Kenya built an office block for Internet Solutions (now under the Dimension Data umbrella) using flat pack containers, to cater to their corporate client who needed business recovery work stations available 24/7, 365 days of the year, in case of a major disruption to the business environment.
The container office build involved 23 flat packs stacked in two layers and included an open plan office space, reception area, meeting room, private office space, ablutions and a small kitchenette.
The Almar team in Kenya started placing containers on site to create these flat pack offices in late December 2019 and completed the build by mid-February 2020.
Great feedback from the customer was received…
"Thanks for your cooperation and we also look forward to working with you again in the future. We are speaking highly of your services in the market, and if you need to use us as a reference please don't hesitate."
– Richard Hechle, IS.
What are reefer containers?
Reefer containers are big, mobile fridges that are used to transport and store products that need to be temperature controlled such as fruits, meat, fish, seafood, vegetables, dairy, medication and beverages, for example.
Refrigerated containers, known as reefers, keep fresh produce, perishable items, medicines, anatomical waste and beverages cold or frozen. These 20ft (6m) and 40ft (12m) containers are 2.4m wide and run on three phase (380 - 460v) power and can keep the contents at a consistent temperature ranging between -25°C and +25°C. Temperature can be adjusted and controlled to within 0.3°C of required set point.
How do reefer containers work?
Reefer containers are bottom air delivery units designed to distribute chilled air from the floor, via specific T-shaped decking, with the advantage of producing a consistent and uniform flow of air across the entire container, powerful enough to ensure a perfect air exchange with the goods.
Although not necessary, storing produce on pallets in reefers assists with stacking, loading and offloading. Nine pallets fit into a 20ft container while 20 pallets fit into a 40ft container.
How are reefer containers powered?
Each container is supplied with a length of power cable between 10 and 15m long (4 core, 4mm2 cable) and a standard marine grade IP65 rated CEE 17 plug with a 3'Clock earth pin. The electrical point required is a CEE 17 coupler with 3'Clock earth with a 32A D curve circuit breaker to protect the cable / electrical components. Alternatively, remove the C17 plug completely and wire directly into a 32A 'D' curve circuit breaker. NB – it requires a 'D' curve circuit breaker or motor start breaker. An industrial light start breaker will breakdown and cause single phasing and power supply problems. Reefers require a 3 Phase plus Earth connection – no Neutral is required.
It is important to note that a reefer cannot freeze unfrozen products. Reefers are holding freezers and will maintain the products temperature. The produce needs to be at the required temperature when packed into the reefers.
How easily available are reefer containers?
Reefers are available from Almar Container Group for short and long term rental. Dependent on the location, Almar reefers are rented on a fully supported basis with 24/7 technical support. Almar can assist with technical on-site installation of the reefers should this be required and technical support contact details are placed on all our refrigerated containers should you need to get hold of a technician.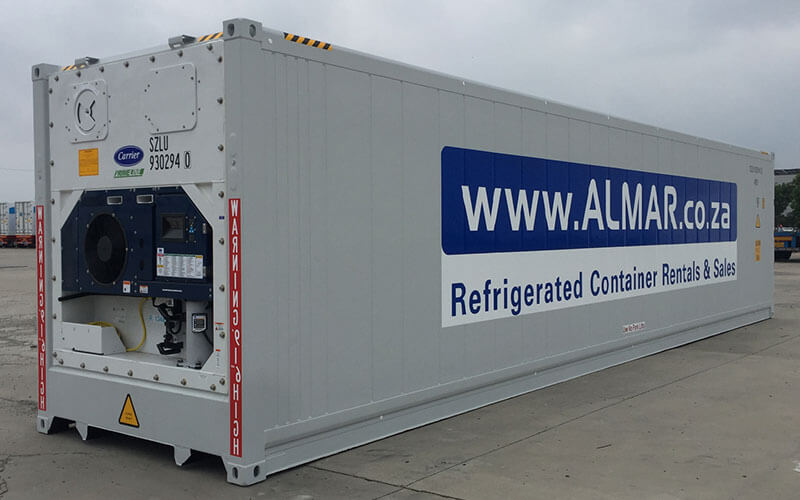 Are reefers cost effective?
With permanent cold storage facilities you can face high costs and issues with accessibility. Chances are that your cold storage facility won't be near the place your products need to be transported to. Hence, you're going to end up having to organise regular transportation, which will lead to spending even more.
A reefer is also much faster to obtain than constructing bulk cold storage. With a reefer, you can have the cold storage you need immediately.
Renting a reefer container from Almar means no additional expenses such as service costs, or expensive repair costs in the event of a mechanical breakdown. Almar takes the risk and covers all these costs.
Are reefers energy efficient?
Reefers are energy efficient. All Almar containers for rent are Carrier - a world-leading brand in container refrigeration. Their optimised assembly reduces power consumption but not airflow.
For minimal environmental impact, R-134a freon of the Carrier has a significantly lower atmospheric life and GWP (Global Warming Potential) than R-404A.
What is the cooling capacity of a reefer?
| Temperature | Watts | Btu/hr |
| --- | --- | --- |
| 2°C (35°F) | 12,000 | 40,900 |
| -18°C (0°F) | 6,600 | 22,500 |
| -29°C (-20°F) | 4,400 | 15,000 |
What are the installation requirements of a reefer?
The site needs to be level and built from a suitable material that will prevent the container sinking into the ground. Make sure that the front and back of the unit is level and the doors are square. A slight fall towards the door end will facilitate the cleaning of the interior. This fall should be around 3 to 4 degrees.
How can I maintain a reefer?
The following basic steps can be taken to keep your refrigerated container in good working order:
Daily:
Keep a twice daily record of the temperature on the control panel to ensure any variations are noted. Ensure the container is switched to a manual defrost cycle before entering the container.
Monthly:
Ensure that no ice build-up is allowed to develop within the container, especially on the floor area and within the T-Bar flooring, as this may disrupt the airflow within the container and cause temperature fluctuations. A complete clean out and removal of ice may be called for.
Almar offers fully supported rental agreements, so we take care of the regular servicing, allowing you to focus on your core business.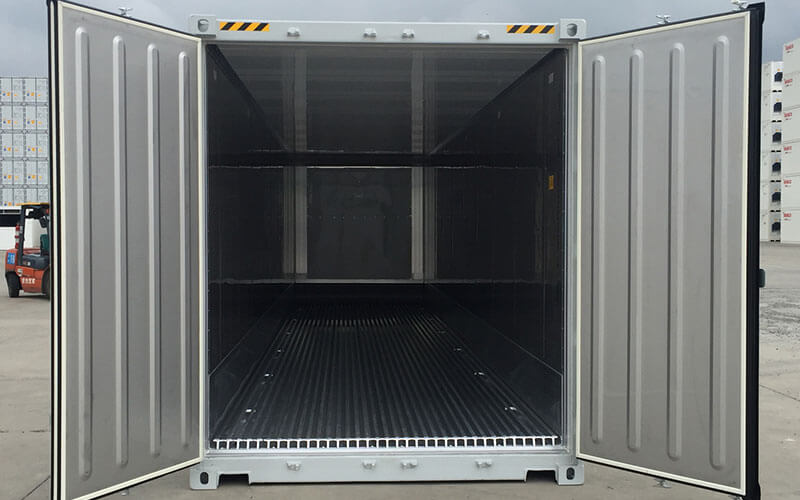 Client uses of reefer containers:
According to Dave Williams of Almar Container Group, October, November and December is referred to in the industry as 'reefer season'. This is because retailers need to stock up on additional fresh and frozen produce and renting temporary storage on their premises is the ideal solution. Outdoor events and festivals which require temporary dry and refrigerated storage also spike over these three months.
During 'reefer season' in South Africa, Almar Container Group supplied reefer containers to Rocking the Daisies, The BMW M Festival, The 9 hour endurance race at Kyalami, The Nedbank Golf Challenge and Corona Sunset Festivals to name a few. This saw a 48% percentage increase in reefer rentals for this three month period.
The Nedbank Golf Challenge, one of the highlights on the South African sporting calendar, make use of reefers for the tournament which forms part of the European Tour. They rent up to 30 Almar reefers for the four day event held in November at Sun City, which attracts over 60 000 spectators. The reefers keep their stock cold, secure and at their fingertips for the duration of the tournament.
The Saudi Government organises one of the biggest entertainment events in the region called Dairiyah Seasons which runs for a month from the end of November to the end of December. The event attracts renowned global artists and entertainers with the venue extending over 130 000 square meters and attracting over one million visitors. Almar Saudi supplied a combination of 59 dry and reefer containers on a rental basis for this epic event.
Almar's wide range of refrigerated containers provide a versatile and cost effective alternative to typical cold storage solutions. Not only do refrigerated containers offer an instant secure cold room facility, for either chilled or frozen products, but they are also offered on a rental or outright purchase basis.
Almar Reefer Containers keep your perishable goods at the perfect temperature, in any environment.
What are the benefits of reefer containers?
Refrigerated containers are an easy way to increase your storage volume and offer many advantages which include the following:
Single installation – containers are modular and can be placed just about anywhere level, with a true 'plug and play' installation.
Modular – containers are standard sizes and their modular ability allows for rooms to be added and removed during seasonal capacity requirements.
Hygienic food grade interiors – all containers have high-grade stainless steel interiors, which are easy to clean.
Robust machinery – Almar use the latest Carrier Reefer Containers which is the industry standard. Carrier supply the world's shipping lines with almost 80% of all Reefers. They are reliable and robust with machinery built to withstand the harshest conditions.
Mobile – the containers are designed for intermodal transport and therefore can be uplifted and moved very easily.
Chilled and deep frozen product – containers allow for temperature ranges between -25°C and +25°C.
Dehumidification Control – allows certain reefer models to maintain between 60% and 90% relative humidity in the unit. This is an added advantage for clients with very specific humidity / temperature requirements for perishable cargoes.
Accurate temperature maintenance – containers can monitor and track temperatures ranging within 0.3°C.
T-Bar flooring – ensures efficient airflow when containers are fully loaded.
Digital temperature display – allows for easy temperature monitoring and adjustment.
Simple operation – Reefer containers are a 'plug and play' cold storage solution, provided with operational guides and basic training if required.
Service – a 24/7 helpline in the event of technical problems or breakdowns.

Location:

Eldoret Kenya

Solution:

Rental of Accommodation Container Camp for Project Staff

Customer:

Grupotec

Grupotec was awarded the tender to build the largest solar plant in Africa. The 100MW project is situated in a remote location in Western Kenya, requiring all construction, engineering and management staff to be accommodated on site.

With deadlines for the project being very tight it was critical for Groupotec to have their team safely and quickly accommodated on site to allow them to start construction as soon as possible.

The camp, including a mixture of accommodation units, ablutions, kitchens, dinning rooms and boardroom facilities were deployed and installed in under 4 weeks. One of the critical components for us being able to deliver so swiftly was that we were able to deploy a mixture of ex stock accommodation container and ablution container units, as well as flatpack container modules which are able to be rapidly assembled on site.

We are also very proud that our site mobilisation team assembled and installed the camp safely, with ZERO loss of hours during the project.

For more information on the Grupotec project, you can view the project details here:
Biggest Solar Plant In Africa

The recent devastation that was seen when Cyclone Idai hit the coast of Mozambique and took that momentum all the way into Malawi and Zimbabwe leaving a trail of destruction was well covered by the media. As so often happens, the hysteria and panic attract large scale interest, but when it's not close to home, the interest dies off very rapidly from both a media and practical support perspective.

The real challenge, however, is that the actual implications on the ground seem to often work the other way around. There is no doubt that the devastation caused by the event was widespread and extremely destructive, however, the consequences on the ground now continue to get worse for those left behind.

Many of the worst-hit regions are rural areas, densely populated with subsistence farmers who have lost their livelihoods. With much of the infrastructure wiped away, it has become impossible for them to get access to food and fresh water and the situation becomes more desperate with each passing day.

As a company without a footprint in Mozambique, it is difficult for us to assist practically. However, we are doing what we can and are trying to support those who are making a difference with practical support on the ground. We have donated 3 containers to date for the distribution of food and basic supplies and have donated $2,000 for clean up operations being carried out by the below two companies.

The company names have links to their support operations and we would like to implore you to have a look at what they are doing on the ground and support them in their efforts. Thank you to J&J Transport and LBH Mozambique for your efforts in improving the lives of those affected by Cyclone Idai.

Strictly speaking, a container is anything we put things in for safekeeping or to deliver them somewhere. Theoretically, a 'container' could be a corrugated or cardboard box, a crate, or even a drum. However, over the years the transport industry developed a large, robust cargo container 'box' with doors, and adapted the design so it could travel by ship, rail, or on a lowbed trailer.

Is a Cargo Container the Same as an Intermodal Container?

The terms are virtually interchangeable since a cargo container can transport by ship, rail, or lowbed trailer mode. This flexibility enabled container shipping to simplify loading and unloading and dominate the cargo industry.

It also spawned a vibrant market in second-hand containers beyond their use-by dates but still in fair condition. These cargo containers are in popular use as construction site offices, village clinics, holiday homes and so much more. Our customers love them because they are cheaper than brick-and-mortar buildings, and 'erect' in a flash.

There Are Now Over 20 Million Cargo Containers in the World

The cargo container has proved its worth as a quick and convenient way to move goods around the world. Handling and securing equipment on ships, railway trucks, and lowbed transporters have standardised too. A container sent from Durban to London will hold no surprises for dockworkers on the far side of the world.

Those over 20 million containers make a total of 200 million trips every year. At any one time, there are close to six million of them travelling on ships to the four corners of the globe. An average of four of them falls into the water every day, which is remarkably low compared to the number of traffic accidents in Durban!

A number of these containers never make it back to their owners because of the high cost of shipping them empty. There are currently several million of these for sale in cities with container ports, and these are increasingly being turned into economic homes and affordable student housing.

The Humble Cargo Container that Transformed the World

The people who conceived the first cargo container would have had no idea how it would transform commercial transport. Indeed its influence compares with the extent the internet transformed communication.

Almar has a stock of containers for sale or for rent in Durban, Walvis Bay, Dubai, Dar es Salaam, Kabar, Mombasa, Kampala, and Nairobi. Please be assured of our best prices and contact us soon for superior service.

Almar Kenya has been commissioned to create four bespoke functional gym units from standard 20-foot dry containers for anti-poaching rangers to use. Three will be located in wildlife conservancies in Kenya, while the fourth is to be transported to Tanzania, and all four will provide an exciting opportunity for anti-poaching rangers to keep fit in the field.

The project was initiated by the Save the Rhino charity and 51 Degrees Ltd, a Kenyan company that trains rapid-response anti-poaching units across East Africa in helicopter procedures, reactive operations, area searches, and medical skills.

The Converted Containers

The design of the converted containers' functional gym equipment will ensure that the rangers are able to improve their strength and overall fitness while in remote locations. The equipment in each unit consists of a series of bolted frames with pull-up bars, as well as removable dead-weight brackets and a larger frame for rope climbing at one end.

One of the converted containers has already been set up in the main rangers' camp at Borana Conservancy in Laikipia County, Kenya. Two more are destined for Ol Jogi and Lewa Conservancies in the same region. A fourth will soon be heading for Tanzania where it will be utilized by the Singita Grumeti Fund's team of rangers.

Conservancies Fighting Poaching

During the past four decades, Kenyan organisations and associations have been doing everything possible to save the black rhino (Diceros bicornis) from extinction. In 1970 there were 20,000 rhinos in the country, but as a result of poaching, this number fell to less than 280 in the 1980s. One of the first initiatives was the formation of the Association of Private Rhino Sanctuaries in Laikipia that was mandated by the Kenya Wildlife Service to represent the interests of those in the private sector who were working towards conservation of rhinos.

After the dramatic decrease in the numbers of rhinos by the 1980s, Kenya was hit by another surge in rhino and elephant poaching in 2012 and 2013, that led to the loss of more of these animals than at any time during the past 20 years. As a result, a new wildlife law was introduced allowing the courts to impose life imprisonment for convicted poachers. But, while poaching stats dropped, the killing continued, and earlier this year it was reported that convicted poachers in Kenya could face the death penalty.

The Kenyan authorities have also introduced a high-tech anti-poaching technique that involves sniffer dogs trained to identify air samples of rhino horn and ivory. These dogs are also used to find stolen livestock, property, and even children.

The Borana Conservancy is one of the newest conservancies for rhinos and since black rhinos were reintroduced to the area in 2013, it has been proven to be one of the most successful. It is relatively close to the Ol Jogi Conservancies as well as Ol Pejeta and the Solio Game Reserve, but Lewa is its closest neighbour.

Borana and the Lewa Wildlife Conservancy work closely together with additional combined efforts from Kenya Wildlife Service and the Kenya Police. While a primary focus is on fighting the threat of poaching and protecting the wildlife in the local conservancies, they also assist when there is road banditry, cattle rustling, and even inter-tribal conflict.

They report that there has been no poaching of rhino in the Lewa-Borana area in the past five years and that the numbers of illegally killed elephants have decreased significantly during the same period of time.

The Singita Grumeti Fund carries out community development and wildlife conservation in the western corridor of Tanzania's legendary Serengeti ecosystem. An area that experienced rampant poaching and uncontrolled poaching less than two decades ago, the Fund is responsible for one of Eastern Africa's greatest conservation success stories.

The Almar Commitment

"Not only is Almar extremely grateful to have worked on this exciting and creative product, we are also proud to help such esteemed clients with their efforts in ensuring the preservation and security of Africa's most precious wildlife."

A beautifully created shared office space right in the heart of Nairobi, Kenya, Ikigai has attracted people from a cross-section of industries who value interaction and the possibility of collaboration with others but want to work in a highly professional environment. Based on a Japanese concept that means "a reason for being," Ikigai is such a popular office venue, it has been expanded with converted mobile containers to meet the demand.

About Ikigai and its Converted Shipping Containers

Founded by two passionate entrepreneurs, Wachuka and Nyambura, who believe in the collective greatness of the community, Ikigai is located on a beautiful property that boasts a huge, rambling, old house and lush green gardens. They lease the property and are bound to keep the house in its original form. They may not build any permanent structures on the site, which is why they have opted to expand using mobile containers that may be relocated later if need be.

Rather than renting out rooms, they offer different types of membership that cater to the varied needs of individuals looking for reliable but flexible workspace. For instance:

Private membership that offers a range of secure offices in the house, in adjacent studios, and in lovely converted shipping containers.
Communal full membership that offers access to workspace but not private offices.
Flexible membership that offers up to 10 days access per month for those who need more professional facilities from time to time.
Meetup membership that provides access to boardrooms and other meeting rooms as well as outdoor spaces.

All forms of membership offer high-speed Wi-Fi and there are communal areas in addition to the meeting spaces and boardrooms. Roasted Truth, an artisan barista-operated coffee bar established in one of the many converted shipping containers, and its adjacent coffee deck, is another perk for members.

Almar Mobile Containers Provide a Reason for Being

When the owners of Ikigai decided to expand their office space, there were several major challenges they had to consider, including the fact that permanent structures were not acceptable. Aesthetics are important to the Ikigai team, and it was essential that if mobile containers were going to be used, these had to blend with the existing environment.

Almar Container Group, which has operated in Kenya since 2010 and is now the country's largest supplier of steel containers to the end-user market, was approached to undertake the project. One of the benefits would be the speed of delivery and Almar's ability to move the mobile containers to another site later if required.

First, they had to identify suitable areas for converted shipping containers. Then they had to design both a workable layout and container design based on this configuration. Ikigai needed big glass windows and doors incorporated in the design to facilitate both light and airflow. Almar's designers achieved this by using double-glass sliding doors and lovely big tilting windows. The containers were also well insulated.

PVC tiled flooring was chosen, and down-lighters were installed to meet the client's brief for smart, modern, and functional office spaces. The exterior walls of the containers were covered with timber cladding that would blend with the garden environment and surrounding spaces. Ultimately, the project shows how effectively converted shipping containers can be used in an upmarket residential area.

The Almar Promise

Whether you want accommodation for offices or boardrooms in upmarket converted shipping containers, mobile containers for traditional industrial office use, or steel containers that can be converted into living accommodation, Almar can help fulfil your needs in Southern Africa or the Middle East. Call us to discuss your needs or request a shipping container cost.