Almar Kenya offers dry (conventional) and refrigerated shipping container rental which can be beneficial for a variety of reasons as per below:
Container Rental is Cost-effective
Shipping container rental is often a more cost-effective solution compared to buying them, especially if you only require them for a limited period of time. Renting a container eliminates the need for a larger upfront investment and allows you to allocate your funds to other essential financial outlays of your business or project.
Container Rental is Flexible
Container rental provides flexibility in terms of the number of containers you require and how long you need them for. You can rent containers for as long as you need them – weeks, months, or even years. You can also adjust the number of containers rented based on your changing needs. This adaptability is particularly valuable for temporary projects, during construction, and events for businesses with fluctuating demands.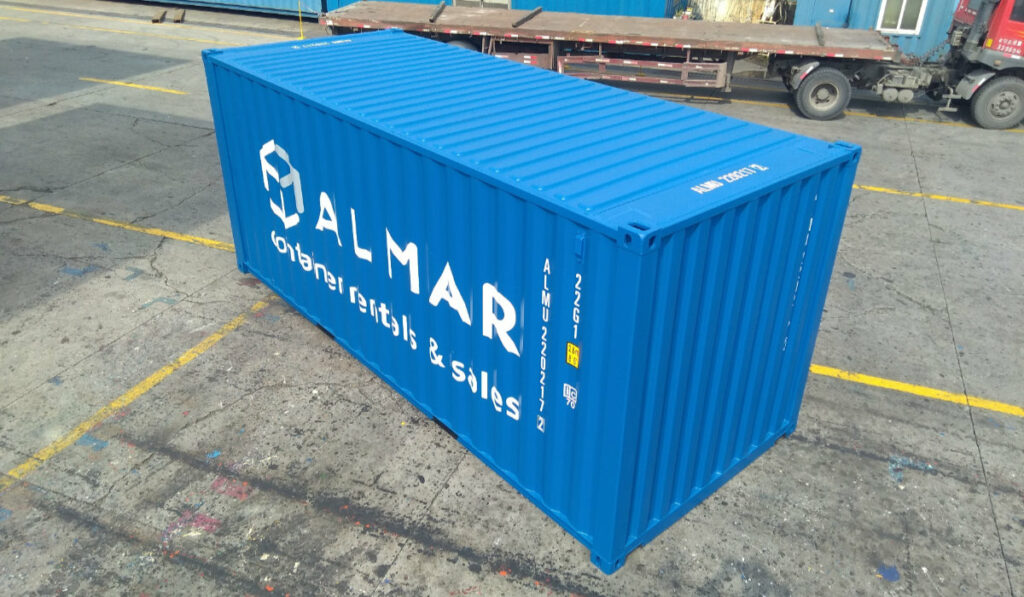 Quick and Easy Setup
Containers are portable and can be delivered to your desired location. Conventional containers also known as dry shipping containers are ready to use upon arrival, requiring minimal setup time and effort. This is particularly advantageous for on-site offices, storage facilities, or temporary accommodation where time is of the essence.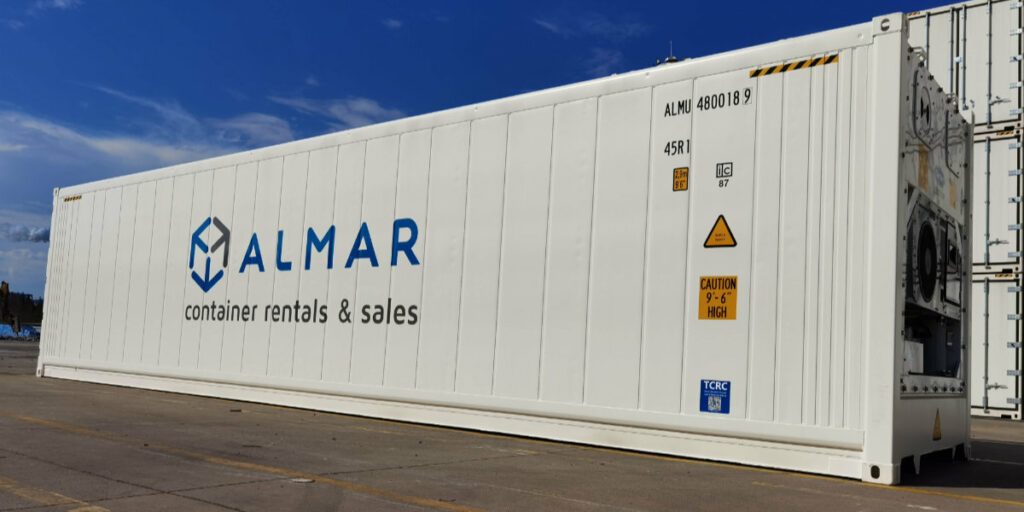 Below are a few simple guidelines that need to be followed for refrigerated container rental: 
The site needs to be level and built from a suitable material that will prevent the container from sinking into the ground. It is important to make sure that the front and back of the unit are level and that the doors are perfectly square. Unalignment will cause doors to stick and make opening them difficult.
A slight fall towards the door end will facilitate the cleaning of the interior of the unit with a high-pressure water sprayer when required. This allows water to run freely from the unit when cleaning the interior.
When placing the container in a confined area, please leave at least a 1-meter gap between any wall and the machinery end of the container. This will allow the container to cool properly as the heat will be able to be removed efficiently saving you electrical consumption.
The Versatility of Container Rental
Containers are versatile and can serve various purposes. Dry shipping containers can be used for storage, transportation, offices, retail spaces, housing, events, security structures, and more. Container rental allows you to leverage their functionality for specific projects without committing to long-term ownership.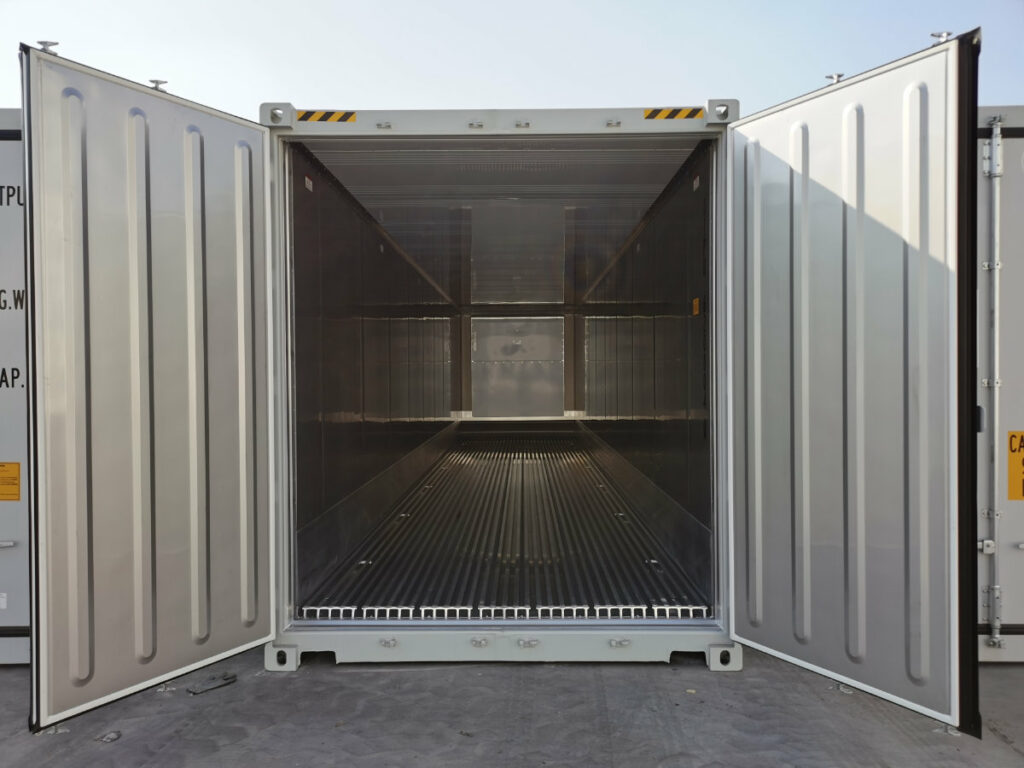 Maintenance and Support for Refrigerated Containers:
When renting a refrigerated container from Almar Kenya we implement bi-annual services which include:
pre-trip inspection,
the calibrating of configurations and settings,
fault finding, and rectification,
physical cleaning of the containers takes place along with
the replacement of parts that may be faulty and
the updating of electrical software
pressure cleaning the condenser coil.
Container Rental is Scalable
If your business expands or your needs change over time, container rental allows you to easily scale up and down as required. You can adjust the number of rented containers to match your evolving requirements without being constrained by owning a fixed number of units.
Shipping containers offer a cost-effective, flexible, and convenient solution for a wide range of applications, making them the ideal choice for your business or personal use. For more information on container rental email sales.ke@almar.co.ke or phone +254 719 675 272.
Almar East Africa implements regular maintenance on their refrigerated container and reefer genset fleets to ensure that they are in optimum condition for our customers.
Refrigerated Containers, also known as reefers, come in 6m and 12m sizes and are a mobile and secure cold storage solution. Services are done bi-annually and include pre-trip inspection, the calibrating of configurations and settings, fault finding, and rectification. Physical cleaning of the containers takes place along with the replacement of parts that may be faulty and the updating of electrical software.
Almar's reefers keep your contents at a consistent temperature ranging between -25°C and +25°C. The temperature can be adjusted and controlled to within 0.3°C of the required set point and require a three-phase 380v power supply. A reefer is the quickest means of obtaining bulk cold storage. The container can be placed close to where the end product needs to be, in turn saving you transportation costs. All Almar refrigerated containers are Carrier, a world-leading brand in container refrigeration.
Clip-on reefer Gensets are diesel generators used to power refrigerated containers. They are offered on a rental basis for running reefers in remote locations, or alternatively for reefers on trucks for the transportation of perishable cargo.
They are easy and fast to start. The powerline start/stop switch is easily accessible, and the in-air intake manifold heater allows for fast starting and trouble-free operation, even at low ambient temperatures. Attaching and disconnecting the generator takes just minutes as the pin mounting bracket design saves time. The self-aligning ratcheted clamp locks allow safe, secure attachment to corner castings.
The servicing and maintenance of Gensets, which is implemented every 2000 to 3000 hours, includes preventative and routine checks, setting adjustments for voltage, current, and frequency for standard reefer loading capacity. Physical cleaning of the body and engine and engine test for load, compression, and continuous performance was also conducted.
For more information on reefers, Gensets, or any of Almar's container products please phone Almar East Africa at +254 719 675 272.
Maintaining product at the optimum temperature is essential in the food and medicine industries. Operators know they need to avoid thawing or defrosting at all costs. Or else they have to dispose of their damaged product in accordance with national safety rules.
This discipline applies equally to when the goods are in transit. Handling freezer containers outside the controlled zone must be kept to a bare minimum, and goods must be carefully restacked on arrival. Much value can be lost during handling. Everything may be ruined during a lengthy grid outage.
Hence wise operators back their stainless-steel freezer and chiller rooms with standby petrol and diesel generators. However, their thundering sounds are not conducive to enjoying quiet conversations in upmarket restaurants and hotels. Supermarket chains are coming to the same conclusion: site them elsewhere.
The Solution is Converting Shipping Containers to Freezer Containers
A gleaming stainless-steel chiller room or freezer room is not a stand-alone structure. Refrigeration engineers design them as rooms-within-rooms meaning you first need to build your structure and then install your cooler room.
After that, you are stuck with your location. Although you could theoretically dismantle the insulated panels and reassemble them elsewhere. However, your costs are racking up all the time. Moreover, we have had some chefs tell us the panels never work as well the second time around. They are concerned about residue building up in the joints.
What We Do Instead to Save You Money and Time
We convert 6-metre and 12-metre intermodal shipping containers into freezer containers and cool rooms. After we line them with new, industry-standard ceilings, walls and floors, they can do temperatures as low as -18ºC on 380 volts. However, if you only need a cold room running at say +5ºC we can achieve this with 240 volts.
After you apply power and allow the room to cool down, you have a cold room or freezer room as good as any regular one. We can say that with confidence because we use the same insulating materials. Moreover, we have a jump on the rest because our freezer containers are portable.
That's right! Our converted shipping containers are as good as having freezer rooms and cooler rooms on wheels. One seafood wholesaler loads his portable freezer container directly from trawlers moored alongside wharves.
Then he takes it back to his depot on a flatbed with a lifting crane. That way he has perfect control over his frozen stock at all times!
In the current uncertain economic climate that we find ourselves in, large-scale investment into commercial cold storage rooms is an unwanted risk. The ability to have an instant cold storage room with zero capital investment is a very inviting option although many would say impossible. However, making use of refrigerated containers (reefer containers) allows for exactly that and more.
10+1 Reasons to use Refrigerated Containers for Cold Storage
Whether you need to stock up on perishable goods for the Christmas rush, or you have had a bumper harvest, here are 11 reasons why refrigerated are your perfect solution:
Instant: Refrigerated containers can be delivered and literally just plugged in to create an instant cold room. The powerful machines can bring the entire 28mᶟ or 66mᶟ down to -25°C within an hour.
Reliable: Reefers are fitted with machinery built to withstand the harshest environments out at sea with limited ability to service them. As such they are designed to run long hours holding constant temperatures.
Accurate: Reefers can be controlled to within one 10th of a degree and so you can be assured of you cargo maintaining the perfect temperature.
Risk-Free: Refrigerated containers can be hired on a daily basis, so there is no long-term commitment needed.
Cost Effective: Because reefers can be rented, there is no need to tie up large amounts of capital to build cold rooms.
Technical Support: Refrigerated containers can be hired with full 24/7 technical support ensuring that if there is a mechanical breakdown, technical support will be close at hand.
Moveable: Reefers are very easy to move and so you have the flexibility of just relocating your cold store should you need to move premises.
Modular: As your business grows, you can just add more reefers as your cold storage need grows. They are essentially like big pieces of lego!
Versatile: Refrigerated containers can be used for an array of temperature sensitive products. The temperature capabilities range from +25° C to -25°C, so they can handle anything from ice cream and chicken to medical vaccinations and sensitive chemicals.
Secure: Reefers are built to withstand the rugged conditions of international marine transport and they can be secured by multiple locks to ensure the safety of your cargo.
Efficient: Reefer machinery is built with ultra-efficient scroll compressor technology, making them extremely efficient with very low power consumption.
Who can use refrigerated containers?
Because of the reefers flexibility, they are used across various industries and in many different applications. They are regularly used by retailers especially over the Christmas season as a short-term stopgap for storage of extra food stores such as chicken and fish.
They are also regularly used for longer periods for holding medical vaccines and samples because of the incredibly accurate temperature controls that they offer.
20ft Reefer containers offer a smaller footprint and are used regularly by small outlets and restaurants for overflow cold storage for beverages and food. They are also the perfect solution for events where additional short-term cold rooms are needed few a few days.
40ft Reefer containers offer a larger capacity and are regularly used by farmers for excess harvest storage as well as chemical suppliers looking for long-term storage of very temperature sensitive products.
What Size are Refrigerated Containers?
Refrigerated containers come in two main sizes, 6m containers (20ft) and 12m containers. The 20ft containers have a cubic capacity of 28mᶟ and the 40ft containers 66mᶟ.
They both have an external width of 2.4m.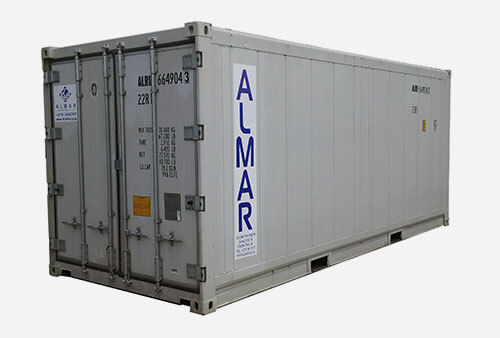 Where Can you Hire Refrigerated Containers?
Almar Containers have reefers in various parts of the world including Cape Town, Durban, Johannesburg, Port Elizabeth, Mombasa, Nairobi, Dar es Salaam, Dammam and Dubai... ready and available for immediate hire!