Unfortunately, container fraud is rampant in East Africa and if you're not careful you could get scammed. Here are some steps to avoid this:
Investigate what companies are charging for containers in general. A significantly cheaper price should raise concerns.
Don't be bullied into a sale with limited-time offers or claims that "this is the last container at this price".
Only deal with container companies that are established and have a historical track record you can verify.
Don't rely on website reviews which can easily be fabricated. Rather check out third-party reviews like Google.
No landline number on their website means that the "container supplier" has no physical presence.
If they have an address on their website, don't take it for granted that it's genuine. Google Maps is your best friend to verify.
You should call the seller. If they have a foreign accent this should raise the alarm. Some fraudsters operate from overseas without any East African presence.
Check the container company's website domain registration date at whois.com. If registered in recent months, treat them with suspicion.
If you're asked to confirm the bank account you'll be using for payment, only mention the financial institution. They could be buying time to open up an account to receive your payment.
All legitimate local companies ask for full payment upfront. Usually, scammers ask for 50% payment upfront with the balance due on delivery of the container but they don't deliver.
For over 30 years, Almar Container Group has been providing container solutions to both international and domestic partners and continues to focus on building strong relationships based on trust, reliability, and quality as a key to our success.

Almar Kenya opened its doors in Mombasa in 2011 and in 2013, Almar broadened its Kenyan operation, opening up the East African head office in Nairobi. The operations in Nairobi extended to offer a full spectrum of services including gensets and reefer rentals as well as container conversions. For more information contact Kenya, Nairobi at sales.ke@almar.co.ke or phone at +254 719 675 272 or Kenya, Mombasa on sales.ke@almar.co.ke or phone +254 719 675 272
The Magical Kenya Open, presented by Johnnie Walker, started on Friday 19th March 2021 and Almar was delighted to be part of it. Almar Kenya was approached by Karen Country Club to assist with fabricated containers for last year's Kenya Open golf tournament. Due to COVID, the tournament was sadly cancelled but the event organisers for this year's event approached Almar for the same service.
Almar leased a number of converted containers to aid in the running of the event over a duration of 17 days from the 11th to the 26th March 2021. The containers supplied included nine offices for the event staff and two medical clinics used as COVID testing centres ensuring all COVID protocols were covered.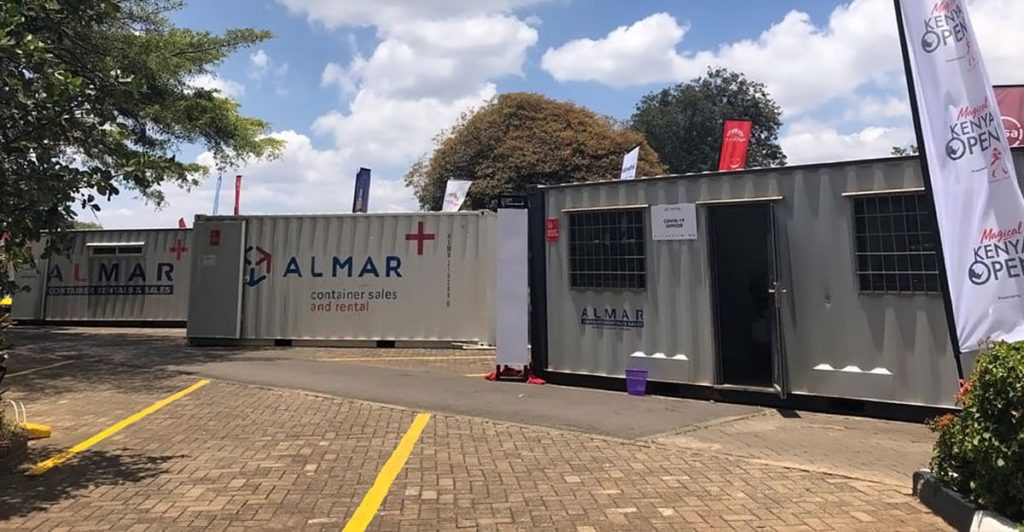 According to Lorna Onudi from Almar the lead time to deliver the units was very short. "The initial contact with the client was in February but the requirements and order were only finalised two days prior to delivery date.''
"We mobilised the units in one day and had them all on site on 11th March. We undertook all the logistics for this short-team lease and our support staff ensured that the containers were thoroughly cleaned and in 'tip-top' condition for this prestigious event. As a result the customer was very happy,'' concludes Lorna.
Background
The benefits of container conversions / fabrications
Shipping containers are strong, secure and modular, making them the perfect solution for just about any instant space requirement. They can be modified and converted into virtually any space and their durability allows for these spaces to be moved and positioned to form individual or multiple container structures.
Not only are they suited to rapid delivery due to their modular nature, they are perfect for remote camps for everything from office and accommodation requirements to medical facilities and training rooms.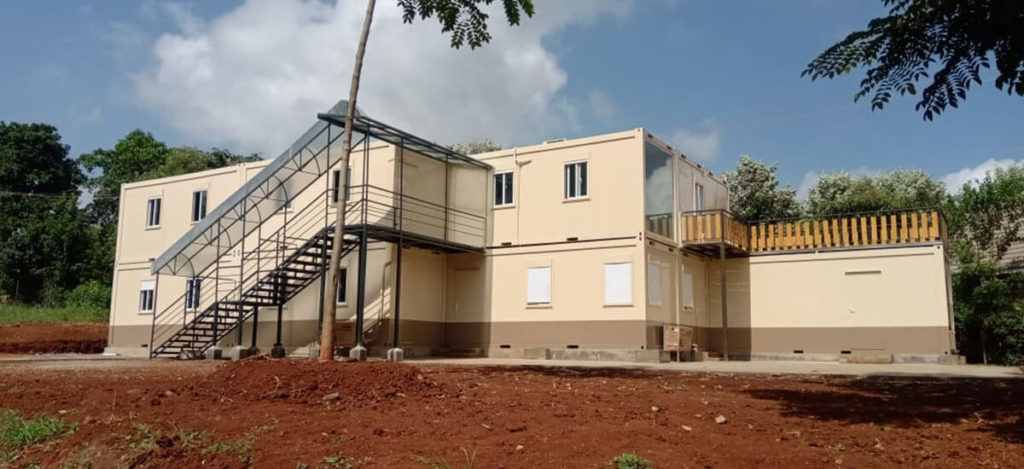 Almar Kenya built an office block for Internet Solutions (now under the Dimension Data umbrella) using flat pack containers, to cater to their corporate client who needed business recovery work stations available 24/7, 365 days of the year, in case of a major disruption to the business environment.
The container office build involved 23 flat packs stacked in two layers and included an open plan office space, reception area, meeting room, private office space, ablutions and a small kitchenette.
The Almar team in Kenya started placing containers on site to create these flat pack offices in late December 2019 and completed the build by mid-February 2020.
Great feedback from the customer was received…
"Thanks for your cooperation and we also look forward to working with you again in the future. We are speaking highly of your services in the market, and if you need to use us as a reference please don't hesitate."
– Richard Hechle, IS.
What are reefer containers?
Reefer containers are big, mobile fridges that are used to transport and store products that need to be temperature controlled such as fruits, meat, fish, seafood, vegetables, dairy, medication and beverages, for example.
Refrigerated containers, known as reefers, keep fresh produce, perishable items, medicines, anatomical waste and beverages cold or frozen. These 20ft (6m) and 40ft (12m) containers are 2.4m wide and run on three phase (380 - 460v) power and can keep the contents at a consistent temperature ranging between -25°C and +25°C. Temperature can be adjusted and controlled to within 0.3°C of required set point.
How do reefer containers work?
Reefer containers are bottom air delivery units designed to distribute chilled air from the floor, via specific T-shaped decking, with the advantage of producing a consistent and uniform flow of air across the entire container, powerful enough to ensure a perfect air exchange with the goods.
Although not necessary, storing produce on pallets in reefers assists with stacking, loading and offloading. Nine pallets fit into a 20ft container while 20 pallets fit into a 40ft container.
How are reefer containers powered?
Each container is supplied with a length of power cable between 10 and 15m long (4 core, 4mm2 cable) and a standard marine grade IP65 rated CEE 17 plug with a 3'Clock earth pin. The electrical point required is a CEE 17 coupler with 3'Clock earth with a 32A D curve circuit breaker to protect the cable / electrical components. Alternatively, remove the C17 plug completely and wire directly into a 32A 'D' curve circuit breaker. NB – it requires a 'D' curve circuit breaker or motor start breaker. An industrial light start breaker will breakdown and cause single phasing and power supply problems. Reefers require a 3 Phase plus Earth connection – no Neutral is required.
It is important to note that a reefer cannot freeze unfrozen products. Reefers are holding freezers and will maintain the products temperature. The produce needs to be at the required temperature when packed into the reefers.
How easily available are reefer containers?
Reefers are available from Almar Container Group for short and long term rental. Dependent on the location, Almar reefers are rented on a fully supported basis with 24/7 technical support. Almar can assist with technical on-site installation of the reefers should this be required and technical support contact details are placed on all our refrigerated containers should you need to get hold of a technician.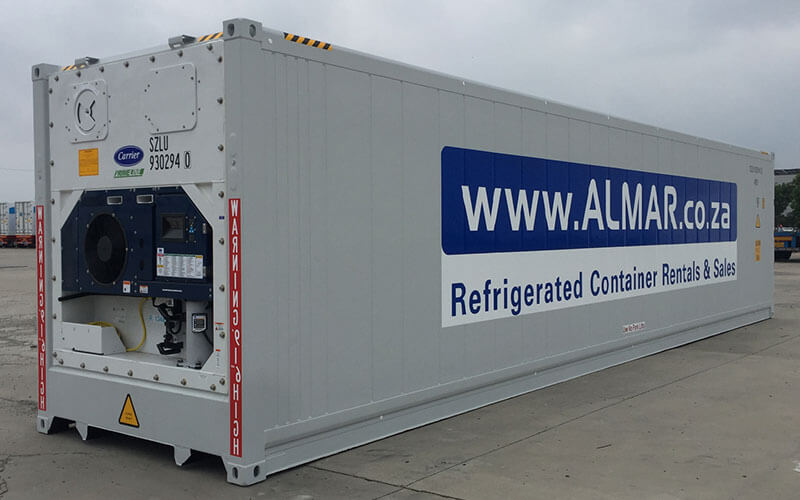 Are reefers cost effective?
With permanent cold storage facilities you can face high costs and issues with accessibility. Chances are that your cold storage facility won't be near the place your products need to be transported to. Hence, you're going to end up having to organise regular transportation, which will lead to spending even more.
A reefer is also much faster to obtain than constructing bulk cold storage. With a reefer, you can have the cold storage you need immediately.
Renting a reefer container from Almar means no additional expenses such as service costs, or expensive repair costs in the event of a mechanical breakdown. Almar takes the risk and covers all these costs.
Are reefers energy efficient?
Reefers are energy efficient. All Almar containers for rent are Carrier - a world-leading brand in container refrigeration. Their optimised assembly reduces power consumption but not airflow.
For minimal environmental impact, R-134a freon of the Carrier has a significantly lower atmospheric life and GWP (Global Warming Potential) than R-404A.
What is the cooling capacity of a reefer?
| Temperature | Watts | Btu/hr |
| --- | --- | --- |
| 2°C (35°F) | 12,000 | 40,900 |
| -18°C (0°F) | 6,600 | 22,500 |
| -29°C (-20°F) | 4,400 | 15,000 |
What are the installation requirements of a reefer?
The site needs to be level and built from a suitable material that will prevent the container sinking into the ground. Make sure that the front and back of the unit is level and the doors are square. A slight fall towards the door end will facilitate the cleaning of the interior. This fall should be around 3 to 4 degrees.
How can I maintain a reefer?
The following basic steps can be taken to keep your refrigerated container in good working order:
Daily:
Keep a twice daily record of the temperature on the control panel to ensure any variations are noted. Ensure the container is switched to a manual defrost cycle before entering the container.
Monthly:
Ensure that no ice build-up is allowed to develop within the container, especially on the floor area and within the T-Bar flooring, as this may disrupt the airflow within the container and cause temperature fluctuations. A complete clean out and removal of ice may be called for.
Almar offers fully supported rental agreements, so we take care of the regular servicing, allowing you to focus on your core business.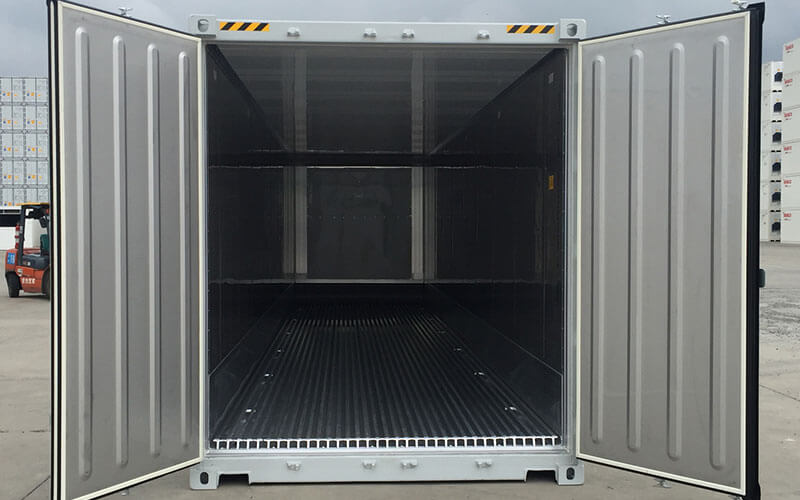 Client uses of reefer containers:
According to Dave Williams of Almar Container Group, October, November and December is referred to in the industry as 'reefer season'. This is because retailers need to stock up on additional fresh and frozen produce and renting temporary storage on their premises is the ideal solution. Outdoor events and festivals which require temporary dry and refrigerated storage also spike over these three months.
During 'reefer season' in South Africa, Almar Container Group supplied reefer containers to Rocking the Daisies, The BMW M Festival, The 9 hour endurance race at Kyalami, The Nedbank Golf Challenge and Corona Sunset Festivals to name a few. This saw a 48% percentage increase in reefer rentals for this three month period.
The Nedbank Golf Challenge, one of the highlights on the South African sporting calendar, make use of reefers for the tournament which forms part of the European Tour. They rent up to 30 Almar reefers for the four day event held in November at Sun City, which attracts over 60 000 spectators. The reefers keep their stock cold, secure and at their fingertips for the duration of the tournament.
The Saudi Government organises one of the biggest entertainment events in the region called Dairiyah Seasons which runs for a month from the end of November to the end of December. The event attracts renowned global artists and entertainers with the venue extending over 130 000 square meters and attracting over one million visitors. Almar Saudi supplied a combination of 59 dry and reefer containers on a rental basis for this epic event.
Almar's wide range of refrigerated containers provide a versatile and cost effective alternative to typical cold storage solutions. Not only do refrigerated containers offer an instant secure cold room facility, for either chilled or frozen products, but they are also offered on a rental or outright purchase basis.
Almar Reefer Containers keep your perishable goods at the perfect temperature, in any environment.
What are the benefits of reefer containers?
Refrigerated containers are an easy way to increase your storage volume and offer many advantages which include the following:
Single installation – containers are modular and can be placed just about anywhere level, with a true 'plug and play' installation.
Modular – containers are standard sizes and their modular ability allows for rooms to be added and removed during seasonal capacity requirements.
Hygienic food grade interiors – all containers have high-grade stainless steel interiors, which are easy to clean.
Robust machinery – Almar use the latest Carrier Reefer Containers which is the industry standard. Carrier supply the world's shipping lines with almost 80% of all Reefers. They are reliable and robust with machinery built to withstand the harshest conditions.
Mobile – the containers are designed for intermodal transport and therefore can be uplifted and moved very easily.
Chilled and deep frozen product – containers allow for temperature ranges between -25°C and +25°C.
Dehumidification Control – allows certain reefer models to maintain between 60% and 90% relative humidity in the unit. This is an added advantage for clients with very specific humidity / temperature requirements for perishable cargoes.
Accurate temperature maintenance – containers can monitor and track temperatures ranging within 0.3°C.
T-Bar flooring – ensures efficient airflow when containers are fully loaded.
Digital temperature display – allows for easy temperature monitoring and adjustment.
Simple operation – Reefer containers are a 'plug and play' cold storage solution, provided with operational guides and basic training if required.
Service – a 24/7 helpline in the event of technical problems or breakdowns.

Location:

Eldoret Kenya

Solution:

Rental of Accommodation Container Camp for Project Staff

Customer:

Grupotec

Grupotec was awarded the tender to build the largest solar plant in Africa. The 100MW project is situated in a remote location in Western Kenya, requiring all construction, engineering and management staff to be accommodated on site.

With deadlines for the project being very tight it was critical for Groupotec to have their team safely and quickly accommodated on site to allow them to start construction as soon as possible.

The camp, including a mixture of accommodation units, ablutions, kitchens, dinning rooms and boardroom facilities were deployed and installed in under 4 weeks. One of the critical components for us being able to deliver so swiftly was that we were able to deploy a mixture of ex stock accommodation container and ablution container units, as well as flatpack container modules which are able to be rapidly assembled on site.

We are also very proud that our site mobilisation team assembled and installed the camp safely, with ZERO loss of hours during the project.

For more information on the Grupotec project, you can view the project details here:
Biggest Solar Plant In Africa

The recent devastation that was seen when Cyclone Idai hit the coast of Mozambique and took that momentum all the way into Malawi and Zimbabwe leaving a trail of destruction was well covered by the media. As so often happens, the hysteria and panic attract large scale interest, but when it's not close to home, the interest dies off very rapidly from both a media and practical support perspective.

The real challenge, however, is that the actual implications on the ground seem to often work the other way around. There is no doubt that the devastation caused by the event was widespread and extremely destructive, however, the consequences on the ground now continue to get worse for those left behind.

Many of the worst-hit regions are rural areas, densely populated with subsistence farmers who have lost their livelihoods. With much of the infrastructure wiped away, it has become impossible for them to get access to food and fresh water and the situation becomes more desperate with each passing day.

As a company without a footprint in Mozambique, it is difficult for us to assist practically. However, we are doing what we can and are trying to support those who are making a difference with practical support on the ground. We have donated 3 containers to date for the distribution of food and basic supplies and have donated $2,000 for clean up operations being carried out by the below two companies.

The company names have links to their support operations and we would like to implore you to have a look at what they are doing on the ground and support them in their efforts. Thank you to J&J Transport and LBH Mozambique for your efforts in improving the lives of those affected by Cyclone Idai.

Strictly speaking, a container is anything we put things in for safekeeping or to deliver them somewhere. Theoretically, a 'container' could be a corrugated or cardboard box, a crate, or even a drum. However, over the years the transport industry developed a large, robust cargo container 'box' with doors, and adapted the design so it could travel by ship, rail, or on a lowbed trailer.

Is a Cargo Container the Same as an Intermodal Container?

The terms are virtually interchangeable since a cargo container can transport by ship, rail, or lowbed trailer mode. This flexibility enabled container shipping to simplify loading and unloading and dominate the cargo industry.

It also spawned a vibrant market in second-hand containers beyond their use-by dates but still in fair condition. These cargo containers are in popular use as construction site offices, village clinics, holiday homes and so much more. Our customers love them because they are cheaper than brick-and-mortar buildings, and 'erect' in a flash.

There Are Now Over 20 Million Cargo Containers in the World

The cargo container has proved its worth as a quick and convenient way to move goods around the world. Handling and securing equipment on ships, railway trucks, and lowbed transporters have standardised too. A container sent from Durban to London will hold no surprises for dockworkers on the far side of the world.

Those over 20 million containers make a total of 200 million trips every year. At any one time, there are close to six million of them travelling on ships to the four corners of the globe. An average of four of them falls into the water every day, which is remarkably low compared to the number of traffic accidents in Durban!

A number of these containers never make it back to their owners because of the high cost of shipping them empty. There are currently several million of these for sale in cities with container ports, and these are increasingly being turned into economic homes and affordable student housing.

The Humble Cargo Container that Transformed the World

The people who conceived the first cargo container would have had no idea how it would transform commercial transport. Indeed its influence compares with the extent the internet transformed communication.

Almar has a stock of containers for sale or for rent in Durban, Walvis Bay, Dubai, Dar es Salaam, Kabar, Mombasa, Kampala, and Nairobi. Please be assured of our best prices and contact us soon for superior service.

We get calls every week from people wanting to know the optimum shipping container sizes for their household goods. Sometimes they end up purchasing a used container from us in cargo worthy condition they can resell at their destination. However, others prefer to use a removal company because they have enough on their minds.

Shipping Container Sizes Vary and So Do the Costs

Most of the containers we see on ocean-going ships (and occasionally falling off) are either 20 ft. or 40 ft. ones. However, there are other smaller and larger ones in the below list:

8ft. Shipping Container = 2.44 × 2.20 × 2.26 meters
10ft. Shipping Container = 2.97 × 2.44 × 2.59 meters
20ft. Shipping Container = 6.06 × 2.44 × 2.59 meters
30ft. Shipping Container = 9.06 × 2.44 × 2.59 meters
40ft. Shipping Container = 12.20 × 2.44 × 2.59 meters
45ft. Shipping Container = 13.72 × 2.44 × 2.89 meters

Carrying Capacity in Terms of Household Goods

The most popular shipping container sizes for household moving are 20 ft. and 40 ft. ones. As a general rule of thumb:

A 20 ft. container is large enough for the contents of a 3-bedroom house
A 40 ft. container may be needed for the contents of larger home

However, it's rare to find a family needing exactly 30 or 65 cubic metres. Hence many people relocating share containers with others moving to the same location.

How Full Container and Less Container Loading Works

Your shipping agent will help you calculate the optimum size. You may find leaving the leather lounge suite behind achieves a greater saving than the cost of a replacement one overseas.

If you pay for a 'full container load' (FCL) you don't have to 'stand in a queue' while your household goods travel somewhere else first. However, a 'less container load' (LCL) can work out cheaper if you don't mind waiting a little longer.

Run the Numbers First Before Deciding

Shipping household goods from Durban to the UK can cost between R100,000 and R150,000 depending on container size, insurance costs, final destination etc. Cape Town to Sydney can cost between R150,000 and R200,000. You could have more money in your pocket towards setting up your new home by making the right decision when choosing between shipping container sizes wisely.

An intermodal container is a portable storage box compatible with travelling on various modes of transport. These include railways, ships, low-bed road transporters, and even cargo aircraft. They usually shift between different transportation modes via container depots. Hence, they also need to be compatible with lifting and moving gear in these facilities.

This flexibility requires a degree of standardization virtually unrivalled in any other industry. Standard 6-meter and 12-meter intermodal containers can be stacked many times high on ships and in container handling yards. This makes them arguably the densest storage facility anywhere.

Intermodal Container History: Longer Than You Thought

People have been carting luggage securely in suitcases and boxes for ages. From the 1830s onwards railways were carrying simple containers that loaded onto horse-drawn carts using cranes. These were simple, rectangular timber boxes ideal for transporting bulk materials especially coal.

The military was already using container solutions for transporting weaponry by the time WW2 erupted. However, intermodal container standardization really only took off in 1951, when the U.S. and European nations met in Switzerland to consider the possibilities of standardized container transport.

This meeting led to the introduction of 'roller containers' in various configurations capable of loading on rail, truck or ship. Various innovations followed in quick succession. These new developments included corrugated steel containers with skids and lifting rings, stackable versions, and lighter-weight materials.

Full Standardization Arrives in 1972

By the early 1970s shipping containers were travelling globally, although to the frustration of operators there were still various versions. Finally, the Inter-Governmental Maritime Consultative Organization intervened with a global standard for the safe transport and handling of what became known as the universal intermodal container.

This regulation required that every shipping container have an approved 'safety plate' recording age, registration number, dimensions and weights, as well as its strength and maximum stacking capability. There was considerable resistance from traditional dock workers although eventually, sheer logic had its day.

The Second Life of Intermodal Shipping Containers

The stresses and strains associated with an intermodal container stacked ten times high are immense. Rigid safety standards condemn these storage boxes long before they are actually worn out. We saw the opportunity to recycle them for other, creative purposes.

The Almar Container Group supplies standard and purpose-adapted intermodal containers for beneficial reuse in South Africa, Tanzania, Kenya, Uganda, Dubai, and Saudi Arabia. Tell us what you need and we'll make it happen soon. We have applications for training rooms, ablution facilities, temporary offices, permanent homes and so much more.

Request a Quote