Do you need flexible, affordable cold storage immediately? Almar Container Group supply refrigerated containers (reefers) throughout South Africa to keep your fresh produce, perishable items, ice-cream, beverages, medicines and anatomical waste at the required temperature.
We offer 6m and 12m refrigerated containers which keep your contents at a consistent temperature ranging between -25°C and +25°C. The temperature can be adjusted and controlled to within 0.3°C of required set point. These reefers require three phase 380v power supply.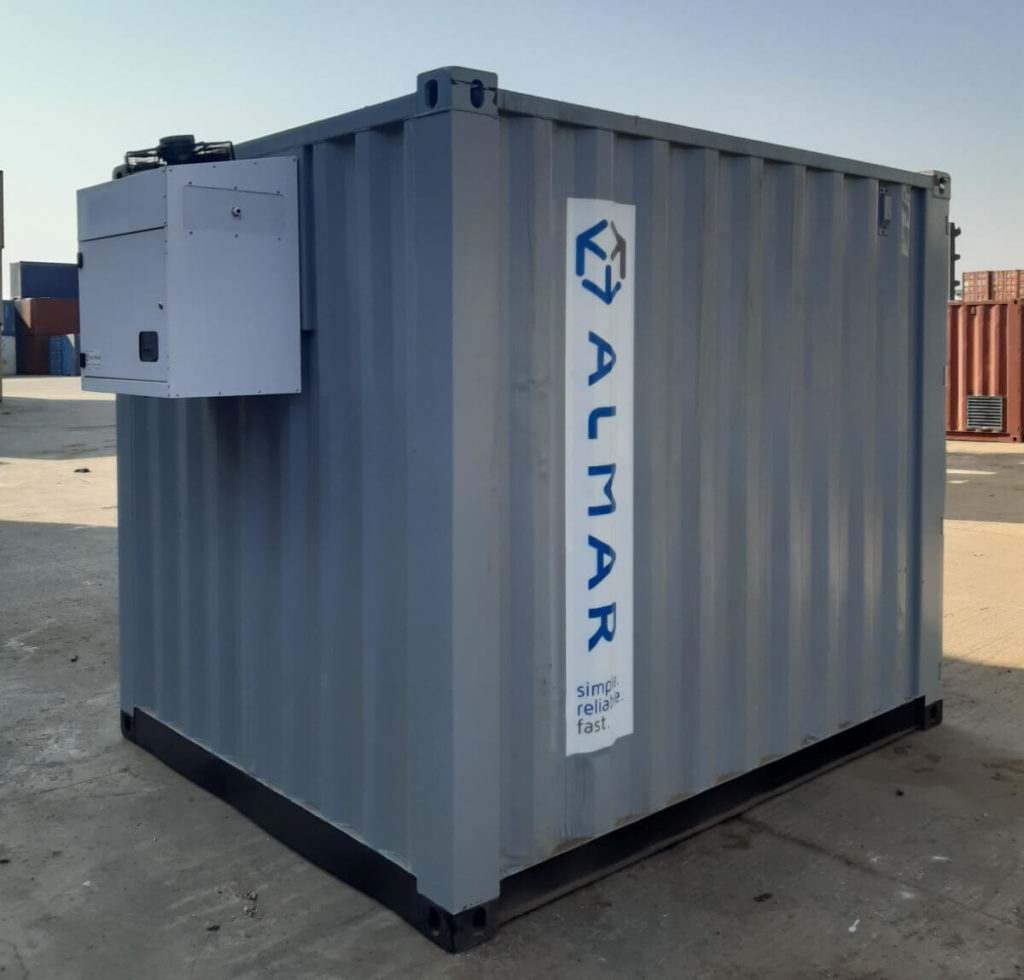 Almar also offers a chiller container option - a customised refrigeration solution which uses single phase 220v power. This means you can plug your 3m or 6m chiller / refrigerated container into any domestic power outlet, making it the ultimate cold room alternative. Temperature range is between +2°C and +10°C.
Refrigerated containers (reefers) and chillers are available from Almar for short and long term rental. Dependent on the location, our reefers are rented on a fully supported basis with 24/7 technical support. This means no additional expenses such as service costs, or expensive repair costs in the event of a mechanical breakdown.
A reefer is the quickest means of obtaining bulk cold storage - you can have the cold storage you need immediately and it can be placed close to where the end product needs to be, in turn saving you transportation costs.
Reefers are energy efficient. All Almar refrigerated containers for rent are Carrier – a world-leading brand in container refrigeration. Almar's new fleet of refrigerated containers, Carrier Primeline, uses digital scroll technology making them the most energy efficient solution available. The temperature on this new range can operate as low as - 35°C.
Clip-on reefer gensets are specifically designed diesel generators used to power refrigerated containers known as reefers.
Reefer containers are big, mobile fridges that are used to transport and store products that need to be temperature controlled such as fruits, meat, fish, seafood, vegetables, dairy, beverages, medication and anatomical waste, for example.
These 20ft (6m) and 40ft (12m) containers are 2.4m wide and run on three phase (380 – 460v) power and can keep their contents at a consistent temperature ranging between -25°C and +25°C. Temperature can be adjusted and controlled to within 0.3°C of required set point.
Gensets are used when reefers get transported from one location to another and contain stock which needs to remain at a certain temperature. ALMAR Kenya offer gensets on a rental basis for running reefers in remote locations, or alternatively for reefers on trucks for the transportation of perishable cargo.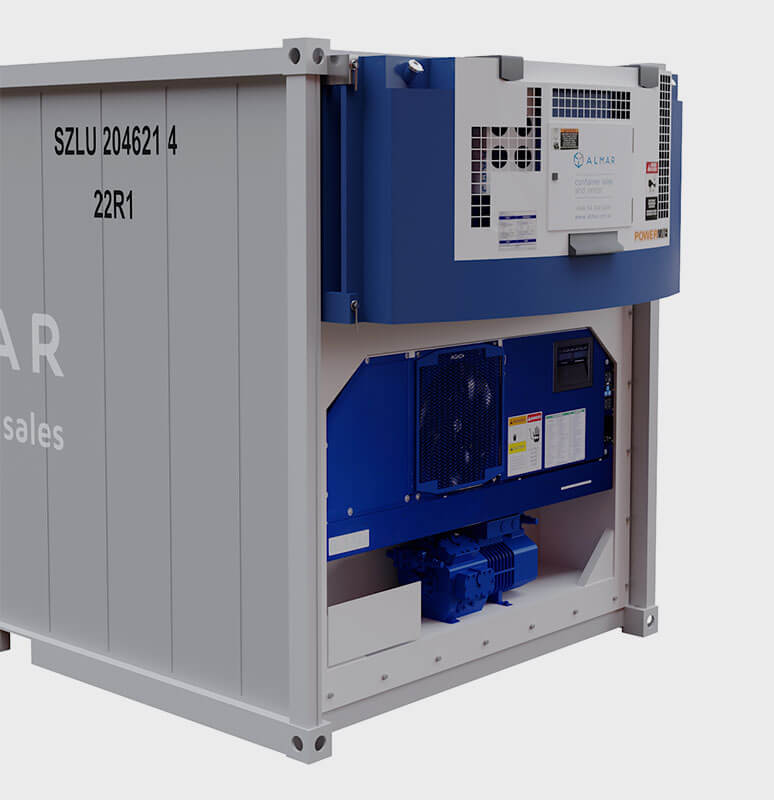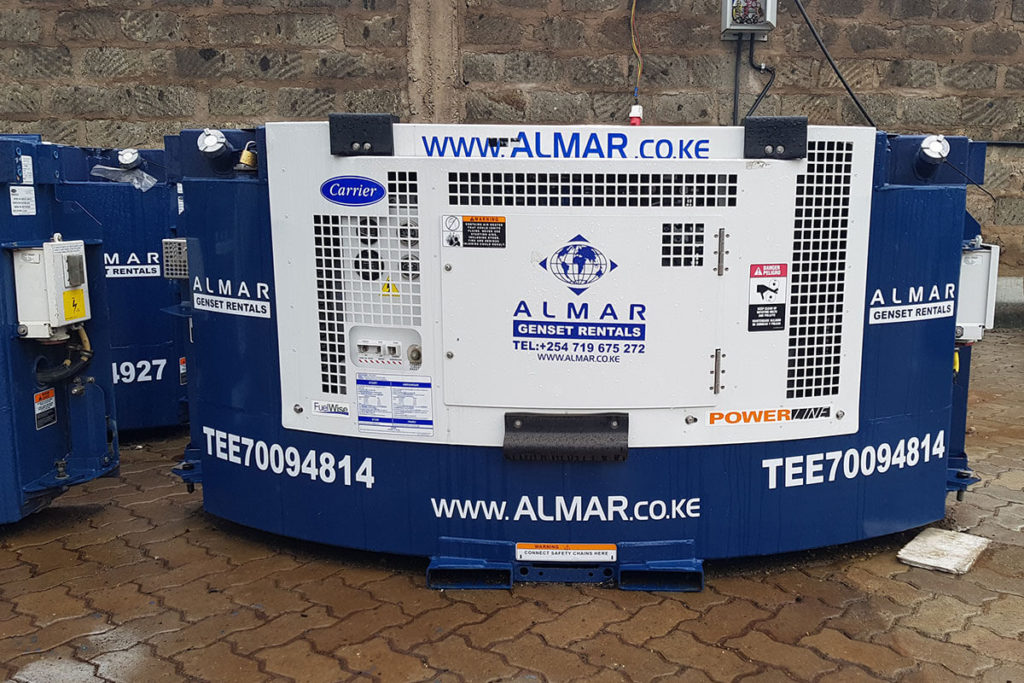 Reefer genset frequently asked questions (FAQ)
Fuel consumption.

Although an exact figure cannot be provided, you can expect fuel consumption to be between 2.5L and 3L per hour depending on the reefer load. The age of the reefer also has an impact as the older reefers work the gensets slightly harder than the newer reefers. Our gensets are, however, fitted with a dual mode option of "eco" or "power" which controls the running speed after start-up. Eco mode provides approximately 25% efficiency in fuel consumption depending on ambient temperatures and reefer set point.

Breakdown assistance.

ALMAR Kenya ensures that all our gensets are serviced regularly to avoid breakdowns. We also train the driver and/or turn-man on the workings of the genset prior to loading. This training includes how to switch it on, noises to listen out for and possible minor breakdown solutions like airlocks, for example.

Clipping and unclipping.

ALMAR undertakes this ourselves as we have access to trained operators.
Reefer Gensets Benefits
Flexibility:

Reefer gensets enable you to run reefers without an electrical connection, ensuring that you are not tied down to a specific location.

Cold Chain Security:

Gensets allow the security of keeping the cold chain complete throughout the stages of perishable product delivery, providing 460v of continuous power for uninterrupted protection.

Reliability:

Our genset fleet is exceptionally young and maintained to the highest levels. They are also built to last with the direct injection engine designed to handle the most rugged of operating environments.
For more information contact Tobias Okumu on +254 713 780 294 or +254 719 675 272 or email toby@almar.co.ke.
1.Investigate what companies are generally charging for shipping containers. If the price is significantly better than any other quote, this should raise a specific concern.
2.Only deal with companies that have been in business for some time and have a historical reputation you can track.
3.Ensure other customers are happy with their service, but don't rely on their website references or testimonials as these are easy to fabricate. You can, for example, check third party reviews such as Google.
4.Don't be bullied into the sale by claims that this is the last container at this price, or anything similar.
5.When you phone the person, and ideally you should, if the seller has a distinctly foreign accent, this might be an alarm bell. Some fraudsters operate from other countries with no presence in South Africa at all.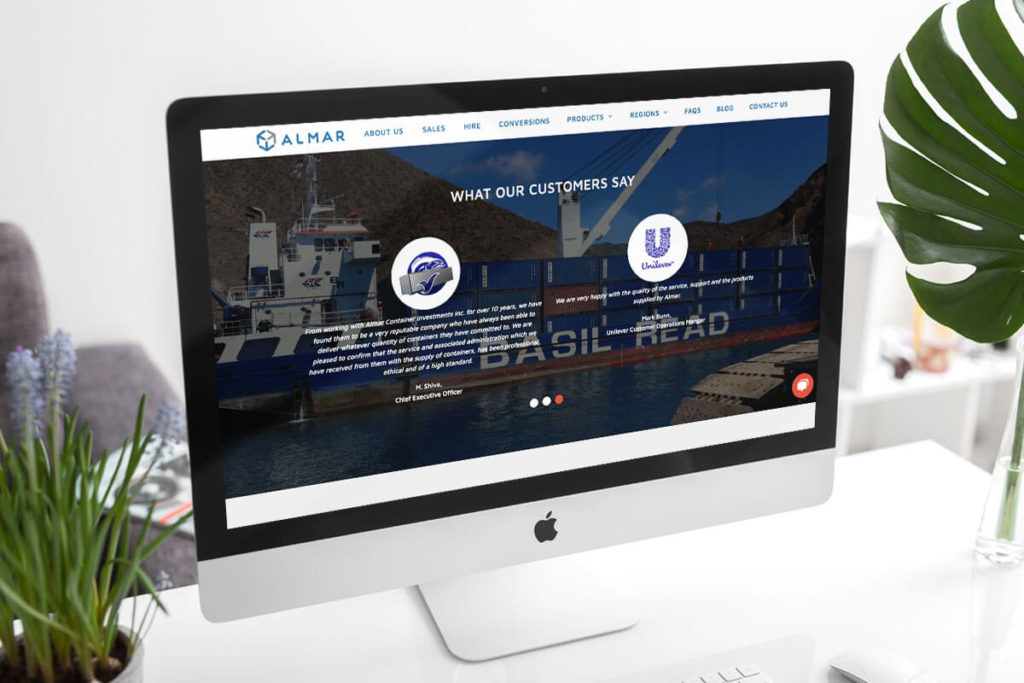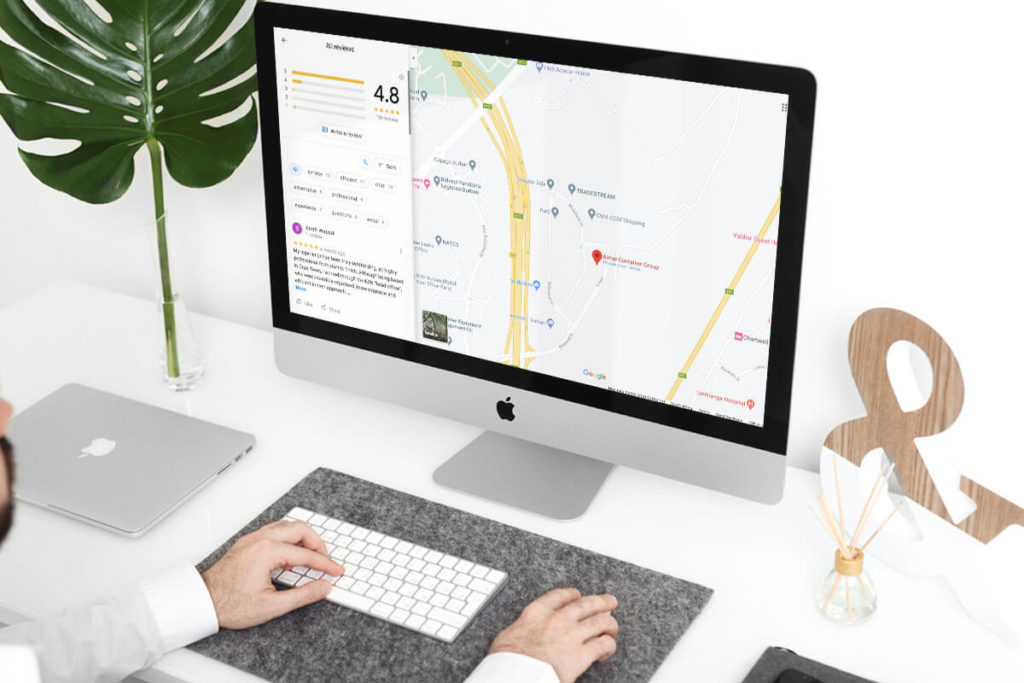 6.If there isn't a landline number on the website, this could be a sign that the company has no physical presence.
7.Contact container associations like CTIA (www.containa.org) and COA (www.containerownersassociation.org) to see if the company is registered.
8.If there is a physical address on the website, don't take it for granted that it is genuine. Rather check on Google Maps to make sure it really is a valid address.
9.Check the creation date of the website domain using a domain search website like Who Is (www.whois.com). If the website was created in recent months, this too should be an alarm bell.
10.If you are asked to confirm which bank account you are going to use for payment, don't provide this information other than possibly stating which financial institution you use. Chances are they are buying time while waiting to open up a suitable bank account to be able to get your payment.
Building a legacy - The History of the Container Industry and the History of Almar
In the mid 1950's, the first trials were being done on using containers on ships to move cargo, as opposed to the traditional breakbulk (cargo nets and hand) method. Initial trials by the US Military, reflected cargo handling savings of over 100 times. This created a frenzy of excitement, with the first major container ship carrying 720 containers which sailed in 1968.
By 1980, 90% of all goods shipped were containerised, and vessels are now built to carry over 20 000 containers on one ship! As an example of the transport efficiencies created, a 40ft HC can carry 10 000 iPads, resulting in a transport cost from Shanghai to Rotterdam of 5 US cents per iPad.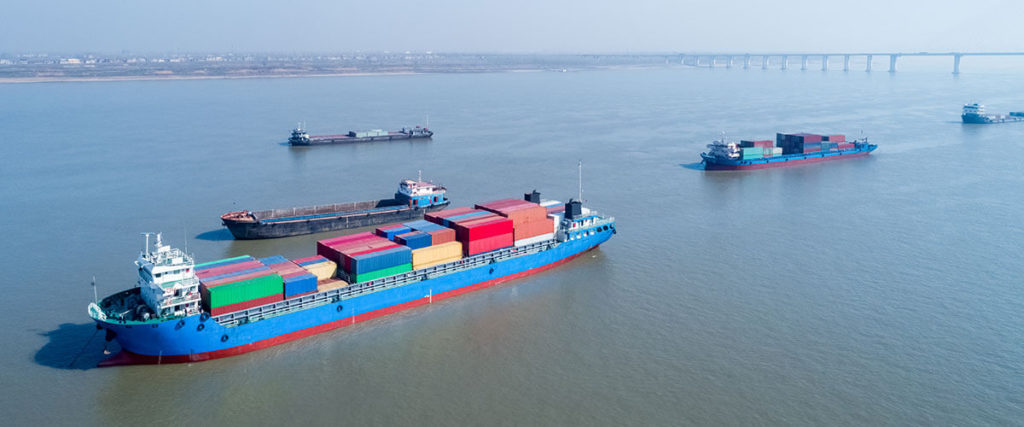 With the rapid growth of the container industry, Alistair Forbes, founder of Almar Container Group, was employed by CTI Container Transport International in 1977, which at that time was the largest leasing company in the world. He was subsequently employed by Textainer which is currently the 2nd largest container group in the world owning approximately 3.2 million containers.
By 1988, Alistair was the Textainer Marketing Director of the Southern Hemisphere. He was then under pressure to relocate to San Francisco and that is when he decided to start Almar Container Group.
The Almar name has deep family roots, in being the combination of Alistair and his wife Marilyn names. The business literally started with Alistair and a telephone book full of contacts, a passion for containers, and a strong interest in international business.
Almar found its niche in the international market in doing something no one else at the time was doing, international one way containers. The general trading of containers was starting to become well entrenched but Almar was one of the first to pioneer the one way movement of containers and take advantage of offering the valuable service of one way use, as well as capitalise on a 'buy low, sell high' market.
The international focus was always strong and resulted in opening offices in Dubai, India, Brazil, Kenya, Tanzania, Saudi Arabia, Angola, Uganda.
Along with regional growth, Almar expanded its product offering from just dry containers, to reefers, specialised containers, offshore certified containers, bitutainers, tanks and conversions.
As with most family businesses, it is the founder's values and principles that have made Almar the success it is today and therefore it is Alistair's values that need to be continuously used as a sounding board.
The values that Alistair has always comeback to as being fundamental to Almar's success are:
Passion
Humility
Teamwork
Hard work
Integrity
Reliability
Respect for all
Almar's newly refined and defined value set are closely aligned with our founding principles.
More than ever, we are determined not to let our values be something that remains on a piece of paper but that our customers and suppliers experience our wholehearted commitment in every engagement. Our aim remains to partner with them to understand your business needs and to provide the right solution simply, reliably and fast.
Almar launches a new corporate identity
With the reflection on our foundational values, we have also taken the step to refresh our corporate identity. Our business has been refined over the years to ensure that our product and service offerings are in line with our customers' evolving needs. Along with this, we have seen our logo simplified and refreshed and we are proud to share our updated logo:


Our new icon can be seen in many different forms and this interesting and dynamic shape allows for various opportunities to visually associate aspects of our business as follows:
Cube: Representing the simple and humble container, the original enabler for global trade.
Arrows: Representing our brand promises Simple, Reliable, Fast.
Hexagon: Representing the strongest natural shape and the strength in our team.
Throughout our history, it has been the partnerships that we have enjoyed with our customers and suppliers that have ensured our longevity. Without these partnerships Almar would not be where it is today and for this we are truly grateful.
Who is Almar?
Our Purpose
Partner and Solve
Our aim is to simplify life for our customers by passionately committing to help them overcome their challenges. We do this best by working together as a team and creating strong relationships.
Our Values
Act in the spirit of True Partnership
To authentically partner we need to understand our partners, ask questions and listen, learn from them, teach them, challenge them and appreciate them. We treat everyone as equal and work together to solve.
Always Be Open and Honest
We act with integrity, always doing what we believe is right and thus we have nothing to hide. We know that solid relationships are built on a clear sense of expectation and complete honesty. When expectations are not met, we do what it takes to make it right.
Wholeheartedly Commit
We are passionate about everything we do and committed to delivering the best we can in every situation.
Stay Focused and Agile
Always with clarity of intent, we are empowered to act quickly and to adapt in order to effectively solve. We remain agile by constantly reflecting and learning and never becoming complacent.
Keep it Simple
Our roots are grounded in the simplest form solving the most complex challenges. We constantly seek to simplify, be it through new products, how customers can talk to us and the practical solutions we offer.
Attributes and Differentials
Simple
We constantly seek to simplify what we do.
Reliable
We have over 30 years of experience and do what we say we will.
Fast
Our team is prepared, focused and empowered.
In Sub-Saharan Africa, mobile clinics are needed for the testing of COVID-19 and then possibly for isolating and treating patients. Almar Kenya is expecting a spike in the demand for container units converted into mobile clinics to cope with the pandemic.
According to CNB Africa, in Sub-Saharan Africa, there are genuine fears over how health systems will cope. Most are ill-prepared and ill-equipped to implement public health measures such as surveillance, exhaustive contact tracing, social distancing, travel restrictions and educating the public on hand hygiene and respiratory etiquette.
"These are the basic steps that will delay the spread of infection and relieve pressure on hospitals, even as support is sought for costlier solutions such as personal protective equipment, ventilators, oxygen and testing kits.

For countries in Africa and other areas where health resources are limited, a little-understood pandemic such as COVID-19 is a challenge that requires a whole-of-society response.

Countries in Africa must also take the fight to the pandemic through simple but effective measures for detecting, testing, isolating and mobilizing their people to mitigate transmission."

– CNB Africa.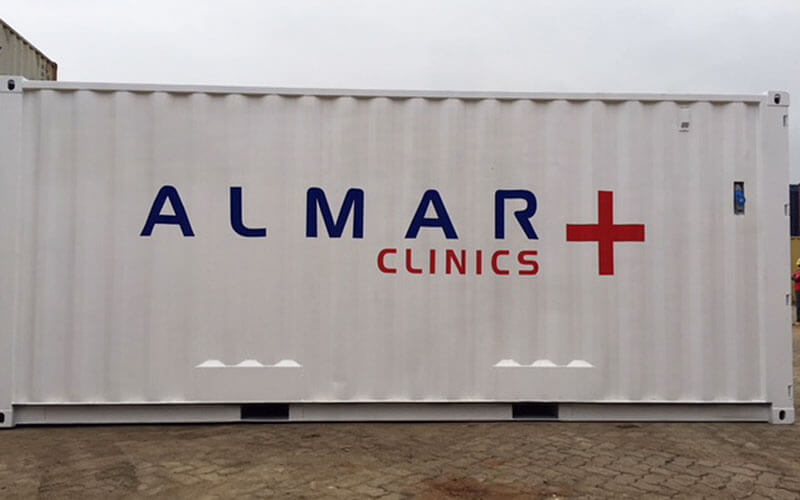 Almar Kenya can provide container clinics on a temporary basis to help with testing. These clinics will be required as temporary isolation or treatment units when the need arises. Converted containers can also provide temporary housing which could be a reality as, according to World Bank data, there are 645 million people living in rural areas in sub-Saharan Africa. It is very difficult to the practice social distancing when living in homes in such close proximity to each other.
The World Health Organisation (WHO) recommends that rural communities create plans to deal with any outbreak and emphasised the importance of isolation for anyone showing symptoms of the disease.
That means being vigilant and acting fast if anyone shows symptoms. Given the conditions in rural areas, and how quickly the disease has spread elsewhere, it also means bracing for the possibility that if someone in the community tests positive, "the whole community may be infected".
Relocation plans could become a reality throughout Africa as they are already underway in South Africa. An article in Accounting Weekly stated, "Entire townships in the Western Cape, Gauteng, the Eastern Cape and KwaZulu-Natal are to be moved to safe zones in a bid to halt the spread of the coronavirus. It is a plan to de-congest extremely dense informal settlements to prevent infection rates. In the Western Cape alone, thousands of residents from two informal settlements in Khayelitsha are to be temporarily removed. The communities of Taiwan as well as eNkanini informal settlements have been notified of the plans to have them evacuated from their homes. According to SA's National Department of Human Settlements spokesperson, McIntosh Polela, these plans were already at an advanced stage.
For more information on mobile container clinics or temporary container housing solutions, please contact Guy Symondson at guy@almar.co.ke or phone 254 713 624 958.
References:
https://www.cnbcafrica.com/coronavirus/2020/03/22/opinion-piece-with-simple-fact-informed-hygiene-measures-africa-can-slow-covid-19-spread/
https://news.un.org/en/story/2020/03/1059812
https://www.theguardian.com/global-development/2020/mar/19/community-infections-could-happen-any-time-kenya-prepares-for-covid-19-coronavirus
https://accountingweekly.com/mass-evacuation-of-sa-townships-on-the-cards-to-stop-spread-of-coronavirus/
The storage and transportation of ethanol and liquid waste has spiked over the past six months due to two main factors; the ban of liquid waste with a moisture value >40% going to landfill and the increased demand for ethanol storage. Ethanol is the main ingredient in the manufacturing of hand sanitiser.
Since the outbreak of the Coronavirus (Covid 19), the demand for hand sanitisers in India is up by 400% while distillers in Scotland are using their experience with alcohol production to turn their hands to making sanitisers.
It is no different in South Africa where Almar Container Group are getting calls for the renting of ISO Tank Containers, known as ISOtainers, for the storage of ethanol to cope with the overwhelming demand for hand sanitisers.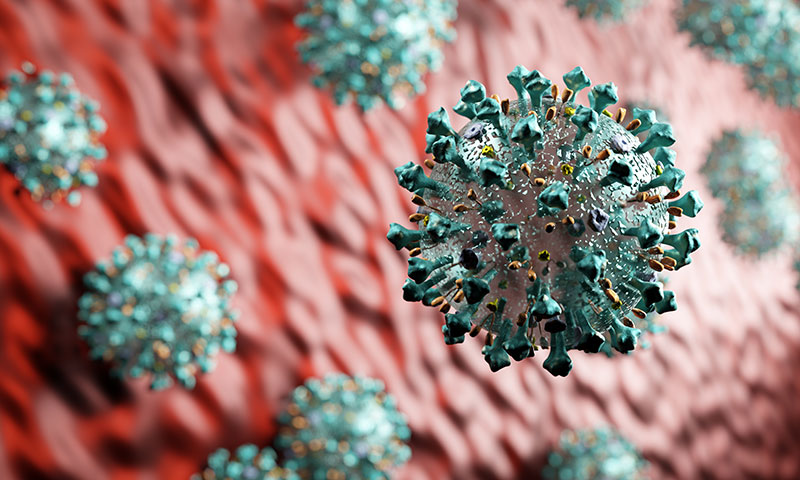 ISOtainers are multimodal containers used for ethanol storage and the storage of other bulk liquids. They are internationally approved, meet global safety standards and are inspected before and after each use.
These bulk storage containers have the capacity to carry over 26 000 litres of liquid which has significant advantages over traditional 44 gallon drums or IBCs (Intermediate Bulk Containers) which requires substantial manpower to unload, fill, seal and load for transportation and, depending on the liquid being stored, are often single use.
IBCs store between 200 and 1 250 litres versus ISOtainers' 21 000 to 26 000 litres reducing the manpower needed to fill the ISO Tanks which minimises handling of the product by staff - a priority in reducing the spread of infection or exposure to hazardous waste.
ISOtainers are built to last and have an estimated lifespan of 20 - 30 years. This means that they can be reused numerous times to store bulk liquids such as ethanol which reduces costly environmental packaging waste.
These bulk liquid storage containers are stackable and with maximising space, time and budget being a priority, ISOtainers on lease are the ultimate solution.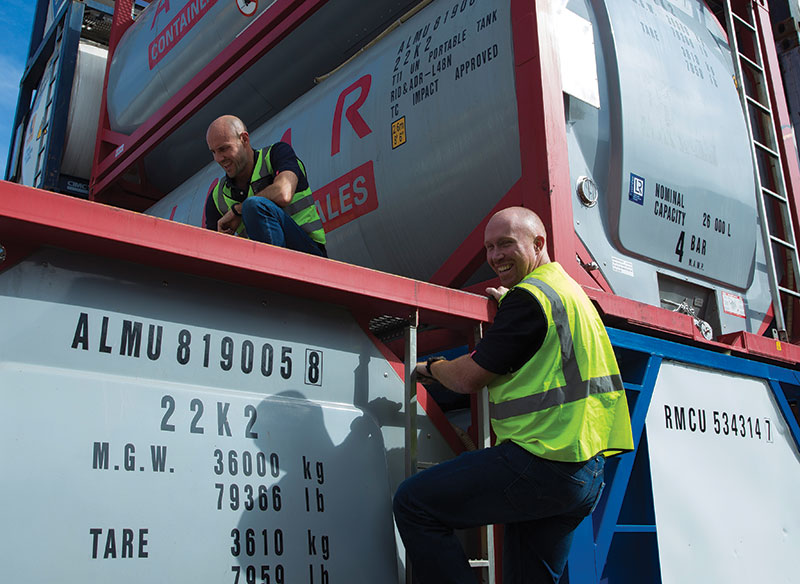 Renting the container means that stock can be increased or decreased depending on demand for the storage of ethanol or other liquids. Almar's trained technicians take care of all the technical or maintenance requirements during the course of the lease, allowing the customer to focus on their core business.
Over and above ethanol and liquid waste storage, ISOtainers are configurable and can be built to safely carry a huge variety of loads, such as: alcoholic beverages, food products, hydrogen peroxide, mining chemicals, nitric acid, oils, resins, solvents, sulphuric acid and more.
Background information:
The ISO Tank Container, also known as portable tank, tank container, ISOtainer, tanktainer, bulk storage container, or intermodal tank, are used for the storage and transportation of hazardous and non-hazardous chemicals, foodstuffs, and liquefied gases. An ISOtainer is a cylindrical vessel, made of 316 grade stainless steel, with a maximum carbon content of 0.03%. It has a cold rolled shell 2B finish, with a 4.3mm thickness (+0.22 mm corrosion allowance).
In the 1960s, containers became the preferred way of shipping goods around the world. The appeal was that every container conformed to sizes defined by the International Standards Organisation (ISO), 40' x 8' x 8'6" or 20' x 8' x 8'6". Before long the concept of fitting a cylinder inside the standard 20' frame was adopted and the ISO Tank Container was born. ISOtainers became a standard for the storage and transportation of liquids (including fuel), chemicals, gases, powders, and even some types of food.
Location: Dar es Salaam
Solution: Container Conversions
Our customer was developing a large scale utility development in Dar es Salaam and needed to have a secure and well-supplied clinic support for their labour team. The requirement was however extremely urgent and as the clinic would be out in the open, it needed to be 100% secure.
Our container conversions team in Dar es Salaam was able to utilise a unique insulation design to completely convert a 20ft container into a clinic, with no structural change to the container itself. This meant that the clinic was completely secure, enabling the unit to be closed up using the standard container doors. All this was achieved in a handful of days, allowing the customer to meet their strict deadline for on-site medical care.
Location: Somalia
Solution: Container Conversions
We were approached by a services company with an urgent requirement to accommodate their staff in Mogadishu, Somalia. They needed a solution which would allow for zero on-site preparation works and the shortest possible lead time.
With Dubai having one of the quickest shipping times to Mogadishu, our team there started working on the design and construction of a fully fitted, "plug and play" camp, including en-suite accommodation modules, laundries, cold rooms and other specialist units.
The modules were supplied and delivered to Mogadishu fully fitted with furniture, bedding, appliances and everything needed for the staff to move into comfortable living spaces immediately.