In the current uncertain economic climate that we find ourselves in, large-scale investment into commercial cold storage rooms is an unwanted risk. The ability to have an instant cold storage room with zero capital investment is a very inviting option although many would say impossible. However, making use of refrigerated containers (reefer containers) allows for exactly that and more.
10+1 Reasons to use Refrigerated Containers for Cold Storage
Whether you need to stock up on perishable goods for the Christmas rush, or you have had a bumper harvest, here are 11 reasons why refrigerated are your perfect solution:
Instant: Refrigerated containers can be delivered and literally just plugged in to create an instant cold room. The powerful machines can bring the entire 28mᶟ or 66mᶟ down to -25°C within an hour.
Reliable: Reefers are fitted with machinery built to withstand the harshest environments out at sea with limited ability to service them. As such they are designed to run long hours holding constant temperatures.
Accurate: Reefers can be controlled to within one 10th of a degree and so you can be assured of you cargo maintaining the perfect temperature.
Risk-Free: Refrigerated containers can be hired on a daily basis, so there is no long-term commitment needed.
Cost Effective: Because reefers can be rented, there is no need to tie up large amounts of capital to build cold rooms.
Technical Support: Refrigerated containers can be hired with full 24/7 technical support ensuring that if there is a mechanical breakdown, technical support will be close at hand.
Moveable: Reefers are very easy to move and so you have the flexibility of just relocating your cold store should you need to move premises.
Modular: As your business grows, you can just add more reefers as your cold storage need grows. They are essentially like big pieces of lego!
Versatile: Refrigerated containers can be used for an array of temperature sensitive products. The temperature capabilities range from +25° C to -25°C, so they can handle anything from ice cream and chicken to medical vaccinations and sensitive chemicals.
Secure: Reefers are built to withstand the rugged conditions of international marine transport and they can be secured by multiple locks to ensure the safety of your cargo.
Efficient: Reefer machinery is built with ultra-efficient scroll compressor technology, making them extremely efficient with very low power consumption.
Who can use refrigerated containers?
Because of the reefers flexibility, they are used across various industries and in many different applications. They are regularly used by retailers especially over the Christmas season as a short-term stopgap for storage of extra food stores such as chicken and fish.
They are also regularly used for longer periods for holding medical vaccines and samples because of the incredibly accurate temperature controls that they offer.
20ft Reefer containers offer a smaller footprint and are used regularly by small outlets and restaurants for overflow cold storage for beverages and food. They are also the perfect solution for events where additional short-term cold rooms are needed few a few days.
40ft Reefer containers offer a larger capacity and are regularly used by farmers for excess harvest storage as well as chemical suppliers looking for long-term storage of very temperature sensitive products.
What Size are Refrigerated Containers?
Refrigerated containers come in two main sizes, 6m containers (20ft) and 12m containers. The 20ft containers have a cubic capacity of 28mᶟ and the 40ft containers 66mᶟ.
They both have an external width of 2.4m.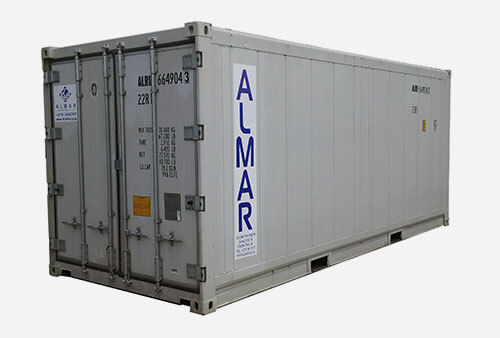 Where Can you Hire Refrigerated Containers?
Almar Containers have reefers in various parts of the world including Cape Town, Durban, Johannesburg, Port Elizabeth, Mombasa, Nairobi, Dar es Salaam, Dammam and Dubai... ready and available for immediate hire!