In Sub-Saharan Africa, mobile clinics are needed for the testing of COVID-19 and then possibly for isolating and treating patients. Almar Kenya is expecting a spike in the demand for container units converted into mobile clinics to cope with the pandemic.
According to CNB Africa, in Sub-Saharan Africa, there are genuine fears over how health systems will cope. Most are ill-prepared and ill-equipped to implement public health measures such as surveillance, exhaustive contact tracing, social distancing, travel restrictions and educating the public on hand hygiene and respiratory etiquette.
"These are the basic steps that will delay the spread of infection and relieve pressure on hospitals, even as support is sought for costlier solutions such as personal protective equipment, ventilators, oxygen and testing kits.

For countries in Africa and other areas where health resources are limited, a little-understood pandemic such as COVID-19 is a challenge that requires a whole-of-society response.

Countries in Africa must also take the fight to the pandemic through simple but effective measures for detecting, testing, isolating and mobilizing their people to mitigate transmission."

– CNB Africa.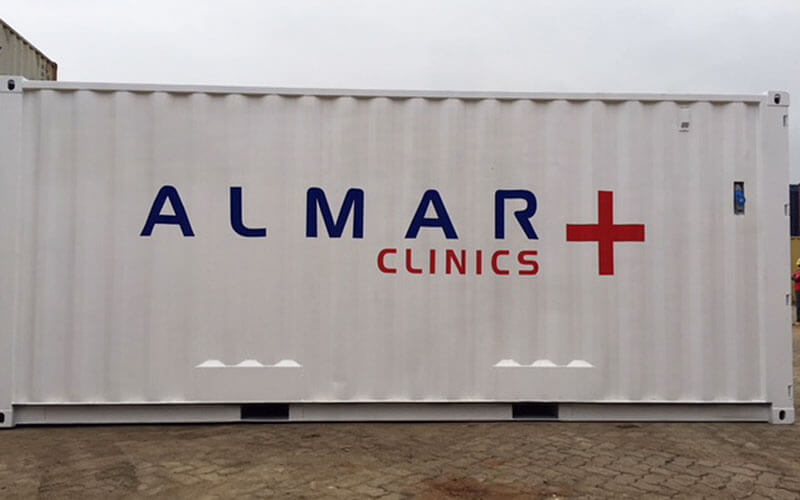 Almar Kenya can provide container clinics on a temporary basis to help with testing. These clinics will be required as temporary isolation or treatment units when the need arises. Converted containers can also provide temporary housing which could be a reality as, according to World Bank data, there are 645 million people living in rural areas in sub-Saharan Africa. It is very difficult to the practice social distancing when living in homes in such close proximity to each other.
The World Health Organisation (WHO) recommends that rural communities create plans to deal with any outbreak and emphasised the importance of isolation for anyone showing symptoms of the disease.
That means being vigilant and acting fast if anyone shows symptoms. Given the conditions in rural areas, and how quickly the disease has spread elsewhere, it also means bracing for the possibility that if someone in the community tests positive, "the whole community may be infected".
Relocation plans could become a reality throughout Africa as they are already underway in South Africa. An article in Accounting Weekly stated, "Entire townships in the Western Cape, Gauteng, the Eastern Cape and KwaZulu-Natal are to be moved to safe zones in a bid to halt the spread of the coronavirus. It is a plan to de-congest extremely dense informal settlements to prevent infection rates. In the Western Cape alone, thousands of residents from two informal settlements in Khayelitsha are to be temporarily removed. The communities of Taiwan as well as eNkanini informal settlements have been notified of the plans to have them evacuated from their homes. According to SA's National Department of Human Settlements spokesperson, McIntosh Polela, these plans were already at an advanced stage.
For more information on mobile container clinics or temporary container housing solutions, please contact Guy Symondson at guy@almar.co.ke or phone 254 713 624 958.
References:
https://www.cnbcafrica.com/coronavirus/2020/03/22/opinion-piece-with-simple-fact-informed-hygiene-measures-africa-can-slow-covid-19-spread/
https://news.un.org/en/story/2020/03/1059812
https://www.theguardian.com/global-development/2020/mar/19/community-infections-could-happen-any-time-kenya-prepares-for-covid-19-coronavirus
https://accountingweekly.com/mass-evacuation-of-sa-townships-on-the-cards-to-stop-spread-of-coronavirus/