As part of our refrigerated container fleet, Almar Container Rentals and Sales offer customised freezer and blast freezer containers. At Almar, our sole purpose is to find the ideal container solution for your business or individual needs.
Freezer Containers
Our 3m single-phase customised freezer container is available nationwide and customers are now able to keep their produce at the perfect temperature of between -10 and -25°C, while still using a single-phase 220v power supply. 
The specs for the 3m customised freezer container are - voltage: 220v 1ph, running amps: 11.3, power input: 3700W, temperature: -10 and -25°c, and it is the perfect freezer storage solution for industrial, commercial or domestic use. Freezer containers can be leased on a short-term or long-term basis, allowing you the flexibility to only pay for freezer storage when you need it.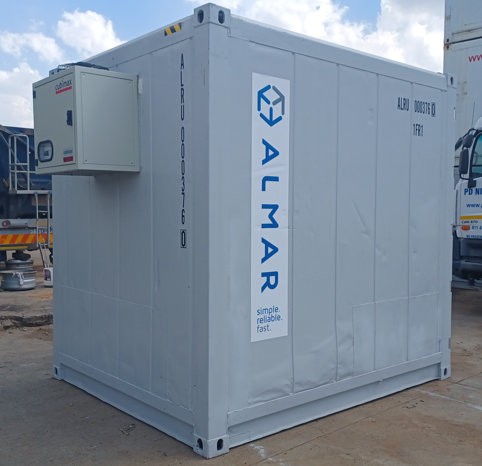 Benefits of the Almar 3m Customised Single-Phase Freezer Containers include: 
Temperature Control
Freezer containers are designed to maintain low temperatures, making them ideal for storing perishable goods such as food, medicine and biological samples. Using single-phase power has proved very appealing to customers running small businesses that don't have access to three-phase power.
Durability
They are built with heavy-duty materials and insulation to withstand harsh weather conditions, handling and transportation over long distances.
Security
Freezer containers are equipped with locking systems and other security features to protect the contents during transportation.
Cost-effectiveness
No building plans or major capital outlay is required, saving you time, money and labour. They're available when you need them for as long as you need them. You can increase or decrease the number of containers you require as and when you need to.
---
Custom-Built Blast Freezer Containers
In 2022 Almar introduced the custom-built blast freezer which has been very well received. They are used in the manufacturing process to freeze pies, fruit, chicken, beef, etc. They are available nationwide and built to customers' specifications. Their power supply is 3-phase 380v and is available in 6m and 12m.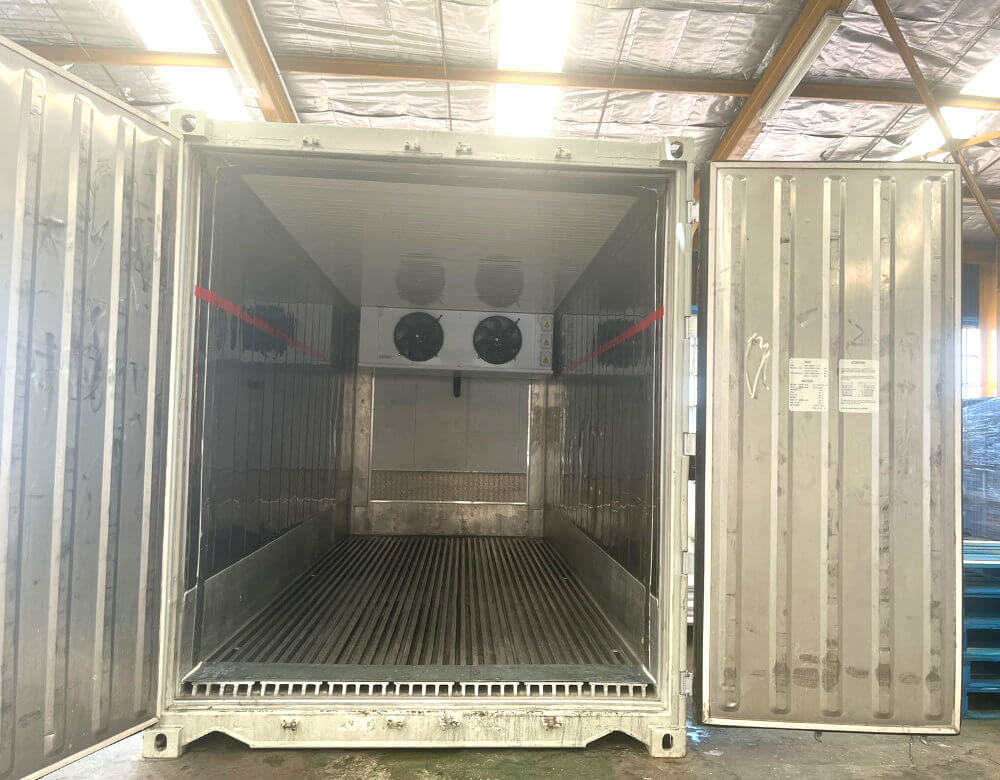 The 9 benefits of Custom-Built Blast Freezer Containers
Rapid freezing: One of the primary benefits of these containers is that they can quickly freeze food products. This helps to retain the flavour and nutritional value of the food, and prevent the growth of bacteria.
Preservation of food quality: They can help to preserve the quality of food products by keeping them frozen at very low temperatures. This prevents spoilage and allows for longer storage times.
Increased storage capacity: Blast freezer containers allow for increased storage capacity for frozen foods, as they are able to freeze large amounts of food in a short period of time.
Better inventory management: Because blast freezer containers allow for larger storage capacity and longer storage times, they can help businesses better manage their inventory.
Increased productivity: Blast freezer containers can increase productivity by allowing businesses to freeze large quantities of food quickly and efficiently.
Improved food safety: By freezing food quickly, blast freezers can help to prevent the growth of bacteria, which can improve food safety.
Reduced energy costs: These containers are designed to work efficiently, which can help to reduce energy costs.
Increased flexibility: Blast freezer containers can be used to freeze a wide variety of food products, which can increase the flexibility of a business's food offerings.
Customisable freezing options: Blast freezer containers can be customised to meet the specific needs of a business.
For more information on the Almar Container Rentals and Sales' 3m freezer container or blast freezer, please contact us at +27 31 561 6767. Available nationwide in South Africa.
Frequently Asked Questions about Custom-Built Blast Freezer Containers 
What size does the blast freezer container come in?
They're available in a range of sizes, including standard 20-foot and 40-foot lengths, as well as custom sizes to meet specific needs.
What is the temperature range?
Blast freezer containers are designed to quickly freeze produce during the manufacturing process to ensure the quality, safety and longevity of the product. Full temperature range down to -30°C, built to the customers' specifications.
Will the doors be designed to keep the temperature regulated?
These containers have heavy-duty doors with gaskets and locking systems to ensure a tight seal and protect the contents during freezing.
Are blast freezer containers easy to load?
They're designed with features that make them easy to load and unload, reducing the risk of damage to the contents and making the loading process more efficient.
Can the blast freezer be customised?
Almar Container Rentals and Sales can customise our blast freezer containers to meet specific needs, such as adding shelving or lighting. For more information contact us at +27 31 561 6767.
Are blast freezer containers cost-effective?
With proper temperature control, they reduce spoilage due to the quick-freezing process and extend the shelf life of perishable goods in turn reducing waste and maximising profits.