ISO Tanks, also known as ISOtainers, are multimodal containers used for the storage and transportation of bulk liquids such as alcoholic beverages, ethanol, liquid waste, food products, hydrogen peroxide, mining chemicals, nitric acid, oils, resins, solvents, sulphuric acid and more. Established in 1988, Almar Container Group supplies ISOtainers for bulk liquid storage to businesses throughout South Africa.
Almar is currently leasing ten ISO Tanks to Dynamic Brands, an Eastern Cape company that, since 2001, has been manufacturing and distributing a high-quality range of beverages across Southern Africa.
The first five ISO Tanks were delivered in December 2020 and according to Operational Financial Manager, Guido Muller, Dynamic Brands needed bulk storage as quickly as possible and ISO Tanks were the ideal solution. They have recently ordered an additional five ISO Tanks and now have storage capacity for over 260 000 litres of syrup.
Dynamic Brands' extensive range of beverages includes Delicious Smoothie, Fusion, Slimsy, Rascals Splash, Mr Berry and Mr Orange, Yello, Elvin and Coco's Cordial.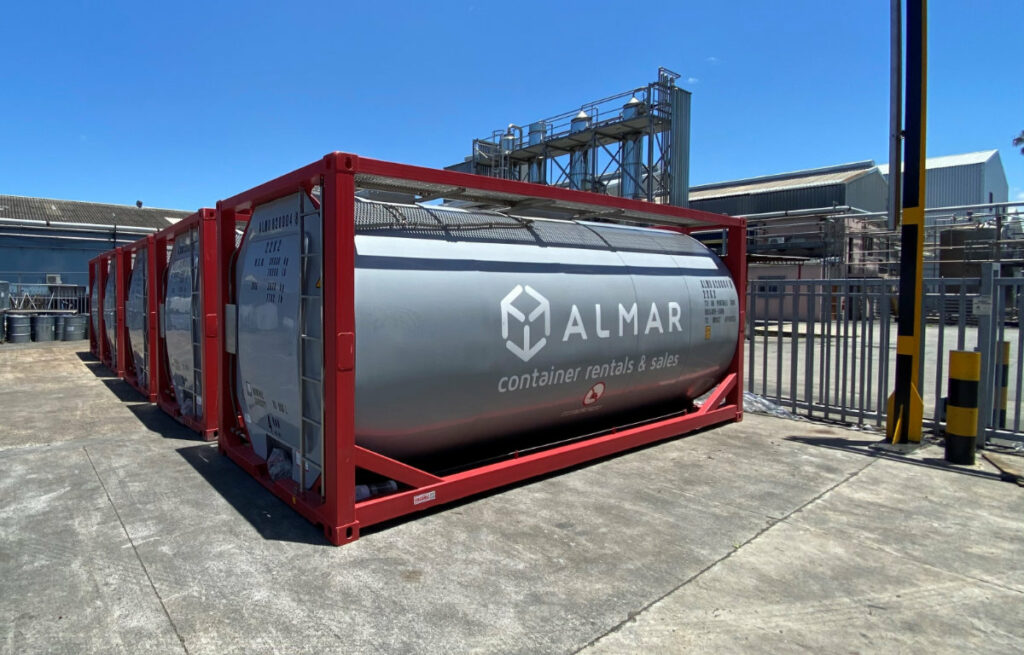 Almar ISO Tanks are internationally approved, meet global safety standards, and are inspected by registered surveyors. The tanks go through a series of washes and leak detection tests after every use, and thereafter certificates are issued stating they are clean and fit for loading product, which is why they are the preferred storage and transportation solution for flammable products.
Established in 2001, iSolvents is an approved supplier of high-quality chemicals and manufactured products. They provide essential chemicals and ingredients which form the basic building blocks of their customers' final products. iSolvents also produces a range of high-quality off-the-shelf products which can be delivered directly to the customer.
From basic ethanol blends to more complex lubricants and perfume bases, iSolvents manufacture a wide range of product offerings to support operational needs. Their team prototypes formulations and recipes, conduct product performance testing and comply with regulatory requirements.
The manufacturing process includes product composition analysis and relevant product documentation. Key industries include general manufacturing, mining, automotive, medical, cosmetic, pharmaceutical, hospitality, and tourism.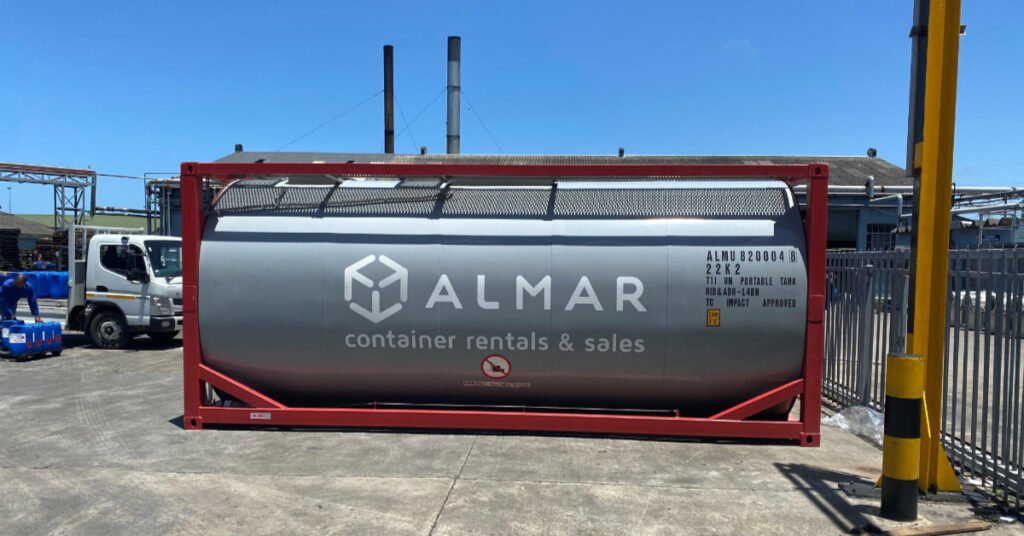 iSolvents have recently hired ISOtainers from Almar. These tanks have the capacity to carry over 26 000 litres of liquid which has significant advantages over traditional 44-gallon drums or IBCs (Immediate Bulk Containers) which require substantial manpower to unload, fill, seal and load for transportation and, depending on the liquid being stored, are often single-use.
ISO Tanks are built to last and have an estimated lifespan of 20 to 30 years, which means that they can be reused numerous times to store bulk liquids which is beneficial for the environment. They are stackable and with maximising space, and reducing time and budget being a priority, ISOtainers on lease are the ultimate storage and transportation solution.
Almar also supplies AECI with ISOtainers for the storage of their liquid chemicals used in the mining industry. According to Subashni Pillay from AECI Mining Chemicals, ISO Tanks are the ideal transport and storage solution for their bulk liquids. "The flexible lease options work perfectly for our business, and we enjoy simple, reliable, and fast service from the Almar team."
As Africa's leader in the global mining industry, AECI Mining Chemicals develops, manufactures, supplies and supports a wide range of polymeric emulsifier and coating technologies for explosives and fertiliser value-add, reagents for ore beneficiation processes that involve flotation technologies, as well as solutions for solid-liquid separation and tailings management.
For more information on ISO Tanks for hire, contact Wesley Turk from Almar on 071 354 3030 or 031 561 6767.