Almar Containers South Africa recently delivered five brand new ISO Tank Containers to Dynamic Brands, an Eastern Cape company who, since 2001, has been manufacturing and distributing a high-quality range of beverages across Southern Africa.
The ISOtanks were delivered in mid-December 2020 and store 26 000 litres of syrup per tank. According to Operational Financial Manager, Guido Muller, Dynamic Brands needed bulk storage as quickly as possible and ISOtanks were the ideal solution. They now have storage capacity for over 130 000 litres of syrup.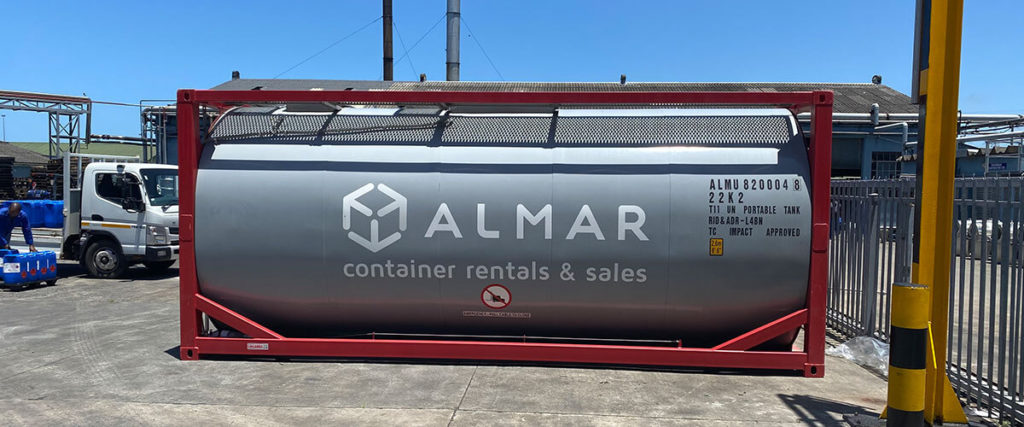 "We needed to get tanks in urgently and Almar was able to assist us with the food grade tanks we required in a very short turnaround time. In our industry time is our most crucial factor and has an impact on every aspect of production, so getting the storage tanks quickly was paramount. The tanks arrived on site and were exactly what we needed,''
explains Guido.
ISO Tank Containers, also known as ISOtainers, are multimodal containers used for the storage of bulk liquids. They are internationally approved, meet global safety standards and are inspected by registered surveyors. The tanks go through a series of washes and leak detection tests after every use, and thereafter certificates are issued stating they are clean and fit for loading product.
These bulk storage containers have the capacity to carry over 26 000 litres of liquid which has significant advantages over traditional 44-gallon drums or IBCs (Immediate Bulk Containers) which requires substantial manpower to unload, fill, seal and load for transportation and, depending on the liquid being stored, are often single use.
ISO Tank Containers are built to last and have an estimated lifespan of 20 to 30 years. This means that they can be reused numerous times to store bulk liquids. These bulk liquid storage containers are stackable and with maximising space, time and budget being a priority, Almar South Africa's ISO Tank Containers on lease are the ultimate solution.
For more information contact Wesley Turk from Almar on 071 354 3030 or 031 561 6767.