Are you looking for refrigerated containers for sale in South Africa? Refrigerated containers are the ideal cold storage solution for industrial, commercial, or domestic use. Almar Container Rental and Sales sells refrigerated containers throughout South Africa.
What are Refrigerated Containers?
Refrigerated containers are versatile, portable temperature-controlled refrigeration rooms. They can be set at any temperature between +25°C and -35°C and are completely self-contained. Refrigerated containers have their own temperature control and insulation system in a standard ISO modular system.
The refrigerated container unit is ready to be used within minutes of being offloaded on site and being connected to a suitable power supply. Nothing else is required, other than to make sure it's placed on a level surface and switched on.
How Do Refrigerated Containers Work?
Each refrigerated container is equipped with a stand-alone refrigeration pack, enabling the insulated cold space to maintain temperatures between +25°C and -35°C, by setting the desired setpoint on the unit.
How Are Refrigerated Containers Powered?
Our 3-phase units each require a dedicated, safe, and reliable 3-phase power supply of 380V to 440V with a D Curve "protection" circuit breaker rated at 32A. Each unit is supplied with approximately 15m of power cable and a 32A - CEE17 four-pin plug, with 3 o clock earth.
Our single-phase units will require a dedicated 1-phase power supply of 220V.
Are Refrigerated Containers Insulated?
All refrigerated containers are insulated with very high-quality 'blown' foam (polyurethane) of around 100mm thickness and sandwiched between two metal panels. The inner panel is usually manufactured from food-grade stainless steel, and the outer panel is made from marine-grade Corten steel.
What is Included in the Almar Fleet of Refrigerated Containers:
We refer to our full fleet of cold room storage solutions as refrigerated containers - whether it be a standard reefer, freezer container, single-phase, or blast freezer. All product variations in our fleet are referred to as refrigerated containers. Here is a breakdown of the full product range: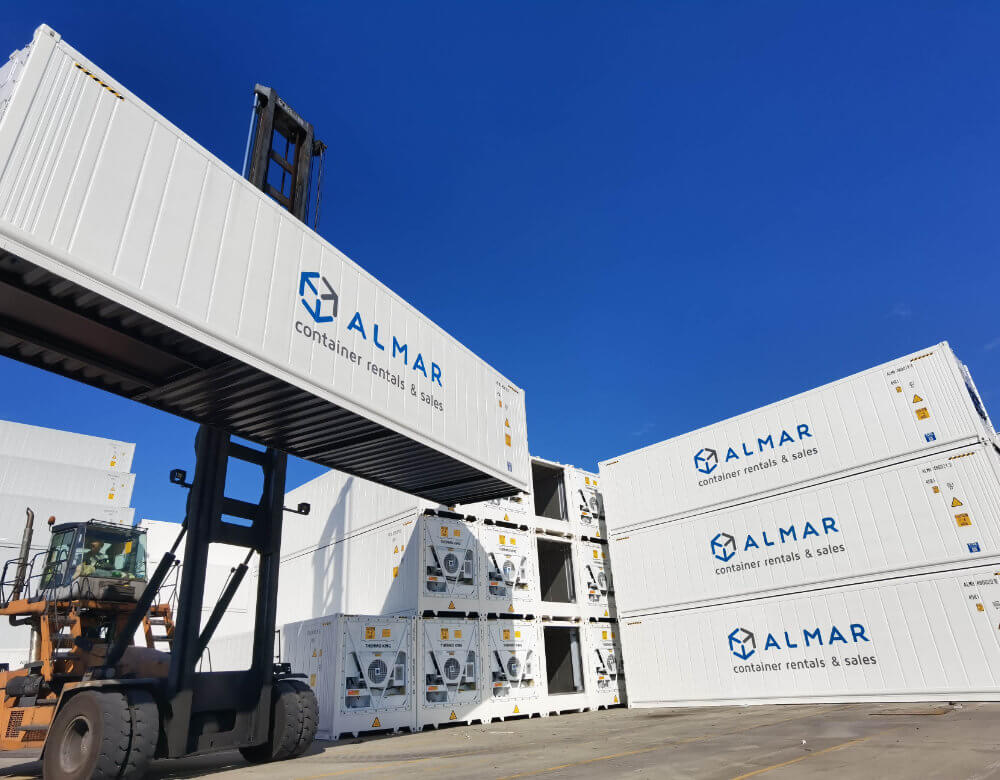 Reefer Containers – Standard Refrigerated Shipping Containers
Power supply: 3 phase 380v
Temperature range: +25°C to -35°C
Sizes: 6m, 12m, and 3m. The 3m is a cutdown from either a 6m or a 12m but also has a standard reefer/refrigerator pack
Single-Phase - Refrigerated Containers Custom-built
Power Supply: 1 phase 220v for all Chillers and Freezer Rooms
3m Chiller / Cold Room
Temp range: +2°C to +10°C
6m Chiller / Cold Room
All Chillers (3m and 6m) can fit into the same socket as a fridge in a kitchen
3m Freezer / Freezer Room
Temp range -10°C to -25°C
Blast Freezer - Custom-Built
Power Supply: 3 phase 380v
Sizes: 6m and 12m
Full temperature range down to -30°C, built to the customers' specifications.
For container specifications, please download our spec sheet.
Where Can I Get Refrigerated Containers?
Our fleet of refrigerated containers is available nationwide and Almar can organise transportation. Please contact us on +27 31 561 6767 or email sales.za@almar.co.za to buy your Refrigerated Container in South Africa.
Transportation costs are based on:
Your location in South Africa
The distance the container needs to travel
The time it takes to deliver the container (i.e., is the route on main roads or remote roads?)
Please provide our refrigerated container sales team with the below information when requesting a quote for transportation:
Are the roads roadworthy enough so that trucks can gain access?
Are there no obstructions that could deny access?
Is the site accessible by a truck?
Is the site prepared so that the container can be placed correctly (i.e., hard, level surface, slabbed placement area)
Will the container be placed in an open, unrestricted area? Or will it be placed in a warehouse, under an awning, or over a fence in which case rigging will be required? Rigging will come at an additional cost.
Where and How Should a Refrigerated Container be placed?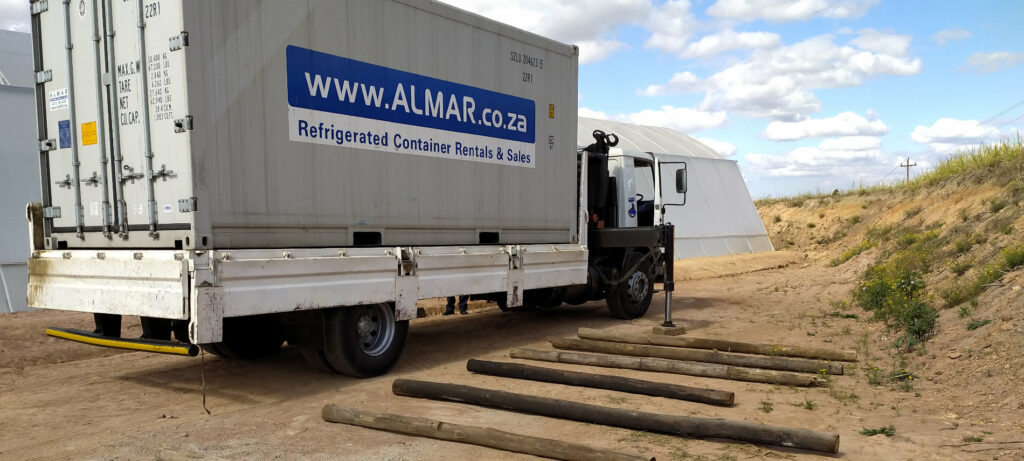 The site needs to be level and built from a suitable material that will prevent the container from sinking into the ground. It is important to make sure that the front and back of the unit is level and that the doors are perfectly square – unalignment will cause doors to stick and make opening them difficult.
A slight fall towards the door end will facilitate the cleaning of the interior of the unit with a high-pressure water sprayer when required. This allows water to run freely from the unit when cleaning the interior.
When placing the container in a confined area, please leave at least a 1-meter gap between any wall and the machinery end of the container. This will allow the container to cool properly as the heat will be able to be removed efficiently saving you electrical consumption.
What Can Refrigerated Containers Be Used For?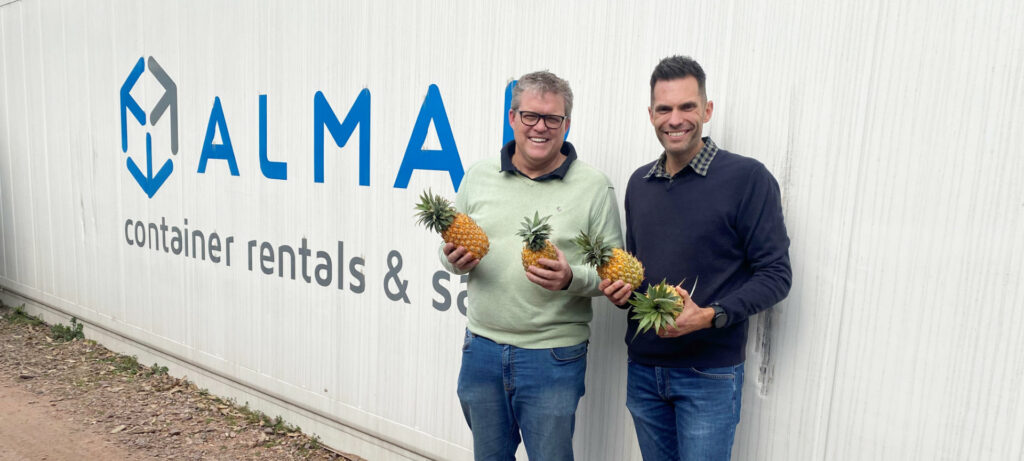 To store perishable items at the required temperature – fruit, vegetables, meat, poultry, fish, diary.
To store frozen produce such as ice cream.
To keep food and beverages at the required temperature. Ideal for placement outside a retail outlet to store additional products during the peak holiday season. This saves on transportation costs, and manpower and means the product is available immediately so that sales aren't lost.
Refrigerated containers are also used extensively at festivals and outdoor events.
To store and preserve valuable artifacts and documentation.
For the storage of pharmaceutical and anatomical healthcare risk waste as well as medication.
How Much Does a Refrigerated Container Cost?
Below is the estimated cost to purchase a Refrigerated Container at the time of the article (September 2022). Please note that the cost varies so please contact us on +27 31 561 6767 or sales.za@almar.co.za to get a quote:
3m refrigerated container sells for between R120k - R180k
6m refrigerated container sells for between R115k - R220k
12m refrigerated container sells for between R170 - R250k
The cost of an Almar refrigerated container is dependent on the date of manufacture and availability.
Most Almar Container Rental and Sales customers prefer refrigerated container rental for the duration that they need them. Leasing is flexible and depends on the demand i.e., harvest might take longer or there might be more produce than anticipated which means that the lease duration can increase, or the number of containers required might increase. Alternatively, there might be greater or lesser demand for fresh or frozen produce or beverages at a retail outlet or an event and once again the rental number or duration can be amended accordingly.
3m refrigerated container is leased for between R130 - R175 per day
6m refrigerated container is leased for between R150 - R175 per day
12m refrigerated container is leased for between R190 - R220 per day
*Please note these are standard rates and the rates do increase for the peak season which is between October and January.
How To Maintain a Refrigerated Container?
Removal of Ice Build Up
Unpack the container and open the doors. Use either ambient warm air to clear the ice naturally, or use hot water poured over the ice.
Clean Out Drain Pipe
On the far left of the compressor, is a small black plastic pipe, used as a drainpipe for the defrost water runoff. This pipe does occasionally block and can cause ice-build up on the floor and in turn a loss of airflow. A hose pipe needs to be inserted into this pipe and clean water forced into the pipe under pressure until the blockage is cleared.
General Refrigerated Container Maintenance
Take temperature readings and if your temperature deviates by more than a few degrees from your set-point, please contact the Almar technical office for advice on +27 82 570 0345. Please note that doors may have been opened or a defrost cycle may also have affected the temperature in the container when taking your temperature readings.
Wash out the radiator coil that is situated just above the compressor with clean fresh water. The coil needs to be flushed with clean water until the water runs clear. The entire mechanical and electrical system is waterproof and can withstand this.
Guidelines for Packing a Refrigerated Container
Do not pack food directly on the floor, try to use pallets as this will increase the successful airflow around the product and allow airflow down the entire length of the container.
It is very important that no product is left to fall between the "T" Bar flooring of the container. This will block the airflow and impede correct temperature holding inside the container. Try to load the product with small spaces between pallets to allow adequate airflow around the product, and no warm areas to be allowed to develop around areas of stagnant airflow.
Do not pack products higher than the load levels indicated by the red tape on the upper interior walls of the container.
Why Are Refrigerated Containers a Good Alternative Cold Storage Solution?
Refrigerated containers are an easy way to increase your storage volume and offer many advantages which include the following:
Single Installation - Containers are modular and can be placed just about anywhere level, with a 'plug and play' installation.
Modular - Containers are standard sizes and their modular ability allows for rooms to be added and removed during seasonal capacity requirements.
Hygienic food grade interiors - All containers have high-grade stainless steel interiors, which are easy to clean.
Robust machinery - Almar uses the latest Carrier Reefer Containers which is the industry standard. Carrier supplies the world's shipping lines with almost 80% of all Reefers. They are reliable and robust with machinery built to withstand the harshest conditions.
Mobile - The containers are designed for intermodal transport and therefore can be uplifted and moved very easily.
Chilled and deep-frozen product - Containers allow for temperature ranges between -35°C and +25°C.
Dehumidification Control - Allows certain reefer models to maintain between 60% and 90% relative humidity in the unit. This is an added advantage for clients with very specific humidity/temperature requirements for perishable cargo. Accurate temperature maintenance – containers can monitor and track temperatures ranging within 0.3°C.
T-Bar flooring - Ensures efficient airflow when containers are fully loaded.
Digital temperature display - Allows for easy temperature monitoring and adjustment.
Simple operation – Refrigerated containers are a 'plug and play' cold storage solution, provided with operational guides and basic training if required.
Service - A helpline in the event of technical problems or breakdowns.
For more information contact us at +27 86 001 7476 or email sales.za@almar.co.za