Converted office containers have become a popular trend in Kenya as they offer a cost-effective and flexible solution to businesses that need additional workspace or a temporary office/s.
Almar East Africa specialises in the conversion of shipping containers into office spaces. The conversion process is done in-house by Almar's team of specialists and this involves creating windows and doors in the container, adding insulation and ventilation, and installing electrical and plumbing systems. The interior is customised to meet the specific needs of the business, with options such as partitions, shelving, and lighting.
The Advantages of Converted Office Containers
Almar converted office containers have several advantages over traditional office spaces. They are durable and can withstand harsh weather conditions. They are also portable and can be easily transported to different locations, making them suitable for businesses that need to move frequently or for temporary set-ups. Ideal for construction, housing or mining projects that require infrastructure for staff working on the development. Converted office containers offer a practical and cost-effective solution.
Container offices, also known as modular offices or converted shipping container offices, offer several benefits to businesses and organisations. Here are some of the key advantages of using a container office:
Cost-effectiveness: Container offices are typically more affordable than traditional brick-and-mortar offices. The cost of purchasing and converting a shipping container into an office is lower than constructing a traditional building, and the maintenance costs are also lower.
Customisability: Container offices can be customised to meet the specific needs of a business or organisation. The interior layout, design, and features can be tailored to create a functional and comfortable workspace.
Mobility: Container offices are portable and can be easily transported to different locations. This makes them ideal for businesses that need to move frequently or for temporary office setups.
Durability: Shipping containers are designed to withstand harsh weather conditions and can last for many years. Container offices are built to be sturdy and secure, providing a safe and comfortable workspace.
Quick setup: Container offices can be set up quickly and with minimal disruption. The conversion process is typically faster than building a traditional office, allowing businesses to start using the space sooner.
Flat Pack Office Containers
Flatpack containers, also known as modular or collapsible containers, are also an option for office containers.
Almar Flatpack Containers is a modular system that allows for the quick and simple assembly of a temporary or semi-permanent facility. Almar East Africa offers turnkey solutions in certain regions including office design, camp design, delivery, and assembly ensuring that you can focus on your core offering leaving the workplace and housing of your staff to the Almar East Africa team.
Benefits of Flat Pack Office Containers:
Versatile: the interchangeable panel design means modules can be built to any floor plan specification.
Modular: Single modules can easily be joined to create large open-plan structures.
Flexible floor plan designs: There are an infinite number of floor plans which can be configured.
Stackability: A double-story structure can easily be created.
Due to the interchangeable panel system and modular nature of the flatpacks they can be used to construct multistorey buildings or office blocks, and once joined allow for a number of layout design options.
The 20' AL101 Flat Pack Office Container Unit
The Almar flatpack is a modular solution built within the dimensions of a standard 20' container. Each Flatpack unit comes supplied with insulated panels, full electrics, vinyl flooring, 2 x windows, and 1 door.
Contact Almar Kenya for All Your Converted Office Container Requirements
For more information contact the Tel: +254 719 675 272 and sales.ke@almar.co.ke.
Almar's custom-made, high-quality fabrication projects are implemented in partnership with the customer from idea inceptions to site mobilisation. These tailored container conversions are created by a team of 'in-house' engineers and design experts. 
Eduardt Ruhling, MD for Almar's East Africa Conversions, says that the team involved in creating bespoke container fabrications are highly skilled in their areas of expertise – design, engineering, manufacturing, and aesthetics.
"We specialise in bespoke container fabrications with the focus being on quality finishes and workmanship, and this is something that we take great pride and pleasure in. It is so rewarding to see the final product, created specifically for the end-use, in 'action' whether it be a coffee shop, a retail store, or a double-story office," explains Eduardt. 
According to Richard Bell, Operations Director of Rural Retail for the One Acre Fund in Kenya, Almar played a key role in helping them achieve rapid expansion of their rural retail network. "We appreciate the good levels of communication and collaborative approach to addressing issues when they arise. The team is great to work with - responsive, professional, and takes great pride in their work,'' comments Richard.
Another customer, Ritesh Doshi, CEO of Spring Valley Coffee says, "Almar was a thought partner as we designed and built our container café. They clearly know their craft and gave us the best advice for our needs. Their commitment to quality is evident, and the outcome is reflective of our brands and fit for purpose." 

The 10 Steps of the Almar Container Conversion Process:
The customer provides a detailed brief including the following information:

Why they chose to go the converted container route
What they will be using the converted container/s for
What the design requirements are
Where the container/s is required and a description of the route to the location (i.e., quality of the roads, any obstructions, distance, etc.)
When the project is needed by

Almar presents the proposed solution, detailed costings, the proposed scope of work, and presents the milestones for the conversion.
The customer accepts the Conversion Proposal and proceeds with releasing the Advance Payment to initiate the conversion process.
Almar's engineering team compiles the final design, drawings, specifications, and the build timeline. Procurement starts and relevant containers for conversion are identified.
The customer accepts design details, the build timelines, the scope of work, and the selected container/s, and signs off the Design Acceptance Pack.
Almar proceeds with the final procurement of materials and starts manufacturing the conversion.
For more please information please contact Eduardt on +254 700 036 742 or +254 719 675 272 or email eduardt@almar.co.ke.
It can be a false economy to purchase a container office outright for a short contract away from base. That's because it's not always easy to provide the assurances the reseller market needs. Most purchasers prefer to source their rental office containers from reliable suppliers including Almar Container Group. We supply our intermodal shipping containers with rock solid warranties and all your questions answered.

What Makes Rental Office Containers a Preferred Solution?
We need flexibility above most things in a dynamic economy. What seemed the ideal location may no longer prove to be the right decision as a project rolls out. Intermodal shipping containers are designed with the intention of moving around. They have secure lifting points at all eight corners and are strong enough to support far more weight than a fitted office.
Hence intermodal shipping containers make perfect temporary office accommodation. Moreover, our rental office containers may come complete with electrical, plumbing and drainage reticulation. All you need do is connect them with the necessary services. How hassle-free is that, compared to erecting a prefabricated building that may not disassemble, move, and reassemble again properly?
Terms and Conditions for Renting Office Containers from Almar
Our containers are mostly 6 or 12 metres long, by 2.5 metres wide with similar, adequate headroom
Almar Container Group's rental office containers arrive on a flatbed, or crane truck depending on delivery location
Our minimum rental period is 30 days although we can negotiate because we are keen to do business
We have containers for hire in South Africa, Tanzania, Kenya, Namibia, Dubai, Saudi Arabia, or Uganda
We supply rental office containers fast, and with us, things happen quickly and efficiently with minimum fuss.
Find more answers to your questions here.
We Have a Wide Variety of Shipping Containers on Offer
We extend the life of intermodal containers by finding new uses for them. We believe in recycling things because new construction comes with carbon costs. Our robust, modular range includes:
Ablution facilities with bathrooms, showers, and toilets
Mechanical workshops with provision for electricity supply
Portable clinics for emergency/primary health care
Plug and play meeting/training room facilities
Our popular range of rental office containers too.
Speak to Almar Container Group in confidence for all your rental office container solutions soon.
Shipping container home builders are an increasingly familiar sight in parts of South Africa where city regulations do not apply. Hence they make perfect farmsteads and superior accommodation in rural areas and informal settlements. Elsewhere, municipal authorities are still catching up with the new technology so special permission is required.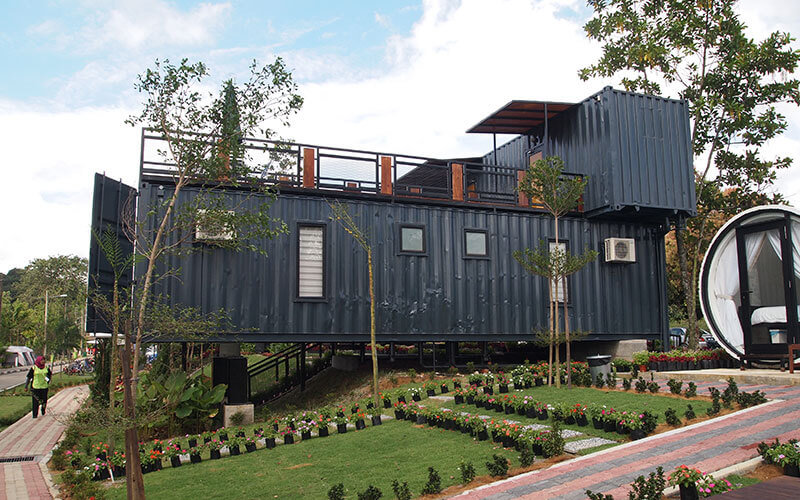 The 5 Things Shipping Container Home Builders Need to Know
Inspect Your Future Home Before You Buy: Intermodal shipping containers have a tough time as they travel the seven seas, and ride on railways and roads to the four corners of the earth. Some are in surprisingly good shape except for light surface rust. Others are badly dented with weakened welds. Insist the seller lifts your container up with a crane so you can check the underside.
Understand How Structural Integrity Works: A shipping container is a box with rigid doors adding extra strength. There is no internal cross-bracing. Hence it follows cutting openings without careful thought could weaken the design. Ask your container supplier for advice. It's their business, they should know.
Begin Your Upgrade with Thermal Insulation: Experienced shipping container home builders know intermodal container insulation is limited. They begin their work by spraying foam on the inside walls that double as a flame retardant. Then they fit a false ceiling inside that vents through the roof and feeds power to the overhead lights. Finally, they fit a slightly raised floor to their new home.
Use a Single Contractor for the Entire Project: Project-managing the conversion using multiple contractors works well if you understand the various trades. If not, they could run rings around you by blaming each other for defects. If you are unsure, find a decent shipping container supplier who can manage the whole job. Even better, have them do the conversion for you, and deliver a complete home to your site.
Then Let Your Imagination Run Riot: Experienced shipping container home builders provide the basics. Then it's up to you to add the furniture and the drapes. Use some of your savings, compared to brick and mortar to spoil your family just a little. How about buying that home entertainment centre you always wanted?
An entry-level shipping container home builder new to the game can make a difference in their family's lives with this brilliant technology, and things can happen fast with the right provider. Explore more ideas through these selected posts from our popular blog.
Selected Posts:
We have to be precise about the length of every 20ft container we supply. That's because they have to fit on top of each other and squeeze easily into tight spaces. There were freight containers in the UK in the 1830's for transferring coal from railways to horse-drawn carts.
However they only really took off in the 1950's after the U.S. Army developed rigid steel containers with lifting rings. Hence container lengths measure in feet not meters.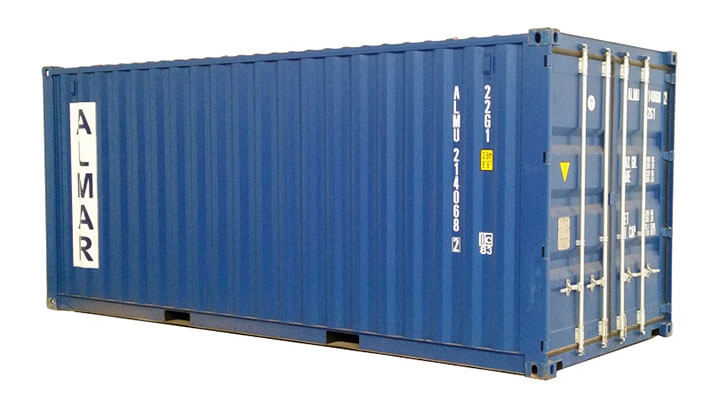 The Advantages of the Intermodal 20ft Container
The 20ft container is the smallest in the standard range. Thus this container design is popular for transporting goods to locations with less sophisticated lifting and carrying equipment. We call them intermodal containers because they can travel in different modes of transport.
There are other names for these amazing devices that can travel by ship and rail and truck. These include cargo / freight container, iso container, shipping / sea / ocean container, container van, sea can, or just container.
How a 20ft Container Adds Value to a Warming World
Every ounce of energy we use contributes to greenhouse gas, and humans are currently causing too much of it. Moreover, the same applies to building construction. Our lightweight 20ft containers are in aluminium because this considerably reduces lifting and transportation costs. Moreover when their intermodal days are over they find other uses as transportable buildings.
The Secret Life of a 20ft Intermodal Container
A 20ft container becomes a habitable building when we add a door and window and fit it out. Moreover being lightweight aluminium makes this a fairly easy task. The attachment points on all eight corners simplify transport by ship and rail and truck, and even cargo airplanes. As a consequence, our engineers are able to assist with these cost / time saving projects:
Workshop containers – just add the electricity!
Accommodation containers perfect for construction projects
School classrooms – everything is possible when we are inventive
Container offices as temporary or semi-permanent accommodation
Portable clinics that travel to where the need is greatest
Ablution containers – let's go grab a shower!
Are These the Most Amazing Second-Life Containers Ever?
Qatar is building a modular, demountable soccer stadium for the 2022 FIFA World Cup. This 40,000-seater is rising from the desert immediately southeast of Doha on the Persian Gulf. The modified shipping containers sit within a steel framework creating the perimeter wall and tiered seating.
A variety of reinforced 20ft container versions and larger types will have pre-installed stairs, concessions, and bathrooms. This uses fewer materials, creates less waste, and leaves a lighter carbon footprint. They can move the Ras Abu Aboud Stadium to its first legacy location when the games are over. A renewable soccer stadium, who would have thought of that…
There was a time when steel storage containers were simply used to move cargo across vast tracts of land or between continents, and then sometimes, once they reached their destination, for continued storage of the transported goods.
Today, storage containers, which are also commonly known as dry freight shipping containers, have a multitude of uses from retail outlets, workshops, and offices, to clinics, and even stylish upmarket homes.
While steel storage containers are essentially just boxes, if you're considering a shipping container conversion, then you're going to have to think out of the box!
Standard Sizes of Storage Containers
The standard sizes of general purpose (GP) storage containers are defined by international standards that are set by the International Organization for Standardization (ISO). This includes the internal dimensions used for the design of steel shipping containers as well as external dimensions. The standards also specify minimal internal measurements for door openings.
In general terms, GP storage containers are referred to internationally as being either 10 foot, 20 foot, or 40 foot in size. The metric conversions for these dimensions are 2.991 m, 6.058 m, and 12.192 m.
The width of all these containers is the same, 8 feet or 2.438 m. The standard height is 8.5 feet or 2.591 m, with 9.5 feet/2.896 m "high cube" units adding an extra foot in height to the container.
So, there are just five sizes and they don't provide many choices. Or do they?
The limited standard sizes of storage containers belie their versatility. This is because they are modular in character and one, two, or multiple containers may be used together for conversion projects.
Benefits of Storage Containers for Conversions
Shipping containers that are designed for the storage of goods during transportation are strong, durable, and highly mobile, meaning they can be moved with ease.
When it comes to using them for conversions, storage containers manufactured for shipping have numerous advantages. Even though not originally designed for any form of conversion, they can be repurposed with ease. Furthermore, the conversion process is incredibly quick when compared to most other forms of construction.
All you need to do is consider the container as a building shell. You don't need major foundations to support it, and so it will enable you to cut costs right from the beginning. No extensive earthworks are required either.
The fact that storage containers are modular is one of the major benefits when it comes to conversions because they can be used alongside one another or on top of other units. They are also incredibly easy to customise. They may even be used to create multiple storey buildings. You will need professional input, and the conversion will need to meet local building regulations, but site work and basic structural work are simplified.
Storage Containers From Almar
The beauty of steel shipping storage containers is that they can be used as-is for storage, or they can be repurposed to meet any specifications.
We have new and used containers that can be used for just about anything, from accommodation to ablutions. We also offer converted shipping containers that are ideal for on-site use, particularly in remote locations.
Call us today to see how we can help with the storage containers we have in stock.
Whether you need a temporary office on a building site or a well-equipped office in a remote location, shipping containers provide an ideal solution. Made of strong, sturdy steel, they are available in several different sizes offering limited options for mobile offices.
The concept of mobile offices is one that appeals to any business that requires on-site facilities for a limited period of time.

Advantages of Creating Mobile Offices from Containers
The biggest advantage of using shipping containers for mobile offices is that they may be used to provide instant office space anywhere. Conversions are quick and easy, and the full range of finishes will produce anything from a budget office set-up to bespoke designs that incorporate ablutions, conference rooms, and first aid facilities.
Other advantages include:
Turnkey solutions that start from the inception of the idea and carry through to delivery in a very short period of time.
The opportunity to create plug-and-play solutions that are assembled in factory conditions and then transported to site. All that is required before the office space is up and running is to connect electricity and, if relevant, plumbing so that running water and ablutions are available.
The opportunity to reuse mobile offices when they are moved to second and subsequent sites because they are so easy to modify after initial conversion.
A global reach not affected by the remoteness of any area. Almar has offices and various production facilities throughout South Africa and parts of East Africa, including Kenya and Tanzania, and in the Middle East.
Cost-effectiveness and the chance to erect office space quickly and easily without having to cover the normally predictable costs that are associated with buying or constructing office premises.
Minimal groundwork is required for mobile offices created from containers. Most importantly, you don't need to dig and construct substantial concrete foundations that require both labour and materials … and a larger budget.
Opportunities for Mobile Offices
Shipping containers provide a shell for mobile offices. What you do with that shell depends on your needs and budget.
Generally, a single container – usually either a 20-foot or 40-foot unit – is the unit of choice. Both of these are only 2.438 m wide, which determines how the office is laid out. But with imagination and creativity, multiple desks and workstations can be accommodated.
Since mobile offices are created in a factory environment often thousands of kilometres away from the final (albeit temporary) destination, it is just as simple to double up on space by using two containers side-by-side to give added width. Alternatively, they may be stacked to create a double storey arrangement.
Mobile Office Solutions from Almar
Almar has more than 25 years experience in the container industry and we pride ourselves on the practical, cost-effective solutions we are able to provide in Africa and the Middle East.
Our in-house engineers and experienced designers are ready to make your ideas a reality that will meet your own very specific needs. We will customize your mobile offices with shelving, carpeting, electrical points and lighting fixtures, and security features. You decide whether you need insulation and air conditioning and/or heating.
Shipping containers are ideal for ablution units in remote locations, for construction sites, or even as bathroom facilities at camping and other outdoor venues, both permanent and temporary.
Ablution containers may be customized, assembled in the factory, and then delivered to site in a lot less time than it takes for a container that is to be converted for accommodation or for office space.
They are self-contained and the size is perfect. If you need more toilets, urinals, basins, or showers than you can fit into one container, you can utilize two or more, separating them for use by either men or women. They may even be designed to fit alongside each other with access between the container units.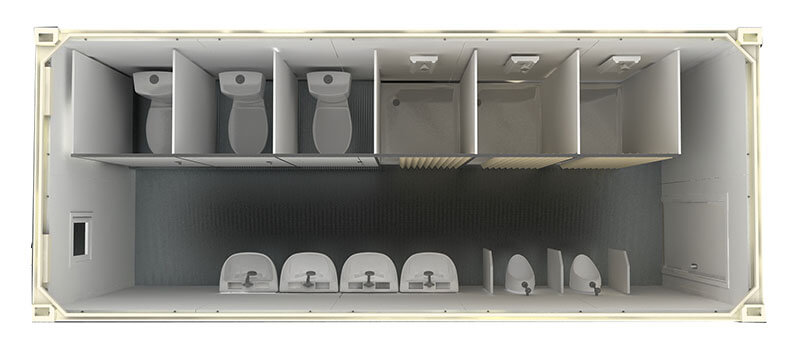 What Size Are Ablution Containers?
Ablution containers are usually converted from general purpose shipping containers that are used for dry freight or storage. These come in three standard sizes:
20-foot containers that measure 6.058 m x 2.438 m and are 2.59 1 m high
40-foot containers that measure 12.192 m x 2.438 m and are 2.59 1 m high
10-foot containers that measure 2.991 m x 2.438 m and are 2.59 1 m high
The 20-foot and 40-foot containers are also available as high cubes which are 2.896 m high.
All these sizes are suitable for conversion to toilet ablution facilities.
The Conversion Process for Ablution Containers
Like any container conversion, ablution containers are designed with doors and windows to create light and bright spaces that may be cleaned easily. The steel is cut to accommodate the openings that are then fitted and welded in place. These commonly have aluminium frames which are lighter than mild steel.
Internal cladding is fitted and then either painted with a good quality product that can be scrubbed, or tiled. Hygienic, easy-to-clean flooring is fitted over the existing container floor. When mirrors are included, this adds visual space to the ablution container.
Unless the containers are new, the outside of converted ablution containers should be given a good quality rust-proof coating prior to painting the exterior.

Of course, the most essential elements for ablution containers are electrics and plumbing. For this reason, plumbing is integrated into the design as is the electrical fuse board. Power sockets and lights are fitted in the factory environment, prior to shipping. So, when the unit is delivered, the electric wiring is easily connected to the electrical connection and the plumbing pipes and fittings are connected to the sewer and mains water. In some remote location where mains water is not available, tanks are used. Chemical toilets may be used if it is not possible to connect to a sewer.
The size of the shipping container used will determine how many toilets and/or urinals may be included in the design. Of course, if separate toilet cubicles with doors are to be incorporated this will affect the design dimensions. Urinals and basins are not commonly sited in cubicles.
When customers opt for unisex ablution containers, the container is divided by an internal wall and separate doors are installed, one for men and one for women.
Almar Containers for Ablutions
Almar's shipping containers are strong and secure and they may be converted into just about anything from homes with en-suite bathrooms to stand-along ablution facilities. They are ideal for remote locations were the best solution is a plug-and-play design.
If you need ablution containers in South Africa, Kenya, or in the Middle East, contact us to see how we can help you.
Steel shipping containers are all much of a muchness – sturdy boxes designed to transport and store every possible type of freight.
There are, of course, containers for different purposes, like those for dry freight or storage, and reefers that are manufactured specifically for the storage and transportation of refrigerated goods. There are also specialised containers that are intended for shipping unconventional or oversized cargo.
But container design takes on a whole new meaning when it comes to conversion products. Today, storage containers are not only used to transport and store goods, they are also used in the construction industry to form a basic shell for houses and apartments, and for on-site facilities, as well as to provide sleeping and office accommodation, conference or training rooms, and clinics and medical facilities in remote areas.
Essential Container Design
All containers must be designed and manufactured according to very specific international standards set by the International Organization for Standardization (ISO).
General purpose (GP) dry-freight containers are most commonly used for conversion purposes, and they must be manufactured and tested according to ISO 1496-1 : 1990 (E), Series 1 freight containers – Specification and testing – Part 1: General cargo containers for general purposes. The scope of this standard covers GP containers that are totally enclosed and suitable for international conveyance by sea, road, or rail. They may be:
Closed
Vented
Ventilated
Open-topped
The standard specifies the internal and external dimensions of GP containers as well as the relevant tolerances. There are also specifications for corner fittings, the structure of the base of each unit, as well as end structure, side structure, walls, and door openings.
General container design requirements state that containers must be capable of fulfilling certain requirements, including:
Strength
Loads and loadings
Securing systems for any closure in the containers, particularly doors
Locking devices for roofs
Weatherproof covers if relevant
Testing procedures are also detailed in ISO 1496-1 : 1990 (E) including a test for stacking a fully loaded container, lifting a container from the four top corner fittings, and another for lifting a container from the four bottom corner fittings. There are also procedures for a further 10 tests, to test longitudinal restraint, the strength of the end walls, side walls, and strength of the roof, as well as floor strength, transverse and longitudinal rigidity, "weatherproofness", and for lifting from fork-lift pockets and from the base at grappler arm positions where these are fitted.
These strict design requirements ensure that containers are strong, secure, and long lasting, making them ideal, not only for transportation and storage purposes but for container conversions as well.
Shipping Container Design and Architecture
The use of steel dry freight GP shipping containers for architectural structures is as varied as the types of cargo they may be used for. They have been used for bespoke shops, offices, and designer homes. Ingenious designers have turned single units into reception areas, booths for parking attendants, coffee shops, hairdressing salons, and getaway retreats. More challenging designs incorporate multiple containers that are sometimes stacked or angled to create living or office space.
A Canadian company has caused a stir by repurposing used containers for hot tubs and swimming pools! These may be installed either below or above the ground.
Almar Containers
Almar offers the full range of container solutions for storage and transportation, including reefers and specialized containers. We also supply plug and play container solutions for workshops, clinics, accommodation, offices, ablution blocks, and training rooms that we often supply to remote regions in Southern and East Africa as well as the Middle East.
All our containers meet ISO specifications, and those we convert are handled by our in-house engineering team and container design experts. How can we help you?