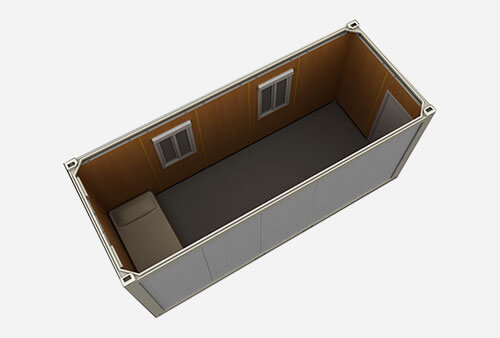 These basic open plan accommodation modules are the perfect solution for flexible office space. The modular structure allows for the units to be joined together to make an infinite number of open plan areas used for recreation facilities, dinning halls, board rooms etc.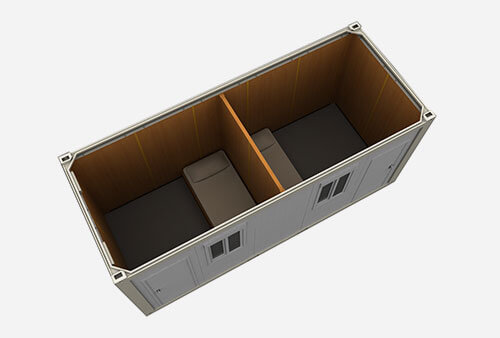 These partitioned modules are the perfect solution for twin sharing accommodation requirements as well as partitioned offices for smaller work spaces.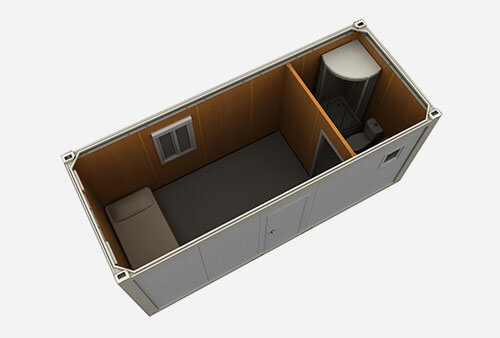 These cabins offer a more spacious accommodation solution, regularly utalised for senior management housing requirements. Each room is supplied with it's own partitioned and private bathroom including a shower, toilet and basin.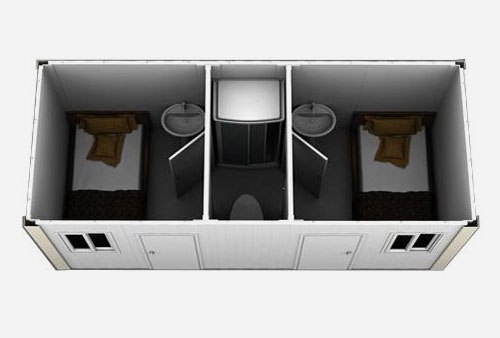 These cabins offer a perfect solution to more efficient accommodation of junior management. Each accommodation area shares an ablution room including a shower, toilet and basin.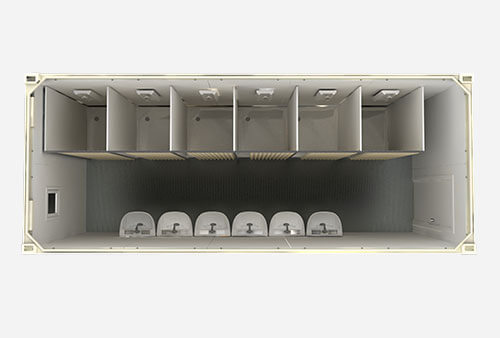 These shower units are the perfect solution for large camp requirements and can be connected via corridors to the rest of the accommodation modules to create comfortable and clean ablution facilities under one roof.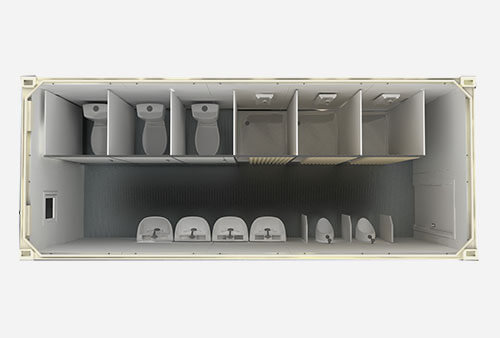 The ablution modules can be fitted with a mixture of showers, basins, urinals and toilets. The modules are designed for a full "wet purpose" requirement and allow for easy cleaning through a central drainage system.
Ablution modules are transported in a flatpack form with all ablution components packed inside, allowing for efficient and swift on site installation.
Flat Pack Containers: Assembly Process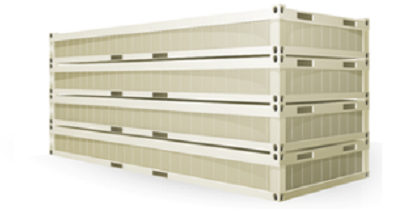 Flat-pack nests/bundles can be transported to site (sea/road) and handled like standard ISO Marine 20' container.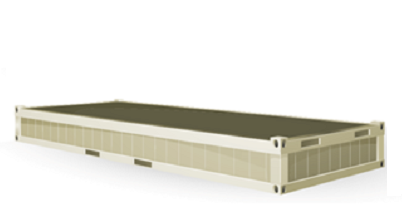 Each flat-pack unit is self-sufficient and comes supplied with all components required for full assembly. This includes all electrical and bathroom parts and plumbing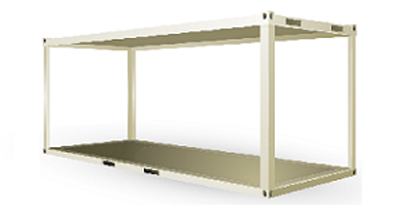 The flatpack frame is manufactured from cold formed steel providing a lightweight structure ( 2 tonnes) with exceptional strength. Modules can be stacked providing for double storey accommodation/office structures.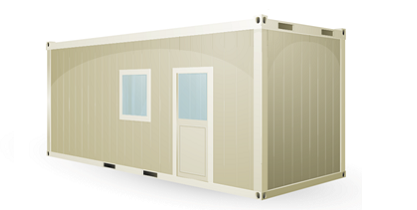 Units require a level surface and are are mobile once assembled.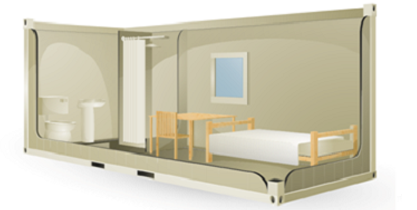 Once the assembly is complete, the units can be furnished in various ways to create offices, accommodation, boardrooms etc.
Flat Pack Container Benefits
We offer turnkey solutions in certain regions including camp design, delivery and assembly ensuring that you can focus on your core offering leaving the accommodation of labour in our safe hands.
We have an international network with a focus and presence in East Africa and the Middle East.
Make an enquiry now to see how we can solve your need.
The Almar team has offered exceptional service to date and has proved to be a reliable, professional and ethical supplier of offshore certified CCU's.

Stephen Johnson,

Strategic Sourcing Manager
During the 15 years of our association, Almar has proved itself to be a most reliable supplier of container equipment. We consider the Company to operate to high ethical standards and overall a valued and trusted supplier.

Capt. Dan Hjalmarsson,

Group Vice President Mea Region
We would like to confirm that we, the US Embassy Nairobi, have recently contracted with Almar Container Investments Inc. for the supply of a large quantity of containers, order value in excess of USD 400,000 (Fouth Hundred Thousand Dollars). These containers were all brand new units which needed to be delivered on time for one of our projects in Africa. We are very happy to confirm that the containers were delivered as promised, on time and we were very pleased with the quality of both service and products supplied by Almar.

J. Mark Midkiff,

First Secretary
We have been dealing with Almar Container Investments Inc. since the early 1990's. In our experience Almar have supplied their product on time, to the correct specification and with the correct quality. Their service has always been exemplary.

David Smith,

Global Business Development Manager
From working with Almar Container investments Inc. for over 10 years, we have found them to be a very reputable company who have always been able to deliver whatever quantity of containers they have committed to. We are pleased to confirm that the service and associated administration which we have received from them with the supply of containers, has been professional, ethical and of a high standard.

M. Shiva,

Chief Executive Officer
We are very happy with the quality of the service, support and the products supplied by Almar.

Mark Bunn,

Unilever Customer Operations Manger
Find Almar in Your Region