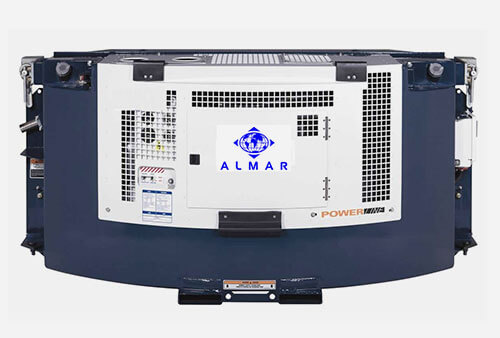 Gensets are specifically designed diesel generators used to power refrigerated containers. We offer gensets on a rental basis for running reefers in remote locations, or alternatively for using reefers on trucks for the transportation of perishable cargo.
Our Reefer Genset fleet is one of the youngest in the industry and as such, you can depend on their reliability and performance.
Our service and technical support are critical to your operation and as such we ensure availability of trained engineers to support our Genset rentals.
Because we love what we do and are passionate about container solutions, the Almar team will go above and beyond to exceed your expectations and ensure that we deliver a product that suits your needs perfectly.
Make an enquiry now to see how we can solve your need.
The Almar team has offered exceptional service to date and has proved to be a reliable, professional and ethical supplier of offshore certified CCU's.

Stephen Johnson,

Strategic Sourcing Manager
During the 15 years of our association, Almar has proved itself to be a most reliable supplier of container equipment. We consider the Company to operate to high ethical standards and overall a valued and trusted supplier.

Capt. Dan Hjalmarsson,

Group Vice President Mea Region
We would like to confirm that we, the US Embassy Nairobi, have recently contracted with Almar Container Investments Inc. for the supply of a large quantity of containers, order value in excess of USD 400,000 (Fouth Hundred Thousand Dollars). These containers were all brand new units which needed to be delivered on time for one of our projects in Africa. We are very happy to confirm that the containers were delivered as promised, on time and we were very pleased with the quality of both service and products supplied by Almar.

J. Mark Midkiff,

First Secretary
We have been dealing with Almar Container Investments Inc. since the early 1990's. In our experience Almar have supplied their product on time, to the correct specification and with the correct quality. Their service has always been exemplary.

David Smith,

Global Business Development Manager
From working with Almar Container investments Inc. for over 10 years, we have found them to be a very reputable company who have always been able to deliver whatever quantity of containers they have committed to. We are pleased to confirm that the service and associated administration which we have received from them with the supply of containers, has been professional, ethical and of a high standard.

M. Shiva,

Chief Executive Officer
We are very happy with the quality of the service, support and the products supplied by Almar.

Mark Bunn,

Unilever Customer Operations Manger
Find Almar in Your Region